'Go for it!' Girls should inspire a generation by getting into science and technology
Girls' education, Spotlight On ..., Technology and education, Theirworld
---
In the latest of our series featuring inspiring people from the world of global education - and to mark International Day of Women and Girls in Science on February 11 - we talk to Stacy Irara from the Youth for Technology Foundation in Kenya.
---
By 2030, more than half of all young people won't have the basic skills needed to enter the workforce of the future. Girls and young women in particular will be left behind.
Learning science and technology prepares girls to meet that challenge. It also helps them to overcome social stereotypes, develop critical thinking and leadership skills, and contribute positively to their communities.  
This week marked International Day of Women and Girls in Science. At Theirworld, we believe no girl and young woman should have her opportunities curtailed. From coding to learning how to build a computer, we're determined to prepare girls for future careers – including in the STEM sector.
We have been running projects in several countries, including Kenya, Tanzania and Lebanon, to help girls and young women gain the digital skills they need for their future. 
"Girls and women are stepping up like never before in the science and tech spaces," said Theirworld Chair Sarah Brown. "We need more visible role models, more doors to open and more opportunities for learning, skills and jobs." 
As part of our Spotlight On .. series and to mark International Day of Women and Girls in Science, we spoke to Stacy Irara, Programs Coordinator for our project partner Youth for Technology Foundation (YTF) in Kenya.
Tell us how you became part of the YTF story. 
Back in 2016, during my second year of studying civil engineering, I participated as a volunteer during Africa Code Week through a friend's invite. The day's activities really interested me and I kept in touch with the then Programs Manager. I then came in as a Master Trainer for the Code Clubs programme in partnership with Theirworld. Fast forward three years and I am now working as the Programs Coordinator for YTF in Kenya.  
Why does YTF have an important role? 
With more than 70% of Kenyan youth being unemployed, YTF delivers programmes that utilise technology to inspire youth and women in low-income communities to create innovative solutions to the challenges they encounter in their own communities. They can even create their own entrepreneurial opportunities in this Fourth Industrial Revolution 
How does YTF fit into the education system in Kenya? 
In 2017, the government of Kenya launched the new Competency Based Curriculum (CBC) and a new education system. The core highlights of the new system include creativity, innovation and critical thinking. The greatest change is the incorporation of technology in the classroom. With this current movement, the government cannot cater for all stakeholders – teachers, students and parents – in all areas. They require organisations like YTF to help bridge the gap 
What would you say to girls wondering if they should get into science and tech? 
Go for it! You not only get a career and change of life but you also get to inspire a generation. Why is it important for girls and their communities to learn about science and tech? Science and tech breed creativity, innovation, critical thinking and decision-making. At an age when technology is taking over, their confidence to explore and create will help them find solutions for their specific problems in their communities.  
What keeps you motivated when facing big challenges?  
I believe that I can handle any obstacle I face. At times all I need is to pause and take a look again – a different perspective goes a long way. 
What YTF achievements are you most proud of? 
In 2019, I was selected as one of the Unleashlab talents in Shenzhen, China, working on Sustainable Development Goal 9 (Build resilient infrastructure, promote inclusive and sustainable industrialisation and foster innovation). Our project is ongoing and will help make the world a better place.  
Ann Wairimu, a student beneficiary from our Code Clubs, emerged among the top students in the KCPE national exams. Testimonies from herself and her teachers accredited the great performance to her participation in tech activities that YTF brought to the school.  
What is the greatest lesson you've learned outside a classroom? 
As an engineer and a tech lady in a male-dominated sector, I know that self-presentation is a key element to being a player on the table. Experience is education outside a classroom.  
What are your hopes for 2021?  
That I will be able to engage in different projects and activities that will help make people's lives better in my community.
That I will get a chance to nurture a young mind in STEM and all the endless opportunities.   
---
More news
Skills for the future give young people the best chance of success
Skills for the future give young people the best chance of success
Take the test and discover how our Schools Hub helps students grasp the global education crisis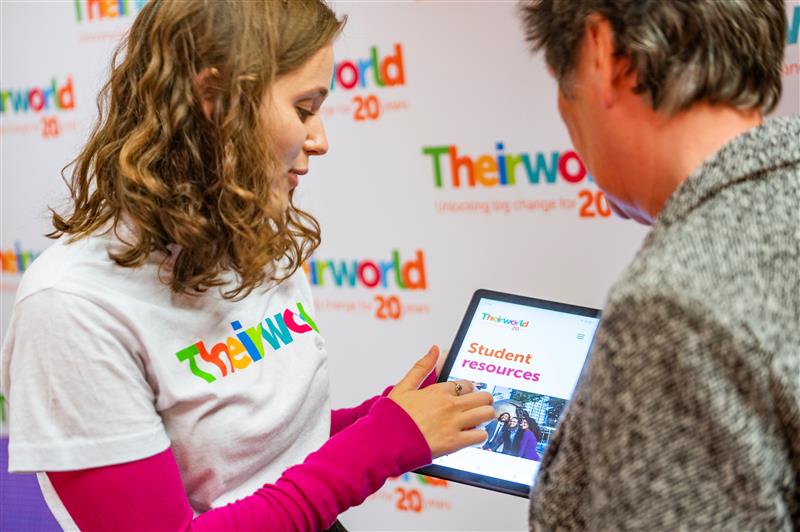 Take the test and discover how our Schools Hub helps students grasp the global education crisis