Why Latin America needs safe schools to keep children in education
In a two-part special report, Jo Griffin examines the problems of violence which affect education in Latin America. Jo is a freelance journalist for the Guardian, Observer, BBC and Al-Jazeera. She has also worked as a journalist in Mexico, Central America and Brazil.
Students read the Bible at a school in San Salvador, where teachers try to bring values to children under the influence of gangs
Eduardo spends the day staring at his phone in case he gets a message to which he must respond immediately.
His teachers are surprised he has shown up at his school in San Salvador today because a criminal gang has been trying to recruit him. As he stares at his phone, they suspect that he is already beholden to them.
He is among the millions of adolescents in Latin America who routinely miss school because the route carries risks, the classrooms are caught in crossfire or pupils fear being targeted by armed gangs.
In the region with the highest rate of armed violence in the world and a youth homicide rate that is twice the global average (70 per 100,000), armed violence is having a devastating impact on the education of a generation.
"In some areas of Latin America, we are talking about a second lost generation [after the wars of the 1980s]," said Francisco Benavides, regional education adviser for Latin America and the Caribbean at the United Nations children's agency UNICEF, which has recently introduced a new safe schools initiative on the continent.
Read more: Favela children fear violence in Brazil
In the most violent countries of all, such as Guatemala and El Salvador, he said by phone from Panama, "violence is one of the top three factors keeping children out of school".
With the support of the Global Business Coalition for Education and a World at School, UNICEF launched the initiative for safe schools at the #UpForSchool Town Hall event in New York in September.
The scale of the challenge was laid bare by high-profile attendees at a ceremony marking the launch and in an accompanying report (Strong Schools and Communities Initiative: Working Together to Build Safe Schools and Protective Learning Environment).
"I asked a boy of five what he wanted to be when he grew up and he answered: 'a hit-man'," said Costa Rica's education minister Sonia Marta Mora, in reference to the deep-seated culture of violence in the region.
"This reality must change …  we must create safe learning environments for our children."
Bolivian students Ruth, 12, and Alex, 13, in class at a high school in Monteagudo Picture: UNICEF/Pirozzi
The statistics that capture the impact of this violence on education are staggering.
In Guatemala, says the UNICEF report, nearly 60% of children fear going to school, at least 23% of students and nearly 30% of teachers have been victims of violence or know someone who has been targeted by armed gangs when entering or leaving school. 
The violence in and around schools has a negative effect on the quality of learning and cognitive development of children.
And the violence, which disproportionately affects young males, is not abating – homicide rates in the past two decades have risen five to eight times faster in Latin America than in Europe or Asia. 
"In Latin America, violence is a very complex phenomenon," said Benavides, warning against generalisations in a vast and highly diverse region. "We look at the converging dynamics that make the environment a violent place, such as the presence of drug-trafficking gangs, for example."
Nevertheless, the main impacts of violence on education are found region-wide: restricted access to schools, dangerous school routes, forced recruitment of children and adolescents into armed gangs, and high dropout rates.
And low educational attainment consistently fuels the cycle, with links to criminality in later life. In Mexico, for example, 89% of prison inmates did not complete 12 years of education, according to the UN Development Programme.
"Unfortunately, evidence shows that in some countries the situation is not getting better," said Mr Benavides. "Families and teachers are threatened with their rights being violated – even losing their lives – it's important to recognise this."
In such a bleak situation, how can UNICEF's initiative improve the educational and life prospects for children and young people?
"[The initiative] looks at the little evidence we have of where school is working as a safe environment, where children are protected and supported as they learn. Our initiative aims to identify the dynamics that enable this to happen," Mr Benavides said.
Calling for a collective effort, UNICEF's plan identifies three main areas for work. Firstly, school-based interventions that could involve efforts to prevent arms in schools and to develop conflict resolution.
Mexican children at school in Santa Carina in Jalisco state Picture: UNICEF/Richter
One successful example of the latter has occurred in Buenos Aires province, where UNICEF has helped to train 10,000 secondary school teachers and authorities in a peaceful coexistence programme.
Schools are also encouraged to identify children who may need alternative arrangements to stay in education because they are at risk from gangs, or have family problems. Mr Benavides cites problems caused by the high level of migration of families, when children may find it difficult to reintegrate on their return.
A second strand is community-based initiatives. The report refers to an after-school football programme in Ecuador that has helped reduce tensions and raise awareness among youths as one example.
Here, the business community also has a role to play, offering training to young people to increase their job prospects.
"In some communities we can see how they are getting organised to demand their rights and to protect their children," said Mr Benavides, "but this is not enough: government and other actors need to be involved."
It is this participation of local and national authorities that is the third pillar of UNICEF's holistic approach.
It cites examples of collaborating with the education ministry to prevent violence through training teachers, as in Ecuador, or working with authorities to identify children and adolescents out of school and ensuring that they enrol, as in areas of Colombia.
"This initiative has not been parachuted in from nowhere," said Mr Benavides. "We are working with the government of every country on a five-year plan to make our schools stronger and safer for children."
Progress will be carefully tracked by monitoring which municipalities have adopted recommended measures.
As for Eduardo in San Salvador, on that day at school he was taking part in a child ambassador programme run by the UK-based charity Toybox, which aims to empower young people to resist the temptation to join gangs and train them in leadership roles so they can help others do the same.
Fiona Furman of Toybox said: "Eduardo learned how not to appear vulnerable, how to walk and talk and carry himself confidently. He left … making eye contact with his shoulders back and in control of his destiny – as much as he can be.
"He knew he would still have to battle against recruitment into the gang but he left the ambassador day knowing he was better prepared to resist temptation."
---
More news
Theirworld's mission to give children in crises a safe place to learn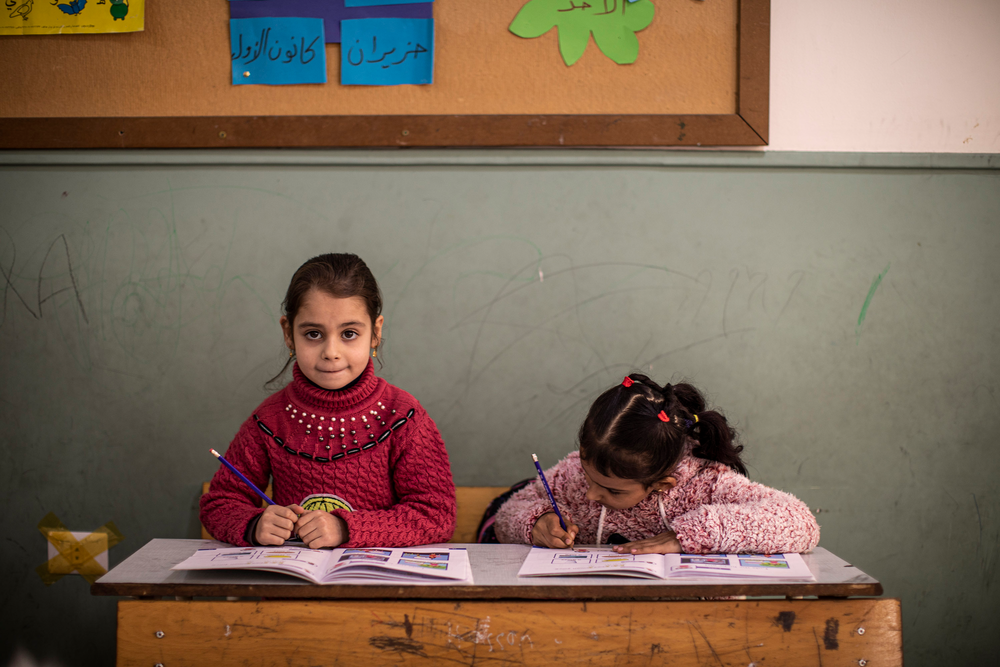 Theirworld's mission to give children in crises a safe place to learn
Five things you need to know this week about global education
Five things you need to know this week about global education