World Humanitarian Summit: 250,000 tell world leaders that Education Cannot Wait
Education funding, Education in emergencies
A SafeSchools petition hand-in at 10 Downing Street in London by Theirworld, War Child and Global Citizen
A petition with more than 250,000 signatures has landed at the first ever World Humanitarian Summit in Istanbul today.
It calls on world leaders to immediately commit vital funds to ensure children caught up in conflicts and natural disasters secure an education.
The #SafeSchools petition will be handed to world leaders by youth education activists from around the world who are attending the summit.
One in four children of school-age live in countries affected by crisis. Of these children, 75 million have had their education disrupted or destroyed by emergencies and prolonged crises. Yet despite this less than 2% of all humanitarian aid goes to education.
The petitions are backed by a joint call for action supported by more than 60 leading global charities and campaigners including War Child, Walk Free, Plan International, Muslim Aid and Theirworld, calling for support for the Education Cannot Wait Fund – a new global fund for education in emergencies to be launched at the summit.
Read education updates from the World Humanitarian Summit
The fund aims to raise nearly $4 billion to each more than 13 million children in need of education in emergencies within five years, before reaching 75 million children by 2030.
Mona Hassan, a Global Youth Ambassador from Lebanon, with a Syrian refugee student from Mtein School Picture: A World at School:Tabitha Ross
Petition signatures were collected by Theirworld – the children's charity behind A World at School – Global Citizen, IBIS, Walk Free and War Child UK.
Ben Hewitt, Director of Campaigns for A World at School, said:"Campaigners around the world are calling on their leaders to pledge much-needed money and support behind the new fund for education in emergencies. It's time to turn the rhetoric into reality and get kids into a safe school now. Education cannot wait."
Hannah Stoddart, War Child Director of Advocacy and Communications, said: "World leaders need to wake up to the fact that children caught up in conflict or a natural disaster must not be left stranded without an education. Providing emergency support such as food, clothing and shelter is life-saving but an education gives children a future."
A World at School's network of 500 Global Youth Ambassadors (GYAs) have been heavily involved in the campaign for he Education Cannot Wait fund. 
They collected signatures for the petition, wrote letters to their own governments, wrote blogs about the need for education in emergencies and asked children to draw what a safe school looks like.
Here's a look at some of their amazing contributions…
THE #SAFESCHOOLS PETITION
Indian GYA Omang Agarwal collected an incredible 35,000 signatures through networks and his organisation Youth For Peace International.
He said: "We had a simple Strategy of Email and WhatsApp – we asked people who had previously attended my sessions or worked on an event with me to join efforts and sign in.
"We also contacted schools and friends who are now alumni to ask people to sign the petition and take it to their schools, colleges and workplaces.
"And we attended more 300 events. This is how we were able to achieve the large numbers."
LETTERS TO GOVERNMENTS
In their role as education advocates, several of our GYAs have been in contact with governments and organisations attending the World Humanitarian Summit, telling them why education in emergencies is an important issue to young people across the world.
Among those who wrote were Taha Fathima Khan from India, Sajiha Batool from Pakistan, Maham Aftab from the United Sates and Fiona Adams, also from the US.
Among the responses were letters from German Foreign Affairs Minister Frank-Walter Steinmeier, who said education in emergencies is an important issue but added: "In the currently ongoing cross-cutting issue of identifying individual commitments, we have not put a focus on education in emergencies but on other key issues."
The UK's International Development Secretary, Justine Greening, wrote: "The UK is working hard to make the summit and the launch of the education crisis platform a sucess to ensure that millions more children can benefit from an education."
BLOGS ON EDUCATION IN EMERGENCIES
Omang was also among GYAs who wrote about the need for a fund to help children in humanitarian emergencies get an education.
Here are links to blogs by Omang, Joannes Paulus Yimbesalu from Cameroon, Maham Aftab from the United States and Lebanon's Sarah Fleihan and Mona Hassan.
DRAWINGS OF SAFE SCHOOLS
GYAs asked children to draw what a "safe school" looks like. Their drawings reinforce our message – that all children, no matter where they live or what their situation is, want to learn in a place that is safe and secure.
We will take these drawings of hope and peace from India, Cameroon, Indonesia, Colombia and Lebanon to the Turkey summit.
World Humanitarian Summit: education in emergencies news, views and videos
---
More news
Young people's tireless campaign for an education game-changer
Young people's tireless campaign for an education game-changer
Theirworld's mission to give children in crises a safe place to learn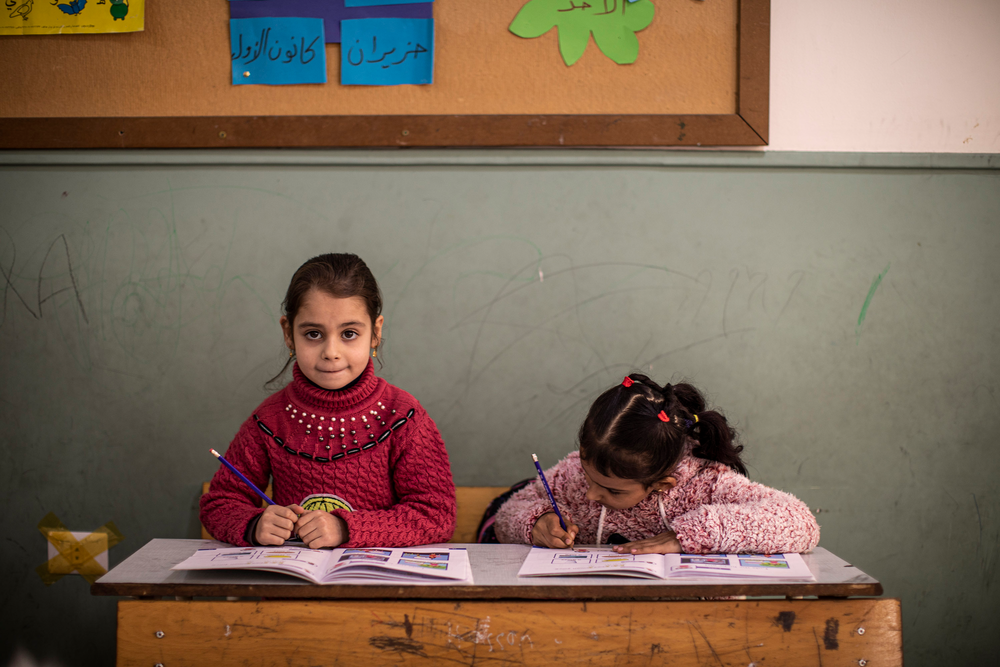 Theirworld's mission to give children in crises a safe place to learn