World Humanitarian Summit: GBC-Education event on education in emergencies
Education funding, Education in emergencies
Children from the Central African Republic at a learning and protection space at the Borgop site for refugees in Cameroon Picture: UNICEF/Rich
On the first day of the historic World Humanitarian Summit, the Global Business Coalition for Education (GBC-Education) is hosting an event on delivering education to children caught up in humanitarian emergencies.
At the summit in Istanbul, the event – Stepping Up in Crises: Finance, Delivery and Innovation in Education – has attracted more than 150 high-­level representatives from businesses, philanthropic organisations, governments, UN agencies and multilateral groups.
It will highlight the leading role of the private sector to build effective partnerships, develop innovative solutions, and mobilise additional resources and financing to deliver education at the onset of an emergency – including wars and natural disasters.
The event is hosted by Sarah Brown, Executive Chair of GBC-Education, and the keynote speaker is United Nations Secretary-General Ban Ki-moon.
This blog will bring you updates, pictures and social media messages from the event.
With the greatest number of people displaced by disaster and conflict since World War II – more than half of them children – the international community must step up to take urgent action to ensure the new Education Cannot Wait fund delivers schooling to those it need it most.
You can read more about the fund and get education updates from the World Humanitarian Summit here.
Sarah Brown has also discussed the plight of out-of-school children in a podcast for The Guardian website. Click on the link below to listen.
LISTEN: @gbceducation Executive Chair @SarahBrownUK speaks on the plight of out-of-school youth in @guardian podcast https://t.co/h6XxviZ4HZ

— GBCEducation (@gbceducation) May 19, 2016
The guests arrive for the event. They are here to address the challenge of how to prevent millions of children and young people falling through the net during a crisis.
Great to see so many people ready to talk about making a #smartinvestment in the future through funding education! pic.twitter.com/5YPI2MWlXi

— GBCEducation (@gbceducation) May 23, 2016
Sarah makes the opening remarks for this GBC-Education event in Turkey. She tells how the coalition was founded four years ago to bring together the business community to focus on supporting education across the world.
Now it has more than 100 member companies and network businesses working to make sure child and young people has an education and opportunity.
Sarah says: "Globally, 75 million children and young people are finding their education interrupted because of conflicts, natural disasters and other emergencies and crises.
"And later today, one of the Oslo Summit on Education for Development commitments will be realised as the Education Cannot Wait fund for education in emergencies will be launched to bridge the gap between humanitarian and development support."
She then introduces UN Secretary-General Ban Ki-moon.
Ban Ki-moon on a visit to a school in South Sudan Picture: OCHA
He thanks UN agencies for their collaboration and work with other partners to launch the fund for education in emergencies.
Mr Ban says education is dear to his heart – personally and professionally. Without education, you cannot achieve anything.
He adds: "We are failing too many children and young people for too long." On the 75 million children out of school due to humanitarian emergencies, he says: "We have to bring them back."
The Secretary-General says the private sector can play its part in protecting children and young people and calls on those in the room to commit to the fund.
Sarah then announces the private sector is to mobilise $100 million of backing for the Education Cannot Wait fund.
Read more about the announcement here.
Executive chair @SarahBrownUK announces plan for $100M in pledges from private sector for #educationcannotwait fund pic.twitter.com/L2cHr3EEMk

— GBCEducation (@gbceducation) May 23, 2016
She then introduces Tom Fletcher, former British ambassador to Lebanon and now GBC-Education's Director of Global Strategy. He will be running the next section of the event, which is a panel discussion.
The panellists are Hikmet Ersek, CEO of Western Union; Helle Thorning-Schmidt, Commissioner from the International Commission on Financing International Education Opportunity; Dr. Fuat Oktay, President of the Turkish Prime Ministry Disaster and Emergency Management Authority President; and Irina Bokova, UNESCO Director-General.
Great session from @gbceducation on investing in humanity and #innovation in #education @WHSummit. #ShareHumanity #smartinvestment

— Hikmet Ersek (@WesternUnionCEO) May 23, 2016
Mr Ersek says the business world is not about words but about results. He adds: "I hope we see concrete actions that will change children's lives forever."
Ms Thorning-Schmidt says children in emergency situations should not be out of school for longer than a month. If leaders make that pledge, the question then is how to fund it.
Syrian refugee children at a temporary education centre in Istanbul
Dr Fuat talks about the situation facing Turkey, which is the largest host of Syrian refugees. He says: "The present humanitarian crisis will create future crises if immediate action is not taken."
There are more than 950,000 school-age refugee children in Turkey and the goal is to get 460,000 of them into classrooms by the end of this year. But his country cannot do this alone – it needs help from the global community.
UNESCO chief Ms Bokova talks about the importance of children feeling part of their communities. She says the business community can bring innovation and new approaches.
She says child labour is on the increase in emergency situations and mothers have told her they want to "sell off their girls to make sure they are safe".
Tom Fletcher then hands back to Sarah Brown to moderate the next part of the meeting from the floor.
A student in a tented classroom at the Al-Takya Al-Kaznazaniya school in an IDP camp, near Baghdad, Iraq Picture: UNICEF/KHUZAIE
She talks to Hanzade Dogan-Boyner, Founding Chairwoman of Dogan online and an active leader in non-profit, business and trade organisations. 
Asked what the business community in Turkey can do, Mrs Dogan-Boyner says: "I believe that every person in a privileged position can put a refugee child into school." She says that before the funding there needs to be a roadmap – with a clear plan "we  can add a zero to your millions".
Christos Stylianides is European Commissioner for Humanitarian Aid and Crisis Management. Sarah introduces him and says the EU has been an inspiration for donors in investing in education in emergencies.
Cmeer @StylianidesEU at #educationcannotwait event at Humanitarian Summit, @eu_echo to step up support to #education pic.twitter.com/oacLikPi0k

— Alexandre Polack (@APolackEU) May 23, 2016
He says: "I have an obsession because I believe without education, there is no future." He calls on all donors to earmark 4% of their money for education.
Annemiek Hoogenboom from the People's Postcode Lottery UK is asked about the work it is doing with the children's charity Theirworld in Lebanon.
She says PPL is very proud to help support the double-shift school system for Syrian refugees and local children and adds: "We have seen with our own eyes, in the Bekaa valley and elsewhere, how much education can make a difference."
It's not only about getting more money, it's also about finding smarter solutions to the crisis: @IKEA Per Heggenes pic.twitter.com/NOSpkcL0FN

— GBCEducation (@gbceducation) May 23, 2016
Per Heggenes, CEO of the IKEA Foundation, talks about the need to try to find innovative solutions to education in emergencies – "using smart gaming technology to learn faster and more efficiently".
He adds: "It's not only about getting more money, it's also about finding smarter solutions to the crisis."
Phumzile Mlambo-Ngcuka, Executive Director of UN Women, is asked how the most marginalised children – especially girls – can be reached.
She replies: "Education cannot wait, because if girls don't have access to education, really bad things happen to them."
"If girls dont have access to education, we can't end poverty"- @phumzileunwomen at @gbceducation event #EducationCannotWait #ShareHumanity

— UN Women (@UN_Women) May 23, 2016
She says a comprehensive approach is needed that includes basic rights and reproductive health as part of the solution.
Sarah says the Hilton Foundation has been admirable in its risk-taking and asks why they chose to be so innovative in this area.
Edmund Cain, the foundation's Vice President, says it believes it is funding scalable projects that make a difference on education in emergencies.
He adds: "It is important to ensure that the needs of the youngest and most vulnerable children are met, and this means a hope that early childhood development is not neglected in this fund."
Britain's Department for International Development (DFID) has been a leader in raising funds for Syrian refugee children.
Nick Dyer, DFID's Director-General for Policy and Global Programmes, tells the event: "Investing in education is not only the right thing to do, it is the smart thing to do." He adds that "we need bold and innovative solutions" and "being bold and being innovative is what the business sector is good at".
.@OfficeGSBrown at #WHSummit: @gbceducation is an opportunity that can change the life of million people#SafeSchools pic.twitter.com/DxZvMdDuE1

— Adyan (@Adyanvillage) May 23, 2016
After some more contributions from the floor, the event is rounded off with a rousing address from Gordon Brown, the UN Special Envoy for Global Education, who has been a champion of the education in emergencies fund.
He says the fund is the first bridge between humanitarian and development aid and calls it "a fund that has the chance to change the lives for millions".
Business has led the way with this amazing commitment: @UN Envoy Gordon Brown on #smartinvestment to #ShareHumanity pic.twitter.com/NgIE3NHtNM

— GBCEducation (@gbceducation) May 23, 2016
Mr Brown says this is the first time that business has led the way with the $100 million contribution through GBC-Education.
He adds: "If we cannot bring people together in an innovative way to deal with the crises of the world, we are failing humanity."
---
More news
Young people's tireless campaign for an education game-changer
Young people's tireless campaign for an education game-changer
Theirworld's mission to give children in crises a safe place to learn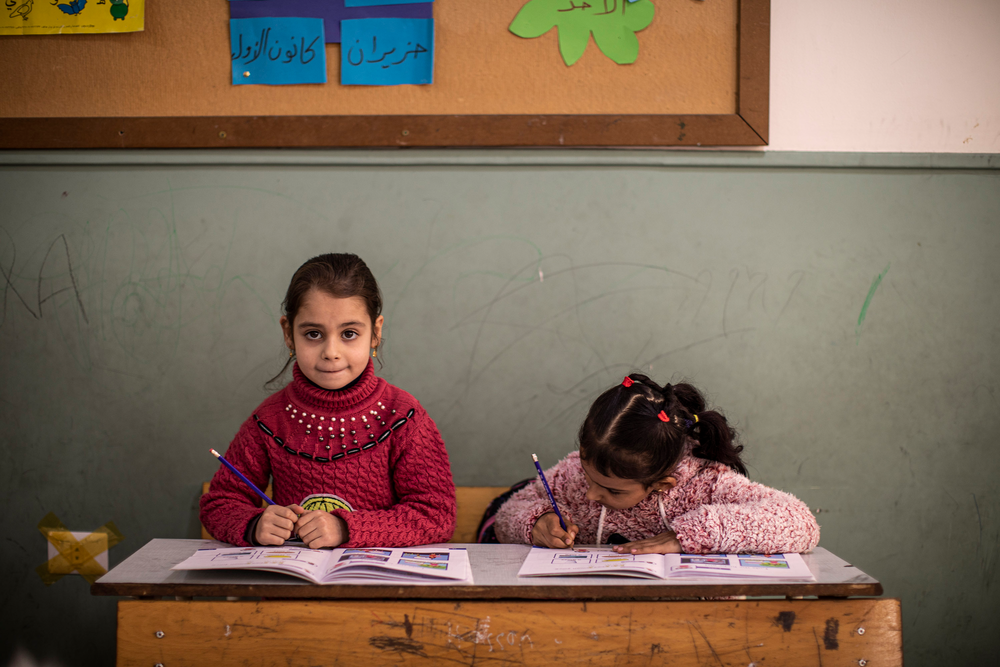 Theirworld's mission to give children in crises a safe place to learn