1.8 million children in Yemen out of school as peace talks loom
Children in conflicts, Education in emergencies
Yemeni girl pushes two younger children and cans of water in Sana'a Picture: UNICEF/Mahmoud
In four days, peace talks between the warring sides in Yemen are due to resume.
It is a war of many sides. But the main conflict is between forces loyal to the president and Houthi rebels – and both have confirmed they will be at the discussions.
Nearly, two million children in #Yemen lost more than two months of schooling due to ongoing conflict. #YemenChildren pic.twitter.com/EfL6VEPPhq

— UNICEF Yemen (@UNICEF_Yemen) June 9, 2015
Stuck in the midst of the horror that has unfolded since fighting intensified in March are ordinary Yemenis, including 1.8 million out-of-school children.
Almost nine in 10 schools are closed in the five southern governates. Children are hungry, traumatised and facing the daily threat of air strikes and unexploded devices.
Debris in a room of Ibn Sina School in Sana'a Picture: UNICEF/Mahmoud
Mohammed Hussain and his family experienced heavy fighting in Salah Al-Din, an area in Aden, southern Yemen. The 13-year-old said: "I am sad. I am very sad, everything around me is falling apart.
"I hear my mother hopelessly crying in the night. I hear my stomach cramping out of starvation."
Since March 26, at least 19 schools are attacked or damaged & about 2 million children are out of school. #Yemen pic.twitter.com/tVuxIyw6Gg

— UNICEF Yemen (@UNICEF_Yemen) May 26, 2015
More than 130 children have been killed and 260 injured since March. And many schools have been damaged or destroyed in airstrikes in a country where 1.6 million children were already out of school.
The United Nations children's agency UNICEF has designed special leaflets, as well as radio and television slots, to offer advice to families whose youngsters are experiencing conflict-related anxiety or physical symptoms, such as bedwetting and nightmares.
A boy stands on piece of exploded artillery shell in Al Mahjar Picture: UNICEF/Mahmoud
Micaela Pasini, head of child protection for UNICEF in Yemen, said: "In conflict situations, it is always the case that children are the most vulnerable, and the ones who suffer the most from the impact of the violence."
Of the 58 million children out of school globally, more than half live in conflict and emergency settings. A World at School has called for an emergency humanitarian fund to be set up to ensure education in emergencies is prioritised and paid for.
Cartoons have also been produced in Yemen to warn children about the dangers of unexploded devices and other hazards.
من أجل حماية #أطفال_اليمن من مخاطر الحرب والقذائف غير المنفجرة في هذه الظروف، يرجى تعميم هذه النصائح الهامة. #اليمن pic.twitter.com/AdYd1exG8d

— UNICEF Yemen (@UNICEF_Yemen) June 2, 2015
The United Nations says 20 million civilians – 80% of the population – need aid. The World Health Organization says 15 million of them do not have access to basic healthcare, with dozens of facilities closed.
The conflict in Yemen is among several groups. Forces loyal to President Abdrabbuh Mansour Hadi have been battling Houthi rebels, who ousted him from the capital Sanaa in February.
Then A Saudi-led coalition began bombing Houthi targets after rebels closed in on the president's base in Aden. The picture was further confused by the presence of affiliates of both al-Qaeda and Islamic State.
---
More news
Theirworld initiative helps to deliver $30m of computers to Ukrainian children
Theirworld initiative helps to deliver $30m of computers to Ukrainian children
Theirworld's mission to give children in crises a safe place to learn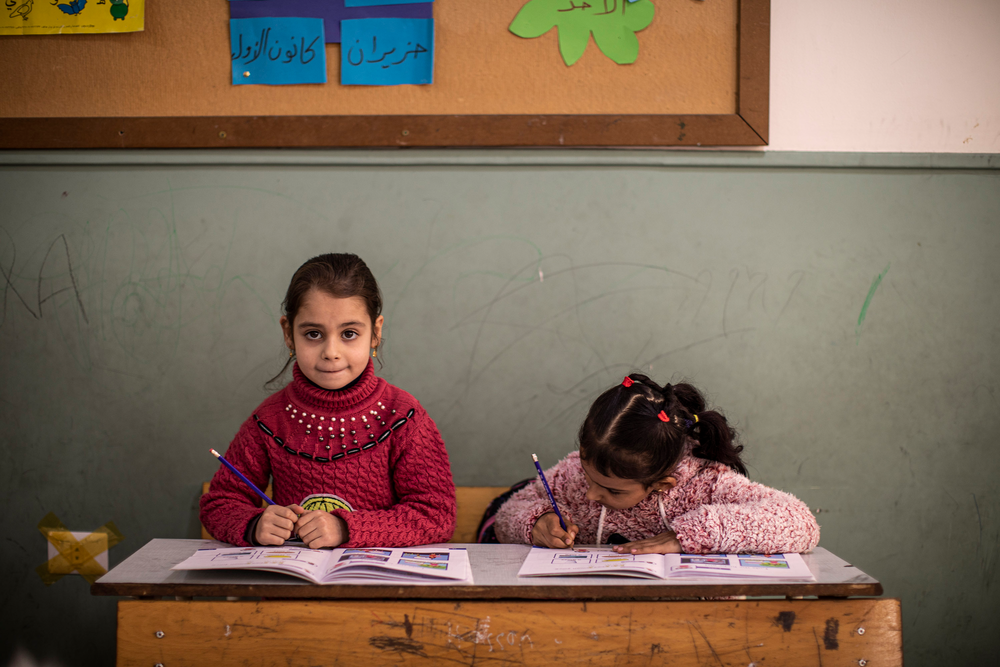 Theirworld's mission to give children in crises a safe place to learn