13 million war children out of school in Middle East and north Africa
Children in conflicts, Education in emergencies
More than 13 million children are missing out on education because of conflict and political upheaval in the Middle East and north Africa.
That means 40% of all 34 million school-age students across the region are not in school according to a UNICEF report on the impact of violence on schoolchildren and education systems published today.
The United Nations children's agency said almost 9000 schools cannot be used because they have been destroyed, damaged, used to shelter displaced people or taken over by military or armed groups.
Fear of attacks is also driving thousands of teachers away and stopping parents sending their children to what should be places to learn in safety.
Syrian refugee children play at camp in Bekaa Valley, Lebanon Picture: UNICEF/Romenzi
"The destructive impact of conflict is being felt by children right across the region," said Peter Salama, Regional Director for UNICEF in the Middle East and North Africa. "It's not just the physical damage being done to schools but the despair felt by a generation of schoolchildren who see their hopes and futures shattered."
The report Education Under Fire examined nine countries – Syria, Palestine, Libya, Yemen, Sudan, Iraq, Lebanon, Turkey, and Jordan. Its publication comes as the refugee crisis from the four-year Syrian conflict grows and as efforts are continuing to establish a special fund for education in emergencies.
In July A World at School and more than 40 of the world's leading charities and campaign organisations called for a Global Humanitarian Platform and Fund for Education in Emergencies. It was agreed at the Oslo Education Summit that work to build such a platform should be prioritised and options are being prepared for discussion at the United Nations General Assembly later this month.
The UNICEF report says that in Jordan, Lebanon and Turkey, more than 700,000 Syrian refugee children are unable to attend school because the overburdened national education infrastructure cannot cope with the extra student load.
Damaged classroom at Shohada Yamayer Primary in Libya Picture: UNICEF/Diffidenti
In 2013 A World at School published a report looking at options for how governments might cope with the enormous influx of refugees from Syria. A double-shift system school was proposed, which has been adopted by Lebanon and has been piloted there since January.
The system lengthens the school day and allows a double intake of children – the first for Lebanese children and the second for Syrian refugees. The first full year of the double-shift system will be launched later this month.
The Lebanese government has committed to provide 200,000 places for children through this new approach and A World at School and UN Special Envoy for Global Education Gordon Brown have been instrumental in helpingto  garner donor support to make this happen. This is great progress but there are still 300,000 more refugee children in need of formal education in Lebanon alone.
The long-term consequences for refugees from the world's conflicts can be devastating – they now face an average of almost 20 years being displaced before they can return home.
Shaima, 10, cries at school in Shuja'iyeh, Gaza, after her father and brother were killed by shelling Picture: UNKICEF/El Baba
Destruction of infrastructure and limited access to remaining schools has the potential to deny education for several years and result in entire generations missing out on an education.
Firas, a 16-year-old Syrian refugee in the Za'atari camp in Jordan, told UNICEF: "I was in fifth grade when the crisis started and I haven't been back to school since."
Even those who are getting an education often have to brave bullets and bombs just to learn. In Syria, at least 20% of children "have to cross active lines of conflict just to take their examinations", the report said.
Ninth-grade student Amina said: "The war has totally disrupted my schooling. To sit my exams I had to travel to Hama. It took more than 14 hours to get there." 
Syrian refugee children at a UNICEF-supported kindergarten in Kilis, Turkey Picture: UNICEF/Noorani
The report says the No Lost Generation Initiative, launched by UNICEF and other partners in 2013 to galvanise more international backing for the education and protection needs of children affected by the Syria crisis, deserves more support
It also calls on the international community, host governments, policymakers, the private sector and other partners to:
Reduce the number of children out of school through the expansion of informal education services, especially for vulnerable children
Provide more support to national education systems in conflict-hit countries and host communities to expand learning spaces, recruit and train teachers and provide learning materials
In countries affected by the Syria crisis, advocate for the recognition and certification of non-formal education services
---
More news
Theirworld initiative helps to deliver $30m of computers to Ukrainian children
Theirworld initiative helps to deliver $30m of computers to Ukrainian children
Theirworld's mission to give children in crises a safe place to learn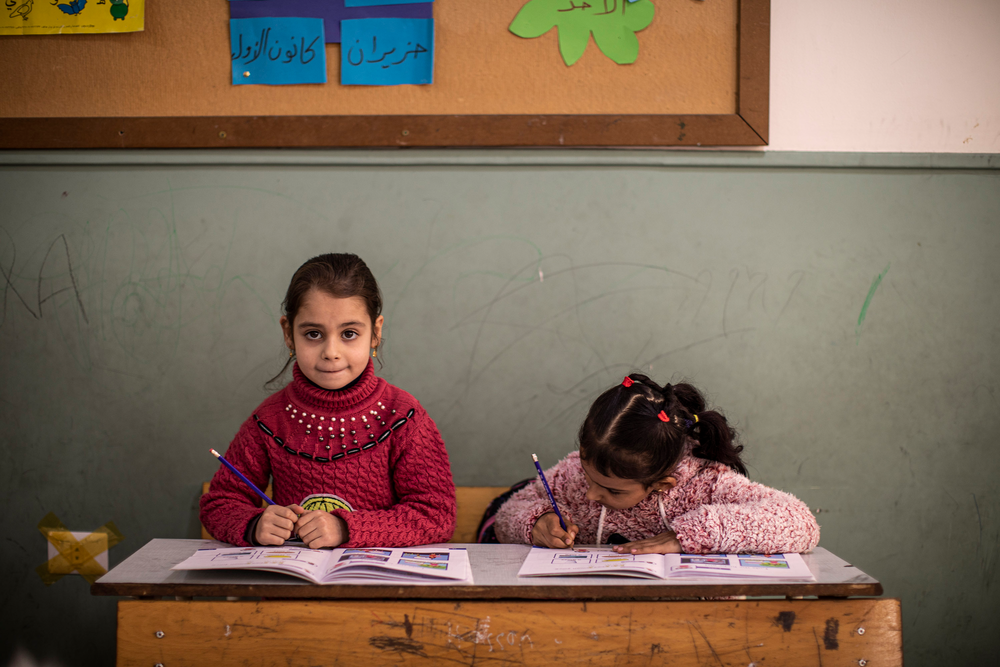 Theirworld's mission to give children in crises a safe place to learn