1600 schools closed as Yemen's children bear the brunt of war
Children in conflicts, Education in emergencies, Safe schools
A Yemeni boy holds a piece of exploded artillery shell in Al Mahjar, a suburb of Sana'a Picture: UNICEF/Hamoud
Arwa is eight years old. She lives in a war zone – but all she wants to do is go back to school.
Arwa is one of the millions of children who have been affected by the conflict in Yemen, which erupted just over a year ago.
More than 850 children have been killed and 1200 injured. Hundreds have been used as child soldiers. Many have been subjected to sexual violence.
Schools have been attacked and huge numbers of children bear the mental scars of living through bombings, killings and fleeing from their homes.
Arwa lives with her family in a school in Sana'a that is being used by displaced people after her house and school were damaged in airstrikes.
She told the charity Save The Children: "I miss my school, friends, house and I live in a classroom in a school. School should be for education not to live in but the war forced us to leave our house and live here.
"But I am sure this war will end soon and I will be able to go back home and back to school."
Children are bearing the brunt of the war in Yemen – and reports from Save The Children and the United Nations children's agency UNICEF demonstrate the extent of their suffering.
UNICEF said: "After the escalation of the conflict and the closure of nearly 3600 schools, over 1.8 million school-aged children were forced out of school, bringing the school-age population out of school to 3.4 million – half of the total school-age children.
Amjad Alwan, 12, in Sabeeyel village – he said in 2015: "I cannot walk or move even a step out of my house. I am scared of being killed by the rockets." Picture: UNICEF/Farra
"Although schools reopened in November 2015, over 1600 remain closed due to insecurity, infrastructural damages or use as shelters by displaced people, mainly in al-Jawf, Sa'ada and Taiz governorates."
There have been more than 50 direct attacks on schools and teachers and about 50 schools have been occupied by fighters, UNICEF said.
"Children are not safe anywhere in Yemen. Even playing or sleeping has become dangerous," said Julien Harneis, UNICEF representative in Yemen.
The agency said children as young as 10 are taking up much more active roles in the fighting, such as manning checkpoints and carrying weapons.
Save The Children said schools that remain open are "often cramped and severely under-resourced, with a lack of teachers, books and furniture, with reports of children sitting on the floor in overcrowded classrooms".
The charity said almost 90% of Yemen's children are now in need of emergency humanitarian aid and the desperate plight of 10 million children is still being largely ignored. The UN Humanitarian Response Plan for Yemen was only 56% funded in 2015 and so far is only 12% funded for this year – with no funding received for education or child protection.
Edward Santiago, Save the Children's Country Director in Yemen, said: "An entire generation of children – the future of Yemen – is being abandoned to their fate.
"For millions of children here, the terror of airstrikes and shelling and the destruction of everything around them has become a daily fact of life. This must not be allowed to continue."
Yemen's children are among more than 80 million around the world whose education has been disrupted by emergencies, including conflicts and natural disasters.
Children need safe places to learn and recover from the trauma of conflicts. But less than 2% of humanitarian aid went to education in 2015.
You can send a message to leaders meeting at the first ever World Humanitarian Summit in May – ensuring they commit to set up a new platform to fund education in emergencies.
Theirworld – the children's charity behind A World at School – has launched the #SafeSchools campaign to keep up public pressure. Please sign the #SafeSchools petition.
Read the UNICEF report Children on the Brink and the Save the Children report Yemen's Children Suffering in Silence.
---
More news
Theirworld initiative helps to deliver $30m of computers to Ukrainian children
Theirworld initiative helps to deliver $30m of computers to Ukrainian children
Theirworld's mission to give children in crises a safe place to learn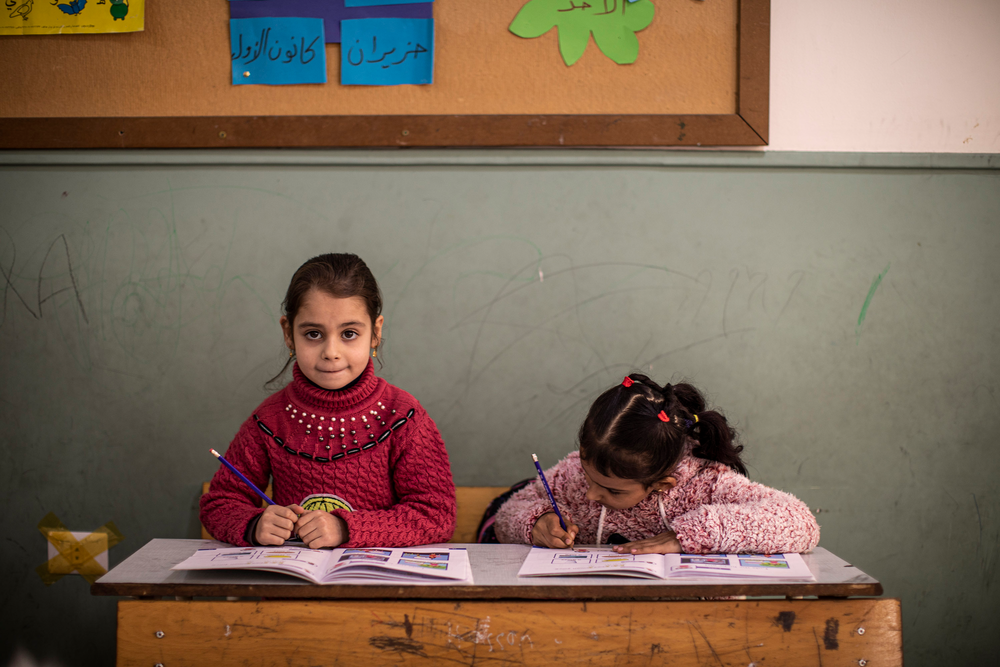 Theirworld's mission to give children in crises a safe place to learn