200 girls rescued by Nigerian army from Boko Haram camps are not Chibok students
Chibok girls, Children in conflicts
The abducted Chibok girls in a Boko Haram video
The Nigerian army has announced it has rescued 200 girls and 93 women from Boko Haram – but they do not include any of the schoolgirls abducted from Chibok more than a year ago.
The military said four camps had been destroyed and weapons seized during the operation in the northeast of the country. On its official Twitter feed, the army said: "Troops this afternoon rescued 200 girls and 93 women from Sambisa Forest." At first it said it "cannot confirm if the Chibok girls are in this group."
FLASH: Troops this afternoon rescued 200 girls & 93 women from #Sambisa Forest. We cannot confirm if the #ChibokGirls are in this group /1

— DEFENCE HQ NIGERIA (@DefenceInfoNG) April 28, 2015
But later a military spokesman said none of the missing 219 Chibok students were among those rescued today. The army said it had destroyed the "notorious Tokumbere camp" and added that all those rescued were being "screened and profiled". 
On April 14, 2014, 276 girls were kidnapped from the Government Girls Secondary School in Chibok, Borno state, by Boko Haram – whose name means "Western education is forbidden". Many of the girls escaped but 219 are still missing. Vigils and marches were held around the world to make their one year in captivity.
Chibok Girls Ambassadors at one-year anniversary vigil in Abuja
On the anniversary of their abduction, a shocking report revealed that at least 2000 girls and women have been abducted by Boko Haram since the start of 2014. Many of them have been raped, forced into sexual slavery and marriage and trained to fight, according to the human rights organisation Amnesty International. The report was based on almost 200 witness accounts – including 28 with abducted girls and women who managed to escape from their captors.
Last month, residents of the northern town of Damasak said hundreds of children and women had been abducted by Boko Haram. The town was liberated by troops from neighbouring Chad and Niger.
The Sambisa Forest is south of the city of Maiduguri – see map above – where a schoolgirl was used as a suicide bomber in a deadly attack in January. In June last year, it was reported that 60 girls and women and 31 boys had been kidnapped in a series of attacks on Kummabza, 95 miles from Maudaguri.
And in December more than 100 children and women were reportedly abducted by Boko Haram gunmen who killed 35 people in a raid on the village of Gumsuri near Chibok.
Four days ago the Nigerian military released a video of operations in Sambisa Forest.
Gordon Brown, United Nations Special Envoy for Global Education, welcomed the release of the girls. He revealed he will have talks with President-Elect Muhammadu Buhari and added: "Now that some girls have been released we want all girls released. And we want them home with their families in days – not months or years.
"I will offer President-Elect Buhari help for safe schools which allow girls to participate in education, free of fear. By creating safe schools and communities ​where girls are free of fear we can get every child into school and learning."
---
More news
Theirworld initiative helps to deliver $30m of computers to Ukrainian children
Theirworld initiative helps to deliver $30m of computers to Ukrainian children
Theirworld's mission to give children in crises a safe place to learn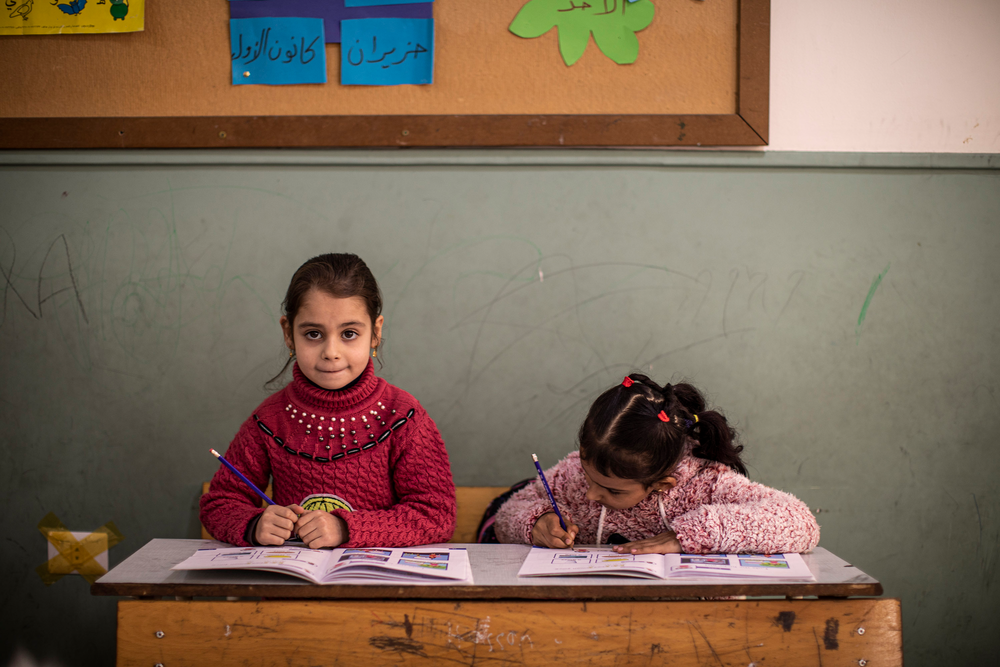 Theirworld's mission to give children in crises a safe place to learn