2020 review: how Theirworld helped to unlock big change for education
Justin van Fleet, Theirworld
---
In a year when the pandemic led to 1.5 billion young people being shut out of school, we stepped up our efforts to end the global education crisis. Here we look at some of Theirworld's projects, campaigns, research and advocacy during an unforgettable 2020. We have also created a special Theirworld 2020 video as a way of saying thank you to everyone who has supported our work. Watch it here...
---
January
Theirworld President Justin van Fleet set the scene for 2020 with a blog that looked ahead at the challenges and opportunities in 2020. He wrote: "The scale of the global education crisis is so large that everyone has a role to play – and technology makes inclusion more possible than ever before."
Little did he – or any of us – know what lay ahead in the form of the Covid-19 pandemic and how big a role technology would play in delivering education to children whose schools were closed by the virus.
February
March
April
Theirworld was among 25 organisations who called for increased funding for education as a core part of the world's response to the coronavirus crisis. It included a plea for $50 million in new funding for Education Cannot Wait – the fund for education in emergencies.
We looked at how the closure of schools was adding to the misery for thousands of children trapped in refugee camps on the Greek islands. Theirworld had helped the Tapuat Centre near the Moria camp to refurbish a building and provide non-formal education to hundreds of children – but the centre was closed by the lockdown.
A report from Theirworld warned that vital education services for thousands of refugee children on the islands would end in June without urgent action from the international community.
Thousands of children from low-income families in the United States were given free computers to learn at home as part of a project by the REACT (Rapid Education Action) programme. REACT is run by the Global Business Coalition for Education, an initiative of Theirworld.
May
June
July
August
September
A new series of Better Angels – a podcast for the activist spirit, hosted by Theirworld Chair Sarah Brown – ran for 12 episodes leading up to and during the UN General Assembly. The series began with an episode featuring Filippo Grandi, UN High Commissioner for Refugees. 
A major report in 2018 was supported by Theirworld and Save the Children as part of the Inquiry on Protecting Children in Conflict. This month a new executive summary was released to mark the first International Day to Protect Education from Attack. 
Theirworld created a new Snakes and Ladders game to highlight the education crisis facing millions of children around the world. Keys and Locks: The Education Game was launched ahead of the UN General Assembly. 
Theirworld and the Global Business Coalition for Education launched The Key – a comprehensive information toolkit to help anyyone make a clear and robust case for education. The digital report is crammed with messages, statistics, taking points and infographics about subjects where education plays a key role.
Two thousand global leaders, business figures, innovators, youth activists and changemakers gathered to take part in a virtual event called Unlock Big Change – hosted during the UN General Assembly by Theirworld and the Global Business Coalition for Education. It was opened by UN Secretary-General António Guterres. 
October
November
December
---
More news
Take the test and discover how our Schools Hub helps students grasp the global education crisis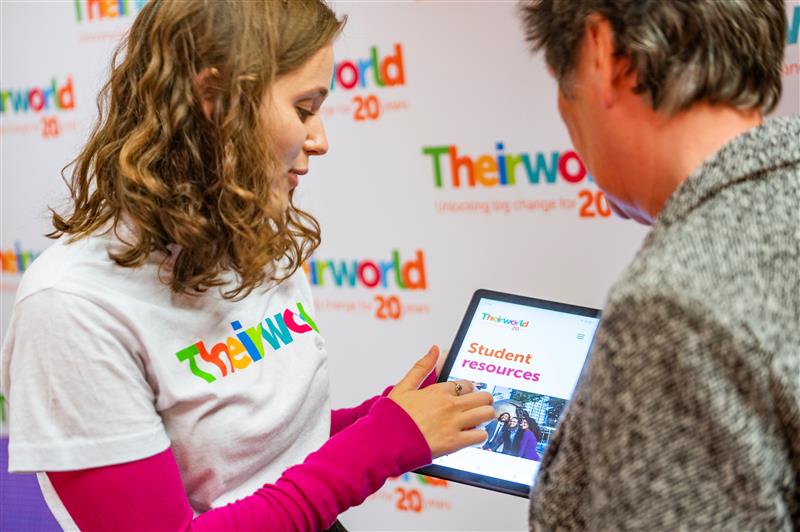 Take the test and discover how our Schools Hub helps students grasp the global education crisis
#LetMeLearn: the story of a global education campaign
#LetMeLearn: the story of a global education campaign