21 kidnapped Chibok schoolgirls are freed by Boko Haram
Chibok girls, Children in conflicts
---
Some of the Chibok girls in the Boko Haram video from 2014
The Nigerian government said today that 21 schoolgirls kidnapped by Boko Haram in 2014 in the town of Chibok have been freed.
They were released after negotiations between the militant group and the government – brokered by the International Red Cross and the Swiss government.
Obiageli Ezekwesili, one of the leaders of the #BringBackOurGirls movement, tweeted after hearing the news: "I can only weep, right now. You know that kind of cry that is a mix of multiple emotions."
A total of 276 girls were abducted from the Government Girls' Secondary School in a night raid on their dormitories in April 2014 – but many escaped from the kidnappers' trucks.
Boko Haram released a video of a large group of the girls the following month and the abduction sparked outrage across the world and the global #BringBackOurGirls campaign.
The Islamist group's insurgency has seen more than 900 schools attacked and 600 teachers killed, forcing hundreds of thousands of children out of education.
The 21 girls were exchanged for four Boko Haram prisoners in Banki, northeast Nigeria, according to reports. The remaining kidnapped girls are still missing.
"It is confirmed that 21 of the missing Chibok girls have been released and are in the custody of the department of state services," presidential spokesman Garba Shehu said in a statement.
A #BringBackOurGirls vigil held in Abuja, Nigeria
He added: "The release of the girls is the outcome of negotiations between the administration and the Boko Haram brokered by the International Red Cross and the Swiss government. The negotiations will continue."
It was reported that the Chibok girls were taken from Kumshe by helicopter to Maiduguri, capital of northeast Borno state, which includes Chibok.
"The 21 (Chibok) girls arrived (in) Banki around 3am where they found a military helicopter waiting. They were immediately ushered into the helicopter and flown to Maiduguri," reported the AFP news agency.
Gordon Brown, the United Nations Special Envoy for Global Education, has campaigned for the release of the Chibok girls.
He said today: "The release of 21 kidnapped Chibok girls is a huge relief but still raises the question: Where are the other 200 girls and what has happened to them?
"Tomorrow marks exactly two and a half years since the girls were abducted from their school dormitory. Most were studying to go on to college or university and to be nurses, doctors, care workers, teachers, lecturers and engineers.
"For those girls rescued today – a rescue for which we should thank the International Red Cross – we do not know how they will readjust. But one thing is for certain, their lives have changed for ever.
"Now we must urge authorities and negotiators not to give up until EVERY girl is safely back with their families."
Just some of the abducted Chibok schoolgirls
Last year the Nigerian military rescued hundreds of people who had been kidnapped by Boko Haram – but the missing Chibok schoolgirls were not among them, despite several unconfirmed sightings.
In May this year one of the missing schoolgirls called Serah Luka was freed after clashes between soldiers and militants in Borno state. Amina Ali Darsha Nkeki, the first girl to be rescued, was found by soldiers working with a vigilante group three days earlier near Damboa, south of Maiduguri.
This area is where Boko Haram has waged a seven-year insurgency in its bid to set up an Islamic state.
About 2000 girls and boys have been abducted by Boko Haram since 2014, with many used as sex slaves, fighters, and even suicide bombers, according to Amnesty International.
More than one million children have been forced out of school in the region and 2000 closed have been closed due to the conflict.
"It's a staggering number," Manuel Fontaine, UNICEF's West and Central Africa regional director, said in a statement last year.
Hundreds of schools have been attacked across not only Nigeria, but Cameroon, Chad and Niger. A major element of the group's terror strategy has been attacking schools and vulnerable girls and women.
About 600 teachers have been killed since the start of Boko Haram's insurgency, according to UNICEF. An estimated 11 million children of primary school age were already out of school in Nigeria, Cameroon, Chad and Niger in the Lake Chad Basin before the crisis began, according to UNICEF.
 
---
More news
Theirworld initiative helps to deliver $30m of computers to Ukrainian children
Theirworld initiative helps to deliver $30m of computers to Ukrainian children
Theirworld's mission to give children in crises a safe place to learn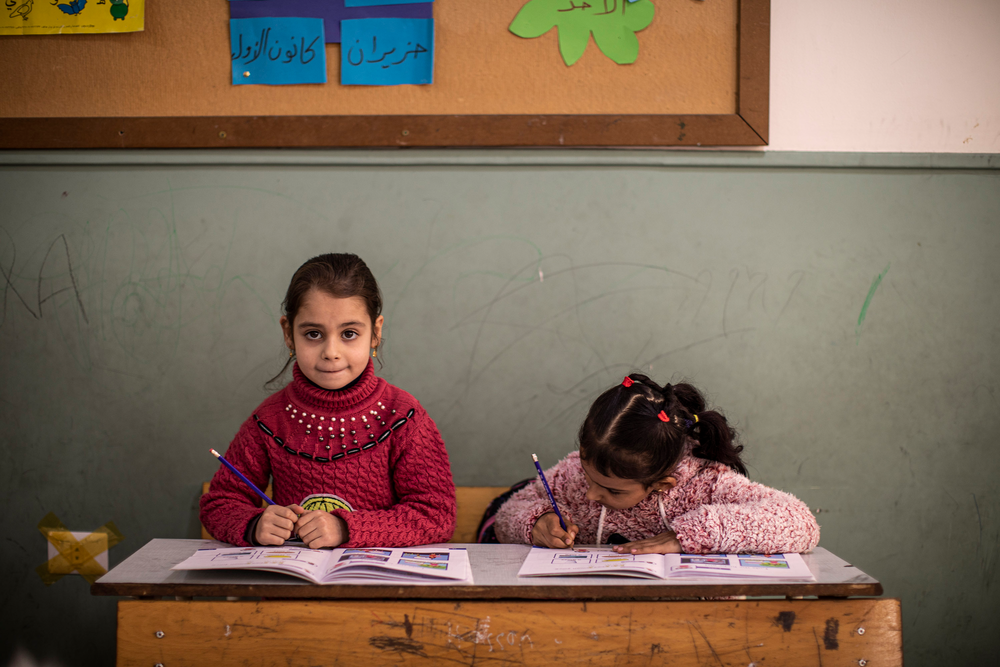 Theirworld's mission to give children in crises a safe place to learn