500,000 Gaza children go back to school after ceasefire
Half a million children in Gaza have just returned to school after a 50-day conflict marked by displacement, deaths and bombed classrooms.
About 240,000 of them are in 252 United Nations-run schools, 230,000 in public schools and thousands more are in private schools. More than 250 schools and kindergartens were damaged during weeks of violence which finally came to an end with a ceasefire between Israelis and Palestinians.
Pierre Krähenbühl, Commissioner-General of the United Nations Relief and Works Agency, said: "In Gaza, conflict has profoundly affected the traditional learning environment and delayed the academic year for almost three weeks.
"But after the traumatic 50 days of brutal conflict, of death, destruction and massive displacement, including to many of our schools, we are determined to give the children a sense of renewed hope and better prospects by opening the schools so soon again."
UNRWA has also sent 50,000 students back to school in Syria, where the three-and-a-half-year conflict has hit the education system hard.
Both in Gaza and Syria, the agency has adopted measures to protect education, including establishing schools in safer areas, developing material for students unable to get to school and deploying psychosocial counsellors.
UNWRA has employed more than 200 counsellors to support children, parents and teachers as they go back to school. It is rolling out a three-phase approach and 7800 teachers have been trained to offer new methods of teaching.
After the initial focus on psychosocial support, a transitional phase will centre on alternative learning and finally UNRWA schools will return to standard curriculum.
Mr Krähenbühl said: "UNRWA staff in Gaza have been working around the clock to prepare for the students' return to school. This has been particularly challenging because, as of a few days ago, 29 UNRWA school buildings – every fifth school building – was still serving as a shelter.
"The top priority now is making sure that after a period of psychosocial support, including the use of theatre for development techniques, our students can return to their regular curricula. There can be no more important priority right now than providing education and a sense of safety and normality for the children of Gaza and Syria. It is a matter of dignity."
More than 63,000 people, of whom half are children under the age of 18, remain displaced in Gaza.
Helping children affected by conflicts and emergencies is one of A World at School's First 100 Days targets in the 500-day #EducationCountdown campaign. You can learn more about education in emergencies and find out how to take action here.
---
More news
Theirworld initiative helps to deliver $30m of computers to Ukrainian children
Theirworld initiative helps to deliver $30m of computers to Ukrainian children
Theirworld's mission to give children in crises a safe place to learn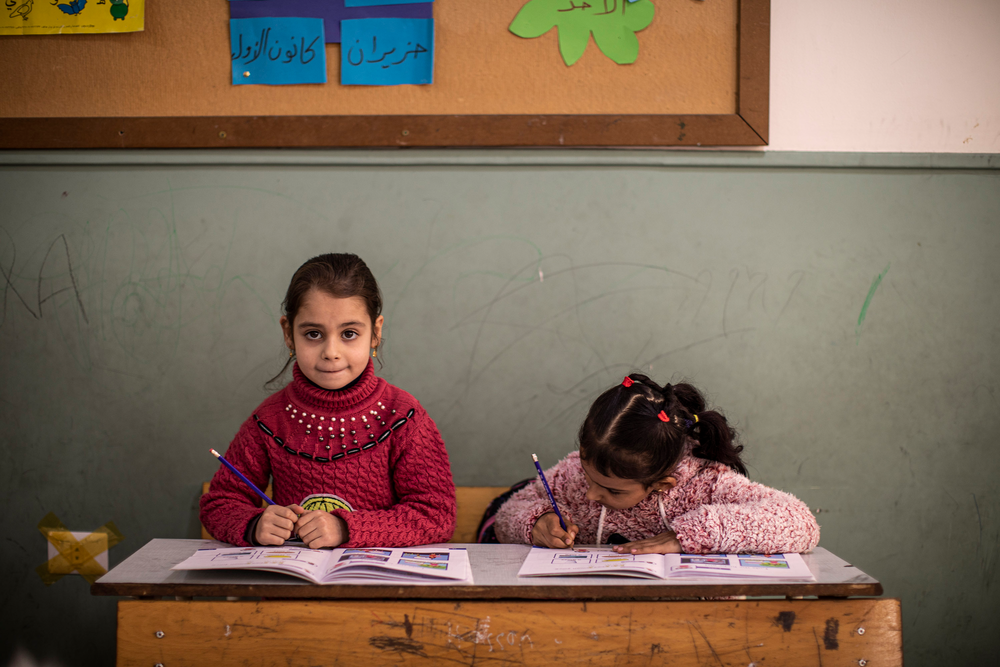 Theirworld's mission to give children in crises a safe place to learn