#5for5 comedy stars highlight need for investment in young children
Celebrities, Child nutrition (Early years), Childcare, Early childhood development, ​Learning through play (Early years), Theirworld
---
To mark Universal Children's Day, we have a new video starring a host of top comics including Matt Lucas, Rainn Wilson and Shappi Khorsandi.
---
Having fun is the best part of being a kid. So when we asked some well-known comedians to go a step further and dress up as babies, they were in their element.
The famous faces – including TV and film stars Matt Lucas and Rainn Wilson – slipped into adorable baby onesies earlier this year to promote Theirworld's #5for5 campaign on early childhood development.
#5for5 has been gathering momentum during 2017 and our comedians' videos have been watched more than 1.5 million times. 
To mark Universal Children's Day today, we've released a new mashup film – the #5for5 Supercut shows all of our famous funny people acting like big babies while delivering a serious message about the need for investment in early years care and pre-primary education. 
Watch our new #5for5 film
As well as Matt, the video features fellow British stand-ups Nish Kumar and Shappi Khorsandi, who is a contestant in the current series of TV's I'm A Celebrity Get Me Out of Here.
Our American stars are Rainn Wilson from the US version of TV's The Office; Jackie Tohn, the comedic actress from the TV series GLOW; and stand-up comedian Wendy Liebman. And we have Teacher Wanjiku, whose TV character is hugely popular in Kenya.
#5for5 is all about raising awareness of the five crucial childhood interventions needed for children aged 0-5. 90% of the brain develops by the time you're five. 
World leaders agreed to support early childhood development for every child as part of the Sustainable Development Goals. But not all governments are listening and investing in children's most important years. 
Theirworld is calling for pre-primary education to be a priority and for countries to back a new funding initiative –  the International Finance Facility for Education (IFFEd) –  that will help to pay for quality preschool programmes.
In June, we published a report that showed a severe lack of investment in early years education is putting millions of children at a disadvantage before they even start school.
Included was a call for countries to give 10% of their education budget to pre-primary education. That was echoed by UNICEF in September when a major report by the United Nations children's agency said such a move would "greatly expand the number of children with access to early learning opportunities".
Save the Children, in its report Next Generation Aid, said: "Investments in early years education offer fantastic value for money." It also quoted Theirworld research that showed donors currently spend 26 times more on secondary education than on early years education.
The World Bank's World Development Report 2018 on education said there is a global learning crisis that begins with young children. It called for day care centres for very young children and preschool programmes for those aged three to six. 
That's why #5for5 needs to keep raising awareness. We hope you enjoy our new #5for5 comedians compilation film – and you can check out all of our previous ones here.
Our caring comics certainly had fun making the videos. Rainn, Wendy and Jackie all filmed theirs on the same day at a studio in Hollywood.
"It was a boiling hot day and I felt a little sorry for them in their onesies. But they did a lot of improvising and really enjoyed themselves," said Theirworld Communications Manager Caroline Macaulay, who oversees our celebrity engagement.
"At one point, Rainn rolled backwards and made a big hole in the background paper with a giant crayon. It was hilarious.
"They were all delighted with the finished films and were so happy to be part of it."
Matt's film revived his popular character George Dawes from the British TV quiz show Shooting Stars. The video was directed by Geoff Posner, who has won six BAFTAs and been responsible for iconic shows like The Young Ones, French and Saunders, and Dinnerladies.
Matt said: "Sometimes you just have to put on a romper suit and be silly."
---
More news
Take the test and discover how our Schools Hub helps students grasp the global education crisis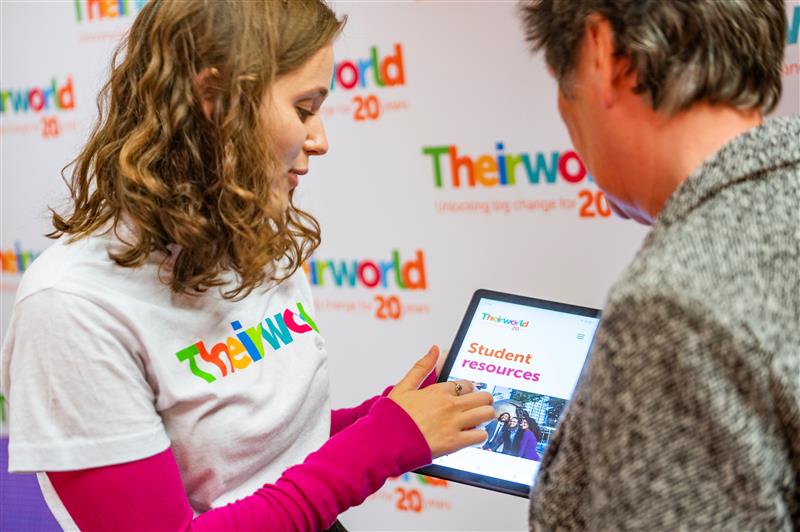 Take the test and discover how our Schools Hub helps students grasp the global education crisis
MyBestStart programme gives young girls the education they deserve
MyBestStart programme gives young girls the education they deserve