#YouPromised – but 690,000 Syrian refugee children are still out of school and donor funding has dropped
Children in conflicts, Double-shift schools, Education in emergencies, Refugees and internally displaced people, Right to education
Despite a pledge by world leaders two years ago to get every refugee into education, more than a third are still being left behind, a major report reveals.
---
Almost 690,000 Syrian refugee children are still out of school – more than two years after world leaders promised they would all get an education.
A major report today reveals that 35% of refugee children in five host countries are missing out – and that funding from donors has fallen dramatically.
Syrian refugees were promised by international leaders at a London conference in 2016 that they would all be in school by the summer of 2017.
Despite progress, 689,000 school-age Syrian children remain shut out of classrooms in host countries Turkey, Lebanon, Jordan, Iraq and Egypt. They include many of the most vulnerable, such as those with disabilities.
Another two million school-age children inside Syria – 36% of the total there – are not getting an education. 
"In 2018, as the Syrian crisis enters its eighth year, the need to honour that commitment is as pressing as ever," says the report by the No Lost Generation initiative of United Nations agencies, national aid organisations and leading charities.
"Yet there is a long way to go if the promise made at the London conference is to be kept."
In 2017 the total funding requirement for the education humanitarian responses in Syria and the five host countries was $1.091 billion. By the end of the year $566 million had been received – only 52%. That was down from 2016, when 71% of the total of $618 million needed was received.
The No Lost Generation report – titled We Made a Promise – was released ahead of the second Supporting Syria and the Region conference in Brussels on April 24 and 25, hosted by the European Union and UN. 
Theirworld's #YouPromised campaign has been pushing since last year for the pledges made at the first Supporting Syria conference in 2016 to be kept.
Some progress has been made since then. Thanks to the efforts of Turkey, Lebanon, Jordan, Iraq and Egypt, the number of Syrian refugee children enrolled in formal or regulated non-formal education increased from 1.04 million (59%) in December 2016 to 1.25 million (65%) in December 2017.
Among them are the Rashid family, who left Syria in 2012 and eventually settled in Turkey's biggest city Istanbul.
In 2017 their children Ahmad, 13, Ibrahim, eight, and seven-year-olds Meek and Zainab all benefited from the Conditional Cash Transfer for Education programme, which helped them to enrol and stay in school.
Mum Layla said: "They love their school and do not want to miss a day. I feel very proud every morning when they leave for school and I feel more hopeful every evening when they come back home."
Inside Syria, school enrolment has stabilised – with about 3.7 million children (64% of school-age children) currently in education.
The reports says barriers to education for children inside and outside Syria include:
Child labour
Child marriage
Lack of identity documentation
Lack of safety at home and school
Effects of long-term trauma and displacement
Need for young people to earn money for themselves and families
The No Lost Generation initiative says long-term and timely funding is as urgent now as it was at the time of the 2016 conference.
One strategy the partnership wants to push is investment in early childhood education. The report says this would "increase readiness of children to primary education and enhance social cohesion amongst parents of refugees and host communities".
Theirworld revealed last week that only 1% of development aid to children under five goes to pre-primary education. 
About 95% of the money goes to health and nutrition – putting millions of children at a disadvantage before they even start primary school.  
---
More news
Theirworld initiative helps to deliver $30m of computers to Ukrainian children
Theirworld initiative helps to deliver $30m of computers to Ukrainian children
Theirworld's mission to give children in crises a safe place to learn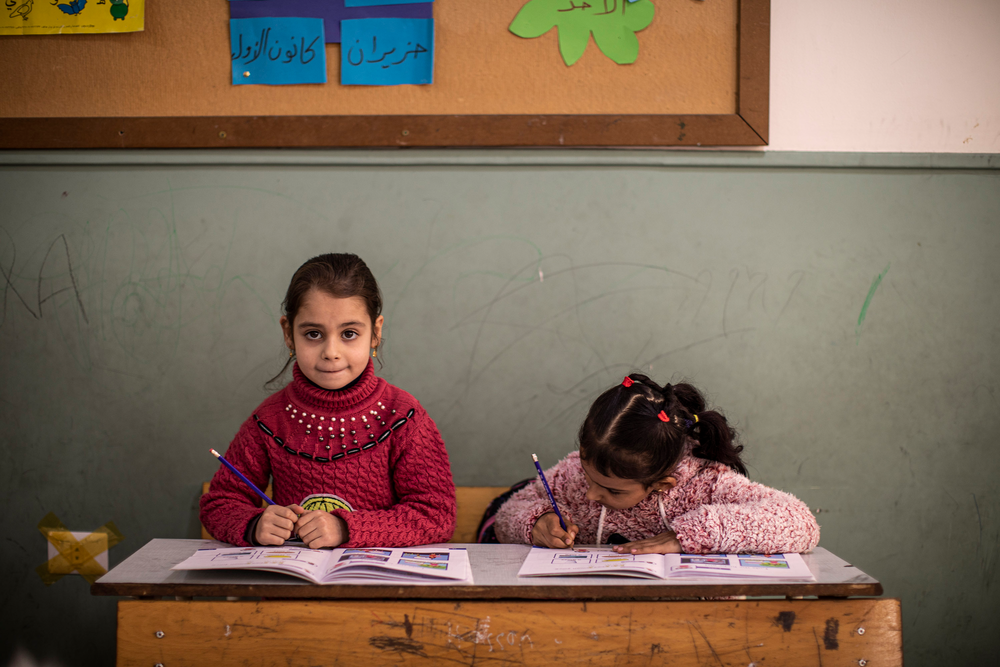 Theirworld's mission to give children in crises a safe place to learn