A life devoted to helping children and refugees: tributes to Islamic State hostage Kayla
Caring Kayla Mueller – the Islamic State hostage who was confirmed dead today – knew from an early age that she wanted to devote her life to helping people less fortunate than herself.
The 26-year-old American became interested in human rights and aid work while she was at high school. And that passion led to her a variety of aid roles including helping at an orphanage in India, an AIDS clinic in the United States, at schools and aid organisations in Israel and the West Bank and latterly working with refugees from the Syrian conflict.
In 2013 she told about her experiences working for the humanitarian organisation Support to Life in refugee camps for Syrians fleeing into neighbouring Turkey.
The charity's work includes restarting education services after disasters and conflicts. It builds tent schools, supplies school materials and trains teachers. Kayla visited refugee camps, where she played with children and helped them to draw and paint.
In a talk to the Prescott Kiwanis Club in Arizona, Kayla told how schools were targeted for bombing by Syrian government planes and that children as young as eight were working because they had no access to schools.
Kayla said: "When Syrians hear I'm an American, they ask, 'Where is the world?' All I can do is cry with them, because I don't know."
She added: "Half the 1.5 million refugees the United Nations has registered are children. In the chaos of waking up in the middle of the night and being shelled, we're hearing of more children being separated from their families by accident."
It was in the Syria city of Aleppo that Kayla was captured by the terrorist group in August 2013. Islamic State claimed last week that she had been killed during a Jordanian air strike on a building where she was being held in Raqqa. There has been no confirmation of that – but the United States government said today that Kayla had died and that IS were responsible because they were holding her.
In a statement, her parents Carl and Marsha and brother Eric said: "Kayla was a compassionate and devoted humanitarian. She dedicated the whole of her young life to helping those in need of freedom, justice, and peace. We are so proud of the person Kayla was and the work that she did while she was here with us. She lived with purpose, and we will work every day to honour her legacy."
The family released a letter written by Kayla while in captivity. In it, she wrote: "I have been shown in darkness, light + have learned that even in prison, one can be free. I am grateful. I have come to see that there is good in every situation, sometimes we just have to look for it."
Family releases letter Kayla Mueller wrote in 2014 while in captivity: http://t.co/IIsIt1PoPu pic.twitter.com/7iIwGKTi2v

— Reuters Top News (@Reuters) February 10, 2015
US President Barak Obama said: "Kayla represents what is best about America and expressed her deep pride in the freedoms that we Americans enjoy and that so many others strive for around the world. In how she lived her life, she epitomised all that is good in our world."
Gordon Brown, UN Special Envoy for Global Education, said: "She was an unselfish heroine of our times, a young person inspired to give whose life of service  and lack of bitterness about her fate is now an inspiration to young people round the world.
"Her  work among children and for their right to education even while refugees will always be remembered and never forgotten. Her cry for help for Syrian child refugees and her question 'where is the world' challenges us to act and to honour her service by doing more to help refugees in their hour of need."
Kayla was a native of Prescott, Arizona. At high school she joined the Save Darfur Coalition to raise awareness of the genocide in Sudan before going on to study at Northern Arizona University. She later worked at an orphanage in India, where she also taught English to Tibetan refugees.
Kayla travelled to the Syria-Turkey border in 2012 to work with refugees escaping from the civil war. She worked with Support to Life and the Danish Refugee Council.
Last week was the first time that Islamic State had admitted that it had been holding her hostage. The group, who kidnapped Kayla as she left a hospital, has already killed three American and several other hostages.
---
More news
Theirworld initiative helps to deliver $30m of computers to Ukrainian children
Theirworld initiative helps to deliver $30m of computers to Ukrainian children
Theirworld's mission to give children in crises a safe place to learn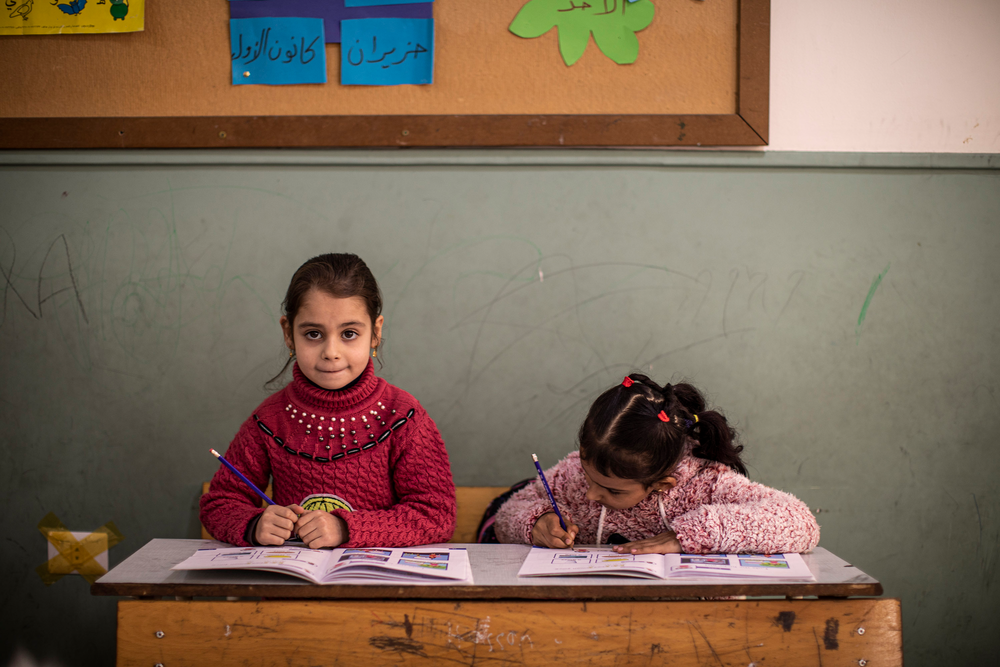 Theirworld's mission to give children in crises a safe place to learn