A message of hope: how Syria's Young Talent film was made
Children in conflicts, Education in emergencies
The Karbouj brothers are filmed rapping in Lebanon's Bekaa Valley
They knew they were looking for talented children. Young refugees who had dealt with huge obstacles after leaving the Syrian conflict behind.
But when the creative film-makers at Silverfish Media began hunting for a story of hope to turn into a campaign video, they had no idea what they would discover.
What they found was the Karbouj brothers – Samir, Abdulrahman and Mohamed – who use rap to tell the story of Syria, of leaving behind their home and of their hopes for the future.
"We knew we wanted to capture the story of Syrian children in Lebanon in a less traditional way," said Nathan Sam Long, writer and director at the award-winning production company.
"We were looking for talent – for young people who were overcoming seemingly insurmountable odds."
Nathan worked on the project with Silverfish founder Mark Lucas and Dominic Minghella – an award-winning screenwriter behind hit British TV series such as Doc Martin and Robin Hood.
The boys are filmed at their school by the film crew
The London-based company – which has always cared about causes as well as making films – had done a series of projects with A World at School's parent charity Theirworld.
They included a film made for an event in New York last year to mark the handover of 10 million signatures for the #UpForSchool Petition, which demands that world leaders get every child into school.
The Syrian refugee film was also part of the #UpForSchool campaign – this time to call on the international community to back the Hope For Syria's Young Talent petition and ensure one million Syrian refugee children secure an education this year.
Read more about the Karbouj brothers and the Hope for Syria's Young talent petition
"We thought music would be a very good platform for anyone in the world to relate to," said Nathan. "It is a universal language. We wanted to show the importance of education for hope."
Then came the moment they realised their search had been successful.
Nathan explained: "We were shown a shaky video one day of these kids rapping in a classroom. I've always done a lot of work with music videos and so I showed it to people I know. They were struck by how good the boys are."
The brothers and their parents watch the finished film at their home
That shaky video had been forwarded by Sonbola, an educational initiative which Theirworld has been working with to support innovative ways to get children into school.
"We had asked Sonbola if they could find children with particular skills," explained Claire Wilkinson, Senior Campaigns and Communications Manager for A World at School. "They showed us a video of two of the brothers rapping in their classroom – and they were amazing."
After preparatory work, Silverfish and Theirworld headed to the Bekaa Valley in Lebanon for four days to make the film.
Nathan said: "The boys were very friendly and welcoming but quite shy at first. When we asked them to rap their faces just lit up.
"At one point their mother and her neighbour were in tears watching them rap. We were told the lyrics were about the children left in Syria, about 'spending Eid in the cemetery'. We then realised how much depth this story really had."
This week the finished film – titled Straight Outta Syria – was sent to Sonbola, who visited the family and projected it on to the wall of their home.
"They were very happy with it," said Claire. "The boys' parents said it made them feel as if somebody cares about them."
Now watch the video here…
The film was commissioned by Theirworld and produced by Silverfish. It was directed by Nathan Sam Long. The producer was Hannah Salvanes McLean, the executive producers were Mark Lucas and Dominic Minghella, the director of photography was Michael Lagerwey and the music composer was Luis Issermann.
---
More news
Theirworld initiative helps to deliver $30m of computers to Ukrainian children
Theirworld initiative helps to deliver $30m of computers to Ukrainian children
Theirworld's mission to give children in crises a safe place to learn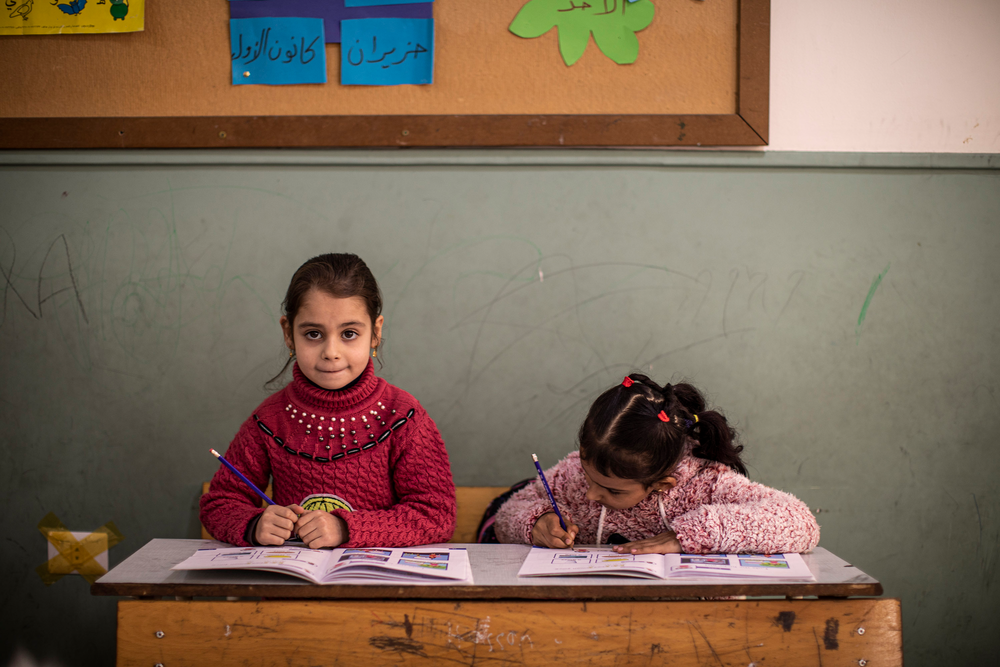 Theirworld's mission to give children in crises a safe place to learn