1.3m young people learned digital skills during Africa Code Week
Girls' education, Right to education, Teachers and learning, Technology and education
Organisers have revealed there was a threefold increase in the number of youth and children who took part this year in 35 countries.
---
On current trends, by the year 2030 half of the world's young people won't have the attributes they need to get a job.
Learning digital and technology skills could be crucial to their chances of success in the workplace of the future.
So it's hugely encouraging to learn that this year's Africa Code Week was a big success. The organisers have revealed that the event, held in October, saw almost 1.3 million youth and children in 35 countries taught basic coding skills.
That's three times the number who took part in 2016 – and more than four in 10 of the coders this year were girls. The highest number of participants was 390,000 in Cameron and 378,000 in Morocco.
Africa Code Week was launched in 2015 by software company SAP. Its global project lead is Claire Gillissen-Duval, who said: "With an average ratio of 43% female participation in coding workshops, Africa Code Week 2017 has created a huge appetite for digital skills development among Africa's girls.
"Female representation in African companies in STEM-related fields currently stands at only 30%, requiring powerful public-private partnerships to start turning the tide and creating more equitable opportunities for African youth to contribute to the continent's economic development and success."
Much of Africa Code Week's success lies in the strength and support of its partners and collaborators. One of them is Women in Technology Uganda, which operates Code Clubs with Theirworld.
Women in Technology Uganda has been taking part in Africa Code Week since its launch and this year provided teachers to demonstrate coding and computer programming in two primary schools and one secondary school.
Its founder Barbara Birungi said: "In Uganda, as well as in many other sub-Saharan countries, girls' education is not considered as important as boys, therefore every educational opportunity that targets girls goes a long way."
Theirworld's first Code Clubs were launched in Uganda and Kenya in March 2016, followed by Nigeria and Tanzania in October 2016. 
In 2017, we launched six more Code Clubs in three different regions of Tanzania. By the end of 2017, more than 280 girls in four countries will have successfully completed the Code Club programme.
In a blog this week, Barbara wrote: "They are low-cost, sustainable and scalable safe spaces where girls can build, learn and create through technology, creativity and coding. 
"The project has allowed Women in Technology Uganda to introduce the basics of coding and programming, as well as general ICT and life skills to 120 underprivileged girls in Kampala, many of whom have never had access to a computer or smartphone before.
"The project aids future mentors to set up and run their own tech hubs. Girls who complete the course return to mentor the next cohort of girls, enabling a self-sustaining model with community support."
For Africa Code Week, we spoke to several girls and young women who attend the Code Clubs in Uganda.
Shamim, 17, said: "Before I came to the Code Club I never knew how to use a computer. I do not have a computer at home. We have some computers at school but I mainly use one when I come to the Code Club. 
"I think all girls should able to code and use a computer, not only boys. Before I came here I thought that computers were only for people with money – but now I know that poor people can also use a computer too."
Our Code Clubs are part of Theirworld's efforts to create safe spaces for girls to learn and continue their education. This work is kindly supported by the players of the People's Postcode Lottery. 
---
More news
Skills for the future give young people the best chance of success
Skills for the future give young people the best chance of success
Take the test and discover how our Schools Hub helps students grasp the global education crisis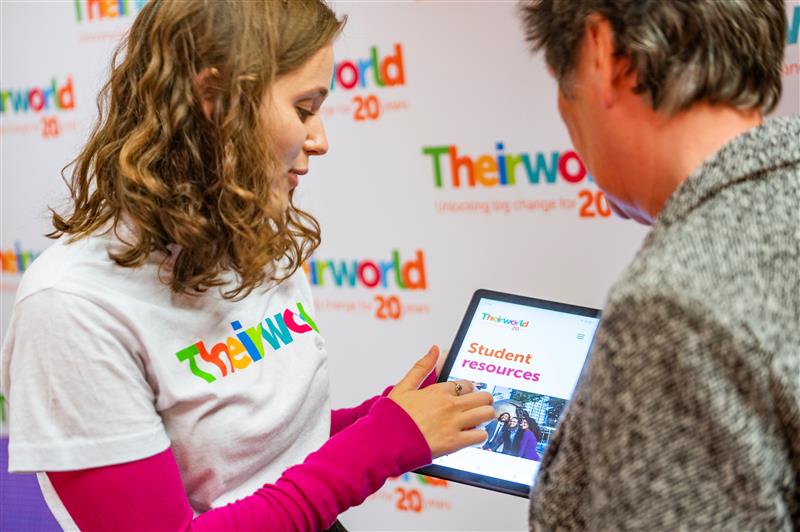 Take the test and discover how our Schools Hub helps students grasp the global education crisis