Take the test and discover how our Schools Hub helps students grasp the global education crisis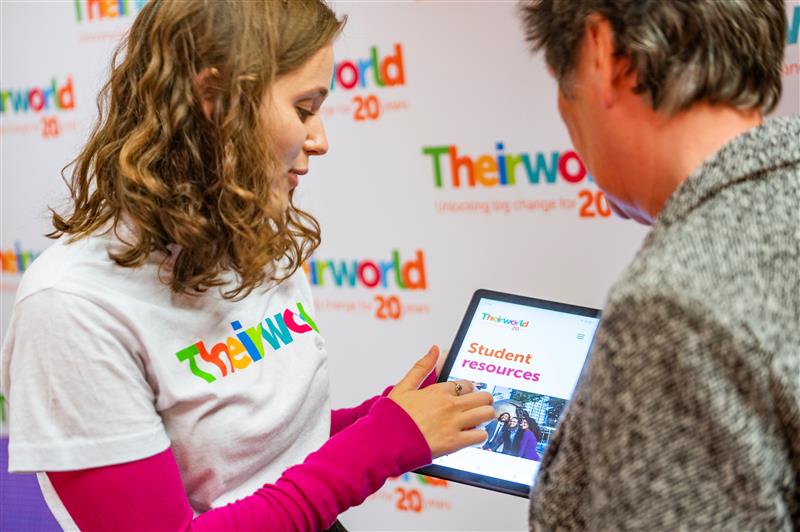 Teachers and learning, Theirworld
Theirworld's online one-stop shop includes a student resources section, crammed with the information needed to sit exams, write papers and conduct research.
---
How much do you know about the global education crisis, its causes and potential solutions? 
Theirworld's mission is to ensure that every child has the best start in life, a safe place to learn and skills for the future. But that can't be achieved unless there's a greater understanding of the issues. 
With that in mind, we launched the Theirworld Schools Hub – a one-stop shop to provide a wide range of resources, created especially for students and teachers to help them learn about the education emergency. 
Our existing, award-winning teaching resources have been complemented by a new, in-depth student resources section. It's a comprehensive information toolkit to provide secondary school and first-year university students with the knowledge to make a robust case for education – from thesis statements to the most relevant and up-to-date facts. 
The student resources were unveiled to hundreds of school heads and representatives at the Enlightened Education Edinburgh 2022 conference, held by the schools associations HMC and IAPS. At the event, Theirworld Chair Sarah Brown said: "We believe that engagement from schools is key to raising the volume to world leaders. Teachers have to direct their students to points of inspiration for essay titles, resources to research their papers and a wealth of material to encourage their commitments." 
You can find the new student resources here. The Schools Hub also has information on how to become a Theirworld Global Youth Ambassador, our information toolkit The Key and how to fundraise for Theirworld.  
If you want a taste of what's in the student resources, here's a short test for you to take. 
THE EDUCATION CRISIS
Choose the correct answer. 
1. Before the pandemic made things even worse, how many children and adolescents were out of school around the world?
A. 100 million B. 180 million C. 260 million (Click for answer)
C. That's the latest figure – but it could go even higher due to children not going back to school after Covid-19 closed classrooms and disrupted the education of 1.5 billion young people. 
2. If we don't take action by 2030, how many children will not have the basic skills needed to be engaged citizens or part of the workforce?
A. 250 million B. 825 million C. 1.2 billion (Click for answer)
B. Half of all the world's children will be out of school or have received such a poor-quality education that they they won't be able to read or do basic mathematics, let alone meet the demands of future jobs.
3. Less than 2% of humanitarian aid goes to education. What percentage does Theirworld believe is needed?
A. 10% B. 6% C. 3% (Click for answer)
A AND B. A bit of a trick question. Theirworld has called for leaders and donors to commit to increasing the share of humanitarian emergency aid to education to at least 6% and as high as 10%. So B is correct but A gets you a gold star. 
OUR STUDENT RESOURCES
Answer true or false. 
4. Theirworld's new student resources are suitable only for those studying for A Levels. True or false?
Click here for answer
False. They can be used by students at a variety of institutions and taking various exams, writing papers and dissertations or conducting research. They are suitable for secondary schools, colleges, universities, International Baccalaureate, AP courses, Scottish Highers and many more. 
5. The resources are specifically for students taking an education-focused subject. True or false?
Click here for answer
False. Again, the options are wide-ranging – education has a bearing on everything from old favourites such as history and geography to courses like global perspectives and gender studies. 
6. Within the resources, a student selects what they're studying for, what their subject is and can then access a wide range of information from a variety of tabs. True or false?
Click here for answer
True. The tabs guide students to research questions, thesis and topic statements, evidence base, reports and briefs, podcasts, Theirworld's work and related subjects. Our extensive library helps them to gather ideas, better understand education as the subject that underpins progress sectors and subjects, and to get involved. 
EDUCATION CHALLENGES
Fill in the blank.
7. While more than 80% of children in high-income countries are attending pre-primary education, .......... of children in low-income countries are denied access.
Click here for answer
Sadly, it's also more than 80%. There is a stark global divide in access to early childhood education – a situation that needs urgent action. 
8. Children with disabilities are 42% .......... to have foundational reading and numeracy skills compared to children without disabilities.
Click here for answer
Less likely. Even when in school, students with disabilities are at greater risk of not learning. That's a massive global problem when there are 240 million children with disabilities. 
9. During the pandemic school closures, online platforms were used by 96% of students in high-income countries - but by .......... of students across Africa.
Click here for answer
Just 6%. That's how many students in African countries were able to attend classes online when schools were closed by Covid-19. Differences in access to remote learning opportunities during the pandemic were extreme. Digital equity is crucial in tackling the education crisis. 
EDUCATION MESSAGES
Match the action to the result. 
Actions
10. For a refugee child, simply being in school can...
11. Teaching children in their native language can...
12. Each dollar invested in early childhood education can...
Results
A. Yield a return as high as US$17 for the most disadvantaged children.
B. Help to address their trauma and aid their psychosocial recovery.
C. Result in lower drop-out rates, higher retention and increased academic achievement.
Thanks for taking our test. While these resources are aimed at students, being better informed can help everyone to understand the global education crisis. Lean more about how you can take action to help Theirworld's work.
---
More news
Take the test and discover how our Schools Hub helps students grasp the global education crisis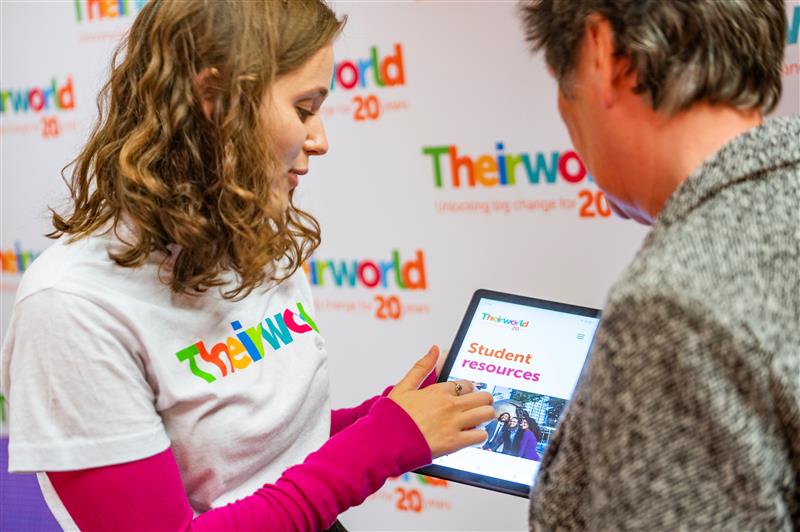 Take the test and discover how our Schools Hub helps students grasp the global education crisis
Teacher helps Harrison move from life on the street to success at school
Teacher helps Harrison move from life on the street to success at school