Teacher helps Harrison move from life on the street to success at school
Street Children, Teachers and learning
To mark World Teachers Day, a new Theirworld film spotlights the LEAP Together project to support street-connected children in Kenya.
---
Every child deserves a great teacher. Especially when, like eight-year-old Harrison, they've spent months or even years living on the streets and missing out on education. 
Harrison ran away from home in Kenya. But now he's back in the classroom and thriving, thanks to the guiding hand of Elizabeth Asiko – a specialist Learning Support Assistant at Mulwakhi Primary School in Vihiga County. 
They are part of a Theirworld-supported project called LEAP (Learning, Educating And Protecting) Together. It helps hundreds of children with visible and hidden disabilities, such as dyslexia or hearing and visual impairment, who spend all or some of their time living or working on the streets. 
To mark World Teachers Day today, a new Theirworld film spotlights the story of Harrison and Elizabeth. Watch it here. 
LEAP Together matches children with a Learning Support Assistant, who is a trained teacher, to work with them in the classroom at a mainstream school.  
It is run by Chance for Childhood and its in-country partner Kisumu Urban Apostolate Programmes. It is supported by Theirworld thanks to the players of People's Postcode Lottery. 
Elizabeth, who works with 11 children, said: "I wanted to help street-connected children, to support them to read and to write, because I saw that their life on the streets is very bad. They are molested, they are mistreated. Sometimes they go without any food. 
His school work has improved. I see him doing well. I pray that the teacher continues to support him.

Harrison's father James
"But they can go back to their families and continue their learning like other children. This work is really rewarding. Now they can sit with others, they can communicate freely and they can do classwork." 
She ensures Harrison is treated well at home, attends school and helps him with English and maths.  
12 schools
and 196 children taking part in the LEAP Together project
He said: "I'm happy to see my teacher. I want to work hard in my studies because I want to learn. I'm happy to be living at home. Life has gone back to normal." 
Elizabeth is certain that Harrison's life has turned a corner. She said: "I have hopes that Harrison will become a great man. I have seen the way he has started. If he continues like that, one day he will be an engineer – or a great footballer!" 
Learn more about LEAP Together 
---
More news
Take the test and discover how our Schools Hub helps students grasp the global education crisis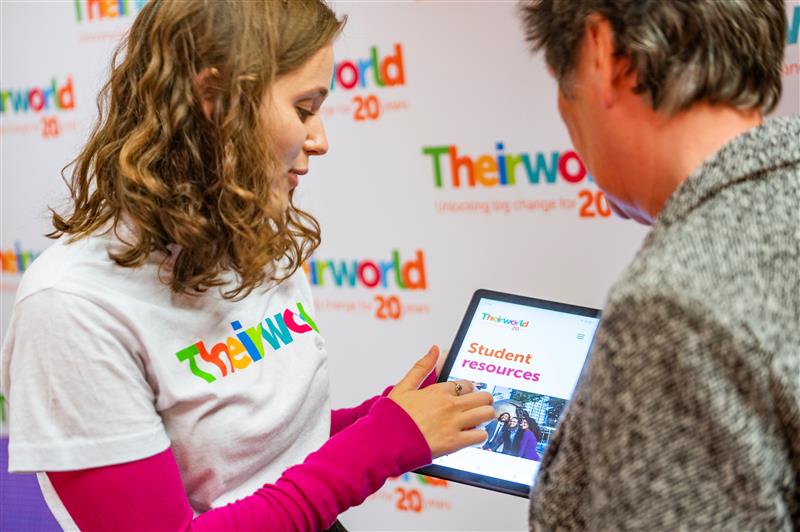 Take the test and discover how our Schools Hub helps students grasp the global education crisis
Teacher helps Harrison move from life on the street to success at school
Teacher helps Harrison move from life on the street to success at school