Underground schools in Aleppo suspended as siege brings terror and death
Children in conflicts, Education in emergencies
---
The activist organisation Kesh Malek, which runs seven schools for 1700 students in the city, hopes to have them reopened soon.
---
Underground schools in Aleppo have been suspended because of the deadly offensive by the Syrian regime to regain control of the city.
The schools are run by an activist organisation called Kesh Malek, which said seven are currently closed due to heavy fighting.
About 100,000 children are living in terror under siege as Aleppo suffers a heavy bombardment that has left hundreds dead. The Syrian army, backed by Russian air strikes, is trying to encircle it and take back control of rebel-held areas that are home to around 350,000 people.
Kesh Malek's schools in Aleppo are attended by around 1700 students being taught by 100 teachers.
They learn from an adapted version of the Syrian curriculum that includes maths, science, social science and Islamic religious classes.
Kesh Malek's programme director, Muhammed Farik, said a young Syrian schoolgirl called Iman had died in one air strike. But he said they hoped to have the schools open again as soon as possible.
Kesh Malek locates its schools in basements where possible, to provide some protection against aerial bombardments.
The name means checkmate, or defeat of the king in chess. This refers to the group's ideal of creating a democratic republic in Syria to replace President Assad's dictatorship.
Kesh Malek began setting up schools in Aleppo in 2011, at first using normal school premises. That changed in April 2014 after a government bombardment on the Ein Jalout school killed 23 children.
Farik said a teacher was injured in the bomb attack that killed Iman and that schools were running out of books and stationary.
He said this week: "Schools are temporarily suspended for 10 days since the military campaign restarted last week. It's been 10 days now but this is just temporary unless the situation continues or gets worse."
Farik said not all schools are underground and some classes are held in vacant buildings.
We try to put schools underground as much as possible but only if we are lucky enough to locate a place Muhammed Farik, programme director of Kesh Malek
He said: "We try to put schools underground as much as possible but only if we are lucky enough to locate a place. 
"Some are on the first and second floors of buildings. Not all are official school buildings. Most official schools have been destroyed. We have some in houses and general buildings. We occupy the ground and first floor if we can't get a basement."
It has been difficult to recruit and train teachers, said Farik, explaining that most of the teachers started out as volunteers. 
"We have quite a good amount of people with experience – some have 10 to 15 years – but it is problematic to get teachers for some subjects such as English, as most have fled Aleppo," he said. 
"Also, we are looking for teachers who can really interact with the children and understand them, and that's not easy."
"As for training, at the start of every year we used to have training but can't do this now due to the situation. Training was about interactive learning – how to run a classroom, child protection and communication skills. 
"Some of our teachers had that training but new teachers have not, due to on-going military actions – and we can't get stationary, the basics for any schools, books. We have a big problem with books."
Farik is based in Turkey but said he was in contact with Kesh Malek colleagues every day in Aleppo via Whatsapp.
At first Kesh Malek's schools were funded by the activists themselves and their local supporters – but over time foreign donors have offered support including Pax For Peace
The flow of funds is irregular and sometimes teachers go without their salaries. Kesh Malek also runs programmes outside Aleppo for women.
Farik said: "We started a community centres project. We have four in western Aleppo countryside. Also, we have women support projects – firstly, a girls' education project where we try to get 100 girls back to schools. 
SARAH BROWN TALKS TO HEAD OF WHITE HELMETS HEROES
"Many girls have dropped out of school for different reasons so we are trying to encourage them to go back by either providing transportation for schools. We also provide home learning for those cannot leave their homes and teachers go to their homes."
Latest reports say rebels have lost all their northern strongholds in east Aleppo as the army gained significant ground in its offensive to recapture the city.
The regime's advance has prompted an exodus of desperate civilians, some fleeing to districts held by the government or Kurdish forces.
Stephen O'Brien, the United Nations' humanitarian affairs chief, warned two days ago that Aleppo could become "one giant graveyard". He pleaded with the UN Security Council to protect civilians "for the sake of humanity".
---
More news
Theirworld initiative helps to deliver $30m of computers to Ukrainian children
Theirworld initiative helps to deliver $30m of computers to Ukrainian children
Theirworld's mission to give children in crises a safe place to learn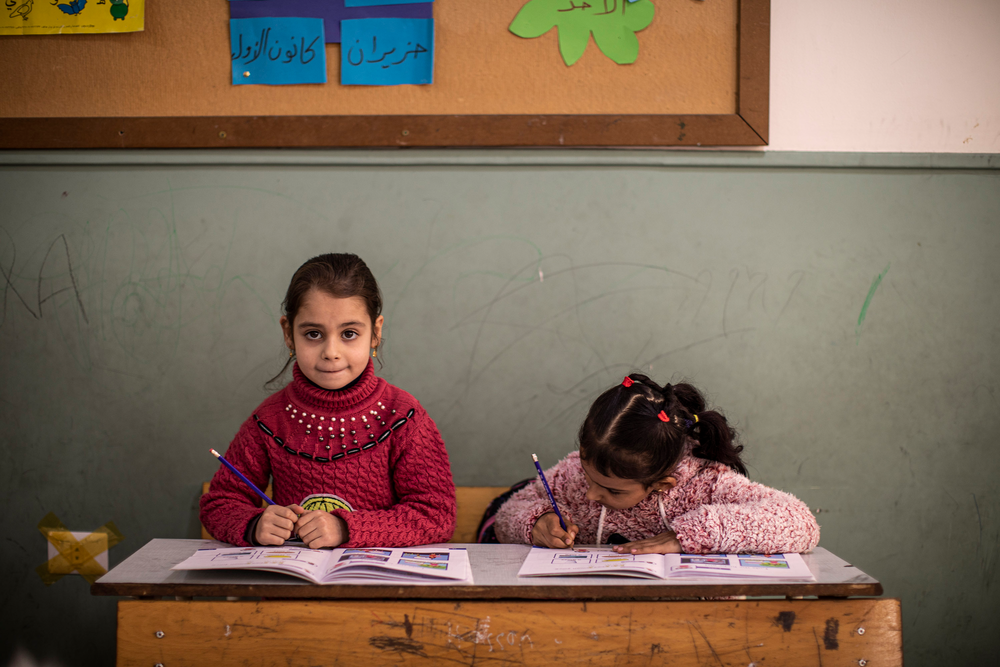 Theirworld's mission to give children in crises a safe place to learn