Aleppo underground schools lie unused after students and teachers leave the city
Barriers to education, Children in conflicts, Education in emergencies, Refugees and internally displaced people, Safe schools
---
The majority of the 1700 children and 100 teachers at the schools run by Kesh Malek were forcibly displaced during the offensive on eastern Aleppo.
---
The vast majority of teachers and pupils from underground schools in Aleppo have now left the city, according to the organisation that ran them.
Kesh Malek's schools in Aleppo were attended by around 1700 students who were being taught by 100 teachers.
The schools were located in basements where possible, to provide some protection against aerial bombardments.
But, following an offensive by the Syrian regime to take control of the eastern part of the city, the whereabouts of many pupils and teachers was unknown for some weeks.
At the underground schools children learned an adapted version of the Syrian curriculum that included maths, science, social science and Islamic religious classes.
But the schools were suspended in November during fighting between rebels and the Syrian army, who took back control of the eastern part of the city that was home to around 350,000 people.
Kesh Malek said it was difficult to get accurate figures but thought around 30% of its teachers were still in Aleppo.
Muhammed Farik, Kesh Malek's programme director, said: "Since last September there has been the forced displacement of around 50,000 people from the eastern part of Aleppo. 
"A big percentage of our teachers managed to leave but – although we don't have an accurate number – some stayed in the city and we managed to trace them. 
"We've spent a couple of months trying to trace people and are still in contact with some teachers. We had 100 teachers in total before we suspended our schools and we think a maximum of around 30 have stayed. 
"As for the students and their families, we don't have accurate information but most probably some of them stayed in the city while the majority left with their families when forcibly displaced from the city."
Farik added that living conditions remained dire in the east of Aleppo because services such as electricity had not been restored by the Syrian regime.
We had 100 teachers in total before we suspended our schools and we think a maximum of around 30 have stayed Muhammed Farik, Kesh Malek's programme director
Kesh Malek means checkmate, or defeat of the king, in chess. The name refers to the group's ideal of creating a democratic republic in Syria to replace President Assad's dictatorship.
The organisation began setting up schools in Aleppo in 2011, at first using normal school premises. That changed in April 2014 after a government bombardment on the Ein Jalout school killed 23 children.
Kesh Malek's schools were originally funded by the activists themselves and their local supporters – but over time foreign donors have offered support including Pax For Peace
Farik added that two new projects have been started – one in the countryside west of Aleppo and another in Turkey. One of its main aims is to get Syrian youths into Turkish universities and to help them get scholarships.
He said: "The new project west of Aleppo is a governance project. It's about supporting the local councils and also local civil society organisations – by building their capacity, improving their policies and procedures. 
"It's a long-term project of three years, also focusing on creating associations, specifically an association of teachers. It's also for survivors of detention and to support women."
Meanwhile, UNICEF has announced that its work has supported the reopening of 23 primary schools in the east of Aleppo over the past few weeks, allowing more than 6000 children to return to school.
According to the United Nations children's agency, it has provided school supplies, developed an accelerated learning programme and trained teachers to help displaced children catch up on the years of education many have missed.
A statement by UNICEF added: "An urgent awareness-raising programme has been rolled out to inform children and families about the dangers of unexploded remnants of war. 
"So far, the programme has reached 50,000 children. Psycho-social support activities have been provided to 35,000 children in shelters and other locations to help them recover from the horrors they lived through."
UNICEF has also provided "schools in a box" and recreational kits to 90,000 children in Idlib and west rural Aleppo while its professional development courses benefitted 280 teachers.
"Getting children back to learning is one of our key priorities," said Hanaa Singer, UNICEF Representative in Syria.  "School provides children with a much needed sense of routine, and offers a place to learn, play, heal and reconnect with their childhood." 
The School-in-a-Box has become part of the UNICEF standard response in emergencies, used in many back-to-school operations around the world. The kit contains supplies and materials for a teacher and up to 40 students. The purpose of the kit is to ensure the continuation of children's education by the first 72 hours of an emergency.
An estimated 1.7 million children in Syria are currently out of school.
---
More news
Theirworld initiative helps to deliver $30m of computers to Ukrainian children
Theirworld initiative helps to deliver $30m of computers to Ukrainian children
Theirworld's mission to give children in crises a safe place to learn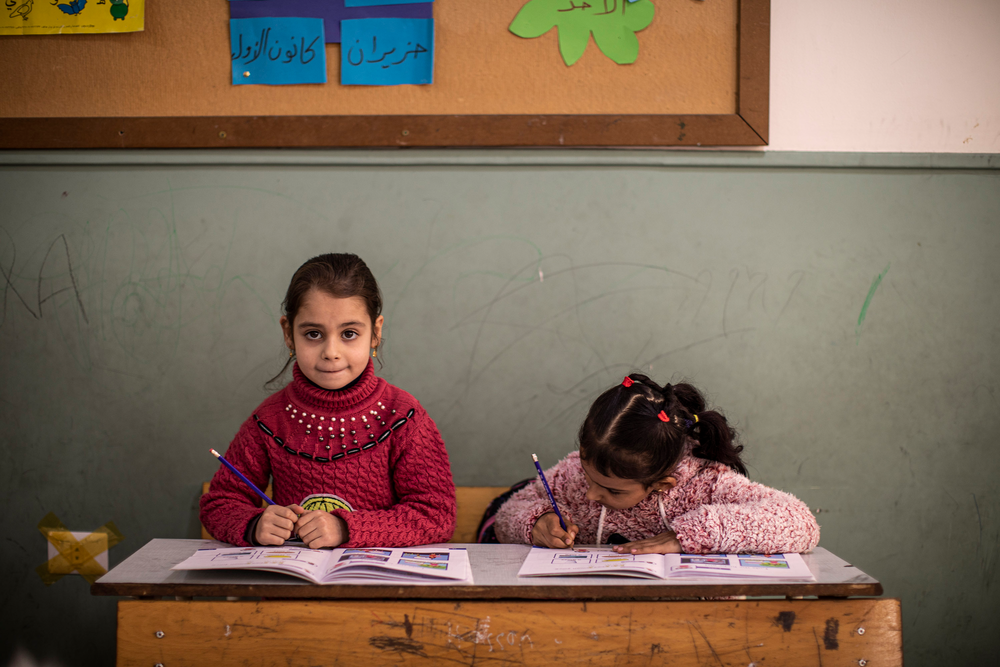 Theirworld's mission to give children in crises a safe place to learn