Anti-slavery campaign Walk Free calls for Education in Emergencies fund
Child soldiers, Children in conflicts, Education in emergencies, Up for School or #upforschool campaign
The images are shocking. Children with guns, almost as big as themselves.
These are the child soldiers of South Sudan, forced to give up their games and their studies to fight in the country's bloody civil war.
Violence between government troops and rebel factions erupted in December 2013. And in those 18 months, 13,000 children have been recruited to fight by various groups.
Now the anti-slavery campaign Walk Free is urging its supporters to call on world leaders to take decisive action to help South Sudan's child soldiers and other children living in conflicts and dangerous situations.
In partnership with A World at School, Walk Free has asked people to sign a petition to demand the international community creates a Global Fund for Education in Emergencies to keep children safe.
The signatures will be added to the #UpForSchool Petition, which urges world leaders to get every child into school without fear of danger or discrimination. More than six million people have already signed #UpForSchool.
Walk Free said: "For children in South Sudan, war and violence is a part of everyday life. With their schools frequently bombed or attacked, many are at risk of abduction or trafficking. 
"Children abducted or trafficked in conflict areas are violently forced into slavery, either as child soldiers fighting battles they aren't old enough to understand, or as victims of sexual slavery and forced marriage."
South Sudanese children at school Picture: UNHCR
Walk Free added: "Yet for boys and girls in Yei Town there is a beacon of hope. On the site of a bombed primary school, the Kinji Primary School has opened and now provides education to 1300 children."
There are about one million children out of school in South Sudan and only 37% complete primary school.
But it's not just there that children caught in crisis situations are at risk of being abducted, trafficked and exploited right now.
With world leaders meeting at the Oslo Education Summit on July 6 and 7, A World at School has been calling for the emergency fund to be set up to allow money to be allocated quickly in times of crisis. This means children's education can be restarted, reducing their risk of being abducted, trafficked or exploited.
More on South Sudan's child soldiers
In May last year, the United Nations High Commissioner for Human Rights said more than 9000 children had been recruited as soldiers. Navi Pillay, after a visit to the country, said 32 schools had been taken over by military forces and children had been killed in indiscriminate attacks.
By October 2014, the United Nations said it believed there were 11,000 child soldiers. It launched the Children, Not Soldiers campaign as part of a larger, global initiative aimed at ending the recruitment and use of children by government security forces in armed conflict by the end of 2016.
In January, hundreds of child soldiers were freed – the first of 3000 to be released by the South Sudan Democratic Army Cobra Faction.
The following month another 300 were released at a special ceremony (pictured above) and a warning came on the International Day Against the Use of Child Soldiers. The United Nations children's agency UNICEF and Leila Zerrougui, the UN Special Representative for Children and Armed Conflict, said children are increasingly vulnerable to recruitment and use by armed groups as conflicts around the world become more brutal, intense and widespread.
Also in February, at least 89 boys – some as young as 13 – were abducted by armed militia as they sat their school exams.
And in May, UNICEF said dozens of children were raped, killed and abducted in a series of attacks – with armed children among the aggressors. UNICEF Executive Director Anthony Lake said: "The violence against children in South Sudan has reached a new level of brutality."
Tell world leaders they must prevent the barriers that stop children from going to school – including inadequate funding for Education in Emergencies. Sign the #UpForSchool Petition.
---
More news
Theirworld initiative helps to deliver $30m of computers to Ukrainian children
Theirworld initiative helps to deliver $30m of computers to Ukrainian children
Theirworld's mission to give children in crises a safe place to learn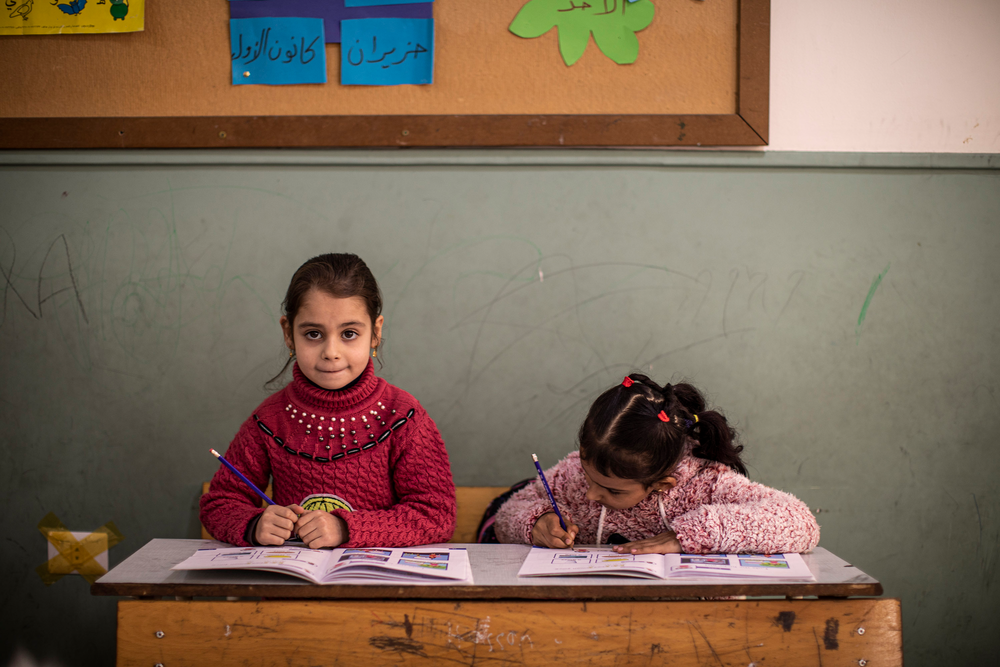 Theirworld's mission to give children in crises a safe place to learn