Girls' education under attack: youth activists share inspiring stories at Theirworld's International Women's Day event
Children in conflicts, Education in emergencies, Girls' education, Global Youth Ambassadors, Theirworld
---
Two former schoolgirls from Pakistan and another from Gaza told how they overcame the odds to campaign for education.
---
The campaign to break down barriers and get every girl into school was the theme of an inspiring event hosted by Theirworld today to mark International Women's Day.
Three amazing young women – who are members of Theirworld's network of Global Youth Ambassadors – shared their stories of overcoming the odds to fight for girls' education worldwide.
Shazia Ramzan, Kainat Riaz and Yara Eid were targeted simply for wanting to go to school and realise their potential. 
Shazia and Kainat were campaigning in Pakistan with their school friend Malala Yousafzai when all three were shot and injured on their school bus in 2012. Yara grew up in Gaza experiencing terrible attacks on her home and school. All three are now studying in the United Kingdom and campaigning for their own – and other young women's – education. 
The event in London highlighted Theirworld's #WriteTheWrong campaign for the 260 million children out of school – and its focus on safe schools where children can learn free from fear and violence. It was hosted by Jamira Burley, Head of Youth Engagement and Skills at the Global Business Coalition for Education.
Jamira said: "Safe schools for all children are a right, not a privilege. We want the girls and women we stand with, and our many supporters around the globe, to unite and work together to break down these barriers to girls' education."
She talked to Shazia, Kainat and Yara about their experiences and their education in the UK.
"There are millions of girls who cannot speak for their rights. If I can speak then I can help them," said Shazia, who told about not being allowed to play outside as a child because of Taliban attacks. "I continue fighting because I know this is my right."
Kainat said that, after the school bus shooting, her community did not feel safe because she was a target.
"My parents gave me permission to get an education in the UK," she said. "Girls and women have a special role. They can choose whatever they want to be. Please support those people who cannot speak for themselves."
Yara told how she grew up in a refugee camp in the Gaza Strip. 
"I lived through three wars," she said. "When I was 14, I saw people die in front of my eyes. I thought I wasn't going to live. 
"My refugee camp was destroyed. I was scared all the time. I realised I had to change. I had to turn my depression into passion so that no other child sees the things I have seen.
"I feel like I am the voice for the people who are voiceless. It gives me the strength to fight for all girls' rights."
Guests – who included actors Dawn French and David Tennant, as well as business and civic leaders, government officials and writers – were asked to think about the barriers that prevent girls from getting an education and to answer this question: What is the most important thing we should do to #WriteTheWrong and ensure a safe school for more girls around the globe?
Those giving feedback from their tables included Yasmine Sherif, Director of the Education Cannot Wait fund, and Rawdha Al Otaiba, deputy head of mission at the UAE Embassy in London, who said: "We discussed the importance of not just educating the girls but also their family, their friends and the community."
Two special awards were given to outstanding women who have led the way and created some of the biggest changes to #WriteTheWrong for women and girls.
The Theirworld #WriteTheWrong Award went to Shaheed Fatima QC, who has tirelessly championed for the protection of vulnerable and marginalised children living in conflict-affected areas. The award-winning British lawyer's tireless and impactful work on human rights issues saw her appointed to Chair of the Legal Panel to the Inquiry on Protecting Children in Conflict.
She received her award from Yvette Cooper, Chair of the Home Affairs Select Committee in the UK Parliament and a champion for women.
Shaheed paid tribute to her team and recalled the words of Save the Children founder Eglantyne Jebb: "The only international language that we all recognise is the cry of a child."
She added: "Theirworld and its founder Sarah Brown have recognised the incredible power of that international language. Their work since 2002 has tuned into that language and used it to become an unstoppable force for innovative change. An award from them for our work means everything."
The Theirworld Inspiration Award was given to Jude Kelly, who has provided a platform for thousands of women's voices as CEO of the Southbank Centre in London and founder of the WOW (Women of the World) festivals. 
WOW has reached over two million girls globally, with festivals and events taking place on every continent.
Jude said: "Gender isn't female. Gender is something that has been placed into our society to trip us up and debate around and obscure the potential of all of us.
"We have to find our imaginative possibility of what that landscape would it look like if we hadn't made these rules and regulations and prisons for each other. It will take a huge amount of collective imagination to imagine it and then make it happen."
Sarah Brown told the audience how Theirworld has been given a new series of grants from the Dutch Postcode Lottery (Nationale Postcode Loterij) to deliver education to thousands of children around the world impacted by conflict and disaster.
---
More news
Skills for the future give young people the best chance of success
Skills for the future give young people the best chance of success
Take the test and discover how our Schools Hub helps students grasp the global education crisis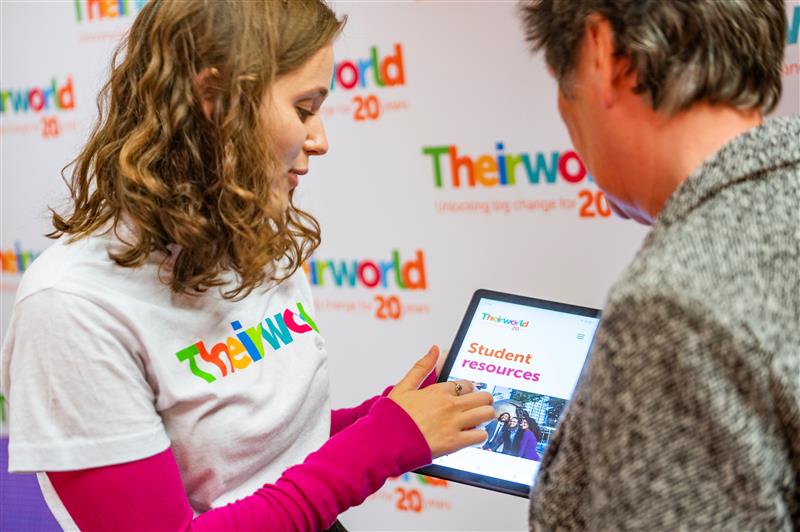 Take the test and discover how our Schools Hub helps students grasp the global education crisis