Babies and toddlers can learn second language in one hour per day
Child nutrition (Early years), Early childhood development, ​Learning through play (Early years), Safe pregnancy and birth, Teachers and learning
Researchers found that the way parents talk to very young children can be adopted to teach them the basics of a foreign language.  
---
Babies and toddlers from a single-language household can learn a foreign language, according to new research.
The sooner they are taught, the better – because learning a second language has been shown to improve the way young children solve problems.
While children born into a bilingual family learn naturally and immediately, it's also been discovered that children can be taught a new language in just ONE hour every day.
The method – which many parents use naturally – has been named as "parentese" or "infant-directed speech". It's the style parents use to talk to their babies, which has simpler grammar, higher and exaggerated pitch, and drawn-out vowels.
Think of the way you talk to a little baby. There are lots of inflections in your voice, lots of slow and over-pronounced words. Lots of watching and responding.
This is exactly what a baby – and its brain – responds to.
A young child's brain is 90% developed by the time they reach five years old, so the early years are the most important in a person's life. 
Get the stimulation, nutrition, care and parenting correct during this time and a child has the best possible chance of reaching his or her full potential.
Theirworld's #5for5 campaign has been highlighting the need for investment in early childhood development – so that all children have access to quality care including nutrition, health, learning, play and protection
Naja Ferjan Ramirez is a research scientist at the University of Washington Institute of Learning and Brain Sciences (I-LABS), who carried out the ground-breaking study published in the academic journal Mind, Brain, and Education.
He said: "It is possible to give very young children the opportunity to start learning a second language, with only one hour of play per day in an early education setting.
"This has big implications for how we think about foreign language learning."
Sixteen students served as tutors for the study, undergoing two weeks of training at I-LABS to learn the teaching method and curriculum. Then they travelled to Spain where the practical side of the study was to take place.
Spain's vast public education system enabled the researchers to enrol 280 infants and children from families of varying income levels.
Based on years of I-LABS research on infant brain and language development, the method emphasised social interaction, play and high quality and quantity of language from the teachers. 
"Our research showed that 'parentese' helps babies learn language," Ramirez said.
The study reported that "babies aged from seven to 33.5 months were given one hour of English sessions a day for 18 weeks, while a control group received the Madrid schools' standard bilingual programme. 
"Both groups of children were tested in Spanish and English at the start and end of the 18 weeks.
"The children who received the new method showed rapid increases in English comprehension and production, and significantly outperformed the control group peers at all ages on all tests of English."
By the end of the 18-week programme, the children in the researchers' programme produced an average of 74 English words or phrases per child, per hour. Children in the control group produced 13 English words or phrases per child, per hour. 
Ramirez explained that the findings showed that even babies from non-bilingual homes could develop bilingual abilities at an early age – without impacting on their first language.
It was found that the children's native Spanish language continued to grow as they were learning English and was not negatively affected by introducing a second language.
---
More news
Take the test and discover how our Schools Hub helps students grasp the global education crisis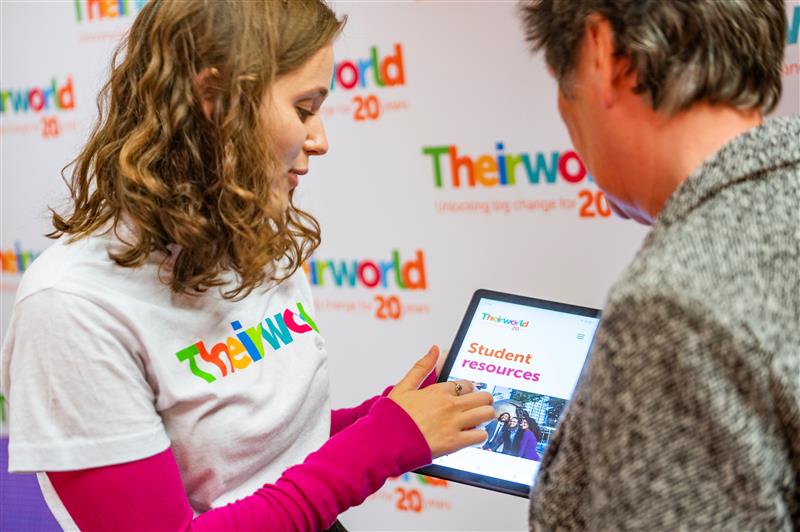 Take the test and discover how our Schools Hub helps students grasp the global education crisis
MyBestStart programme gives young girls the education they deserve
MyBestStart programme gives young girls the education they deserve