Back to School for 200,000 Syrian children in Lebanon
Children in conflicts, Education in emergencies
Syrian refugees Mayas and Ahmad Saleem Ftayni are among those who don't go to school in Lebanon
The Lebanese government has confirmed that its Back to School campaign in Lebanon will see 200,000 Syrian refugee children get a free education.
The initiative – using a double-shift system first proposed by A World at School in 2013 – will help almost twice the number of Syrian students who were in Lebanese public schools during the 2014-15 year. But another 200,000 children will still be out of school.
Lebanese Education Minister Elias Bou Saab said: "Our responsibility is to ensure that every child on Lebanese territory has access to education."
Syrian refugee Abed Alshami with his siblings in Lebanon
The Back to School campaign still faces challenges – including transportation of students, continuing to push for more money from international donors and raising awareness among parents that free education is on offer.
Mr Bou Saab added: "We urge parents to immediately register their children and take advantage of this unique opportunity for their future."
Mr Saab said more than 166,000 Lebanese children in public schools will also get a free education when classes start next week – thanks to money from donor countries.
The Lebanese government will provide free classes from kindergarten to ninth grade for a total of just over 325,000 children. But a further $25 million is needed urgently if Lebanon is to keep its promise of free education to all of the 200,000 vulnerable Syrian refugees.
Syrian children play at a refugee camp in Tripoli, Lebanon
Youth campaigners – including A World at School's network of Global Youth Ambassadors – had demanded donor governments urgently make up the funding shortfall. Children returning to school in their own country sent more than 2000 personal letters to the governments of Sweden, the Netherlands and France.
They were also presented with the #UpForSchool Petition, which has more than nine million signatories calling for children to be given the opportunity to go to school around the world. The petition was delivered by our GYAs to the embassies of donor countries in the Lebanese capital Beirut.
The petition has been backed by many well known people in Lebanon – including Ragheb Alama, an artist and Goodwill Ambassador for the United Nations Environment Programme.
While the Back to School initiative is a great leap forward, another 200,000 Syrian refugee children will not be getting an education in the coming months. Tanya Chapuisat, Lebanon representative for the United Nations children's agency UNICEF, said: "This year marks a major breakthrough – we will double the number of children enrolled in Lebanese public schools compared to last year.
"However, with all the efforts expended, at least 200,000 refugee children still remain outside of the formal education system, deprived of their basic right."
Stand #UpForSchool . Let us all support this humanitarian cause & sign the petition now to get 1M Kids into school http://t.co/NGZUg3iN4Y

— Ragheb Alama (@raghebalama) September 22, 2015
Mireille Girard, representative of the United Nations refugee agency UNHCR, said its priority "is to identify out-of-school children and encourage their integration in Lebanese public schools. At a time when refugees are facing increasing challenges in their daily lives, certified education for their children is much needed."
A World at School has not only led from the front on the idea of double-shift system schools for Syrian refugees. It also worked in conjunction with the charity Theirworld and the Global Business Coalition for Education (GBC-Education) on a plan to get one million Syrian refugee children into schools in Lebanon, Jordan and Turkey.
Three detailed reports – one for each country, which all border Syria – warn that a lack of donor funding is leaving vulnerable children out of classrooms and at risk of child labour, early marriage, exploitation and extremism. They were written after consultation with the governments of the three countries.
The reports call for urgent action from world leaders to tackle the immediate crisis of getting hundreds of thousands of children into school at the start of the new school year and commit long-term funding to get one million children into learning in the three countries.
---
More news
Theirworld initiative helps to deliver $30m of computers to Ukrainian children
Theirworld initiative helps to deliver $30m of computers to Ukrainian children
Theirworld's mission to give children in crises a safe place to learn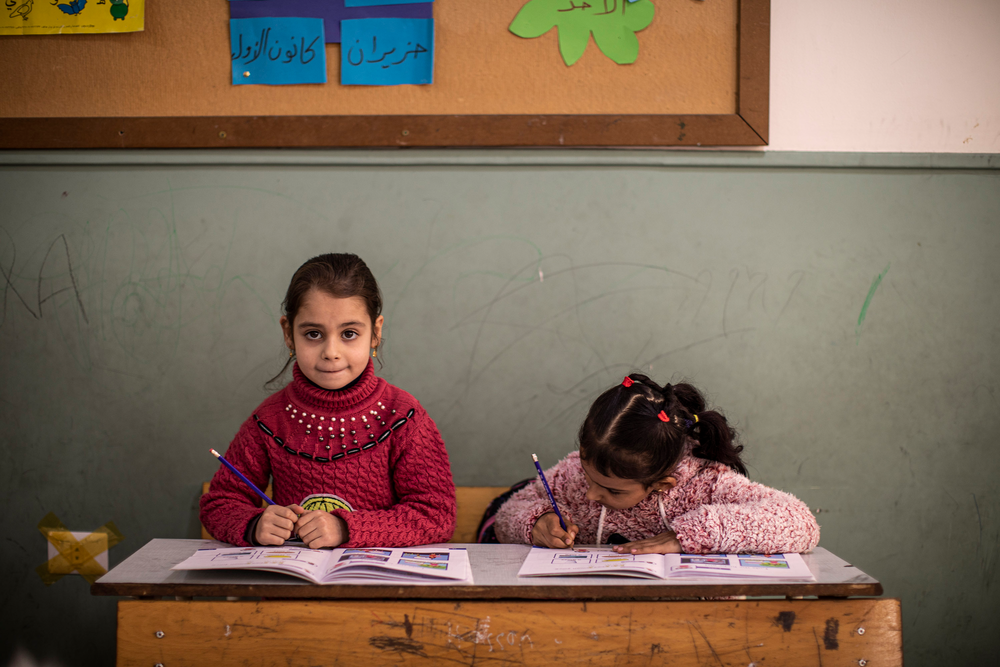 Theirworld's mission to give children in crises a safe place to learn