Bay of Bengal cyclone and floods wreck schools and leave 1.3 million children homeless
Children's welfare after natural disasters, Education Cannot Wait, Education in emergencies, Refugees and internally displaced people
---
The catastrophic weather in Sri Lanka, Bangladesh and Myanmar struck as a report revealed that natural disasters displaced 24 million people in 2016 - three times as many as conflicts.
---
Monsoon rains and a cyclone have devastated the Bay of Bengal region – leaving 1.3 million children homeless and in need of urgent humanitarian help.
The devastation wrought by Cyclone Mora in Myanmar and Bangladesh – and torrential rains across Sri Lanka – have killed scores of people and left many homes and schools destroyed or damaged.  
"We know that the longer a child is out of school, the lower the chances they will be able to make up for the schooling they've missed, so it's vital we prioritise education, work hard to repair damage to schools and get children back to class as quickly as we can," said Chris McIvor, Save the Children Country Director in Sri Lanka.
The destruction caused by the storms in each of the three countries has been brutal, according to the United Nations children's agency UNICEF. 
The latest emergencies come days after a report by the Internal Displacement Monitoring Centre (IDMC) revealed that of the 31 million people displaced in 2016, about 24 million were because of natural disasters such as storms and floods.
That means disasters displaced more than three times as many people as conflicts.
IDMC – part of the aid agency Norwegian Refugee Council – said that unless underlying causes such as climate change are tackled millions more could be uprooted in the future.
Initial reports from Myanmar this week indicate severe damage to villages, schools and shelters accommodating displaced people in Rakhine and Chin states.
In Bangladesh, Cyclone Mora has affected around 2.8 million people in vulnerable coastal districts. 
The number of Sri Lankans affected by weather-related disasters has hit more than 1.5 million, said Save the Children. The nation has been simultaneously battling crippling drought in the north and east of the island and deadly flooding in the south.
The extent of the education crisis caused by the floods is beginning to emerge, with early assessments revealing severe damage to at least 58 schools in the district of Ratnapura alone.
Many schools have also been used as evacuation centres and it could be a considerable period of time before they can reopen. 
At least 44 school students were among the 203 people who died from the floods, while eight others are still missing.
Chris McIvor of Save the Children in Sri Lanka said: "After a disaster like this school is somewhat of a sanctuary for children, providing safety, routine and a sense of normality, as well as an environment where they can just be children. 
"It's incredibly important for their emotional recovery."
The devastating weather in the region follows heavy rains earlier this year in Peru that wreaked havoc. More than 1300 schools were damaged and two million children were temporarily out of school.
IDMC's new report on natural disasters in 2016 said most people affected were in Asia. Unlike refugees fleeing war, those affected by disasters cannot claim international protection so their plight is often overlooked.
Last year more than seven million people in China were forced to leave their homes, followed by six million in the Philippines and nearly two and a half million people in India.
In contrast, all the conflicts in the world displaced seven million people in 2016 – mostly from sub-Saharan Africa and the Middle East.
The greatest numbers uprooted were in the Democratic Republic of Congo, where 922,000 fled their homes, followed by 824,000 in Syria and 659,000 in Iraq.
However, IDPs from natural disasters are often overlooked until humanitarian crises spill across borders, said IDMC's director Alexandra Bilak.
She added: "It can easily fall off the agenda because national governments, in some cases, don't want to acknowledge it and certainly don't want anyone externally to start looking into the affairs in their sovereign state.
"Not enough is being spent on prevention and much more is being spent on the symptoms of these crises.
"With the impact of climate change, for example, in the future it is only going to lead to more extreme weather … which will put pressure on resources, which will lead to more conflicts and it contribute to that vicious cycle of displacement."
Not enough is being spent on prevention and much more is being spent on the symptoms of these crises. Alexandra Bilak, director of the Internal Displacement Monitoring Centre
In March, Theirworld reported that weeks of heavy rain in Peru had damaged more than 1300 schools and left two million children with no education. The official start of the school year was delayed for a week because 14,000 schools had been directly affected by the "coastal El Nino" weather phenomenon.
About 1390 schools were damaged in landslides and flooding described as the worst seen in 30 years. Of those, 489 were reported to have collapsed or been left unusable.
"The large number of children temporarily out of school raises also other child protection concerns," said UNICEF at the time.
Last year Theirworld highlighted a report by Save the Children – entitled Education Disrupted – which documented the impact on schooling following five disasters.
In Indonesia, between January and August 2015, there were  1160 disasters, including drought, forest fires, volcanic eruptions, landslides and floods
Also during that period, there were 373 floods, affecting 607,000 people, according to the United Nations Office for the Coordination of Humanitarian Affairs (OCHA).
Rains in January 2015 submerged roads in Jakarta and more downpours in February caused further flooding. It affected 351 schools in northern Jakarta. 
In the Pacific island nation of Vanuata, some 64 per cent of the population is exposed to natural disasters such as volcanic eruptions each year. 
Cyclone Pam, a category five storm in March 2015, triggered floods that destroyed infrastructure, homes and livelihoods, affecting 80% of Vanuatu's people and leaving half the population in need of emergency assistance.
More than half of schools were damaged or destroyed and 34,500 children were affected. Schools were closed for up to 30 days and 34 schools were used as evacuation centres.
In Nepal, a 7.8 magnitude earthquake on April 25, 2015, followed by a 7.3 magnitude quake on May 12, killed 8900 people, destroyed 605,000 homes and damaged 288,000 more.
About 3.2 million children were affected by the quakes and of those 870,000 were left without permanent classrooms.
Myanmar has also suffered terribly. From June to October in 2015, the floods displaced about 1.7 million people and damaged 4116 schools. About 250,000 children could not attend school because of the floods.
That same year, 14 typhoons and tropical storms hit the Philippines. Between 2007 and 2011, 10.8 million students in the Philippines were impacted by disasters and 8472 schools were used as evacuation centres.
---
More news
Theirworld's mission to give children in crises a safe place to learn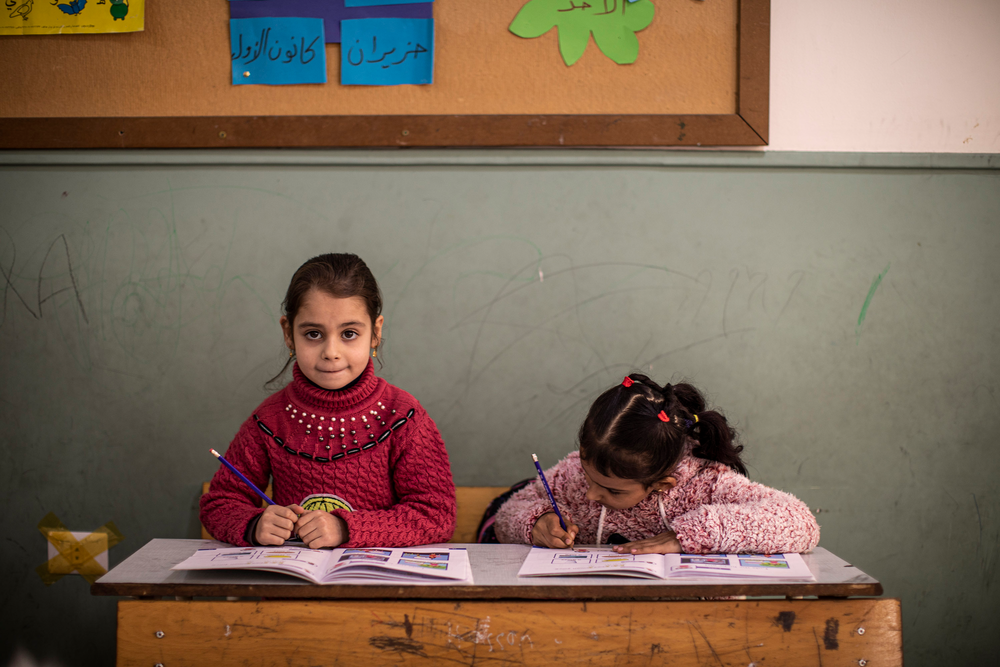 Theirworld's mission to give children in crises a safe place to learn
World Refugee Day: ACE project helps children to integrate and learn in Greece
World Refugee Day: ACE project helps children to integrate and learn in Greece