World Refugee Day: ACE project helps children to integrate and learn in Greece
Refugees and internally displaced people, Teachers and learning
A new film shows how the All Children in Education programme, based on a blueprint developed by Theirworld, is changing the lives of thousands of young refugees.
---
When seven-year-old Oleksandr arrived in Greece as a refugee from the war in Ukraine, the language barrier meant he struggled to fit in. 
But thanks to an education programme supported by Theirworld, he and thousands of other children and teenagers are learning Greek and English, and thriving at their new schools and learning centres. 
"When we arrived, it was hard for him to speak with the other children," said Oleksandr's mother Tetyana, who fled from Zastavna in March and is now at the Schisto refugee camp in Athens. "He told me 'Mum, they don't understand me'.
"But he learned some Greek in two weeks and could play with the kids from Greece. The school here helps him to become more sociable, not to be afraid.   
"It is vital to continue education because if the situation in Ukraine continues ,we'll stay here and my son will have to continue his education here." 
Watch our new film
The All Children in Education (ACE) programme was launched a year ago, after Theirworld developed a blueprint that showed how every refugee child in Greece could get access to learning.
It was adopted by the Greek government and UNICEF, who committed to provide a route for 26,000 school-age refugee children into formal education over three years.
ACE included creating 49 Homework and Creative Activity Centres to provide quality, inclusive learning to prepare children from four to 17 to move into the state school system and help them stay there. A Theirworld grant supported 16 of these centres on the mainland and islands. 
"We hear the voices of the children, so we do a lot of things that interest them more. It's the dream of a teacher to have this kind of relationship with the children."

Anna-Maria Kantari, a Greek teacher at a non-formal education centre in Schisto refugee camp.
One year on, there has been great progress and the programme has adapted to support refugees arriving from Ukraine. Asked what he would tell his Ukrainian friends, Oleksandr said: "When I was in Greece it was wonderful and all the lessons there were so amazing that I would like to stay in Greece forever and just go to this school." 
Another person who has seen a big change in Oleksandr is Eva Mellou, ACE Project Area Manager for Solidarity Now, one of the partner organisations running the Homework and Creative Activity Centres.
She said: "He was a silent boy at the beginning. Last week I saw him dancing and singing along with the teacher and other children.
 "The Ukrainian children have been learning a lot. This is a safe space for them. They do learn, of course, but they are more and more happy here and that's the objective." 
Learning the language is crucial for children to integrate into the Greek school system and wider society. Omer, a 15-year-old Syrian refugee, also lives at the Schisto refugee camp and enrolled in the ACE programme last year. 
He said: "During the first days I could not speak Greek with the children. Now I talk and play with them at school. If it wasn't for the school and the teachers, I wouldn't be able to speak like this. Greek is my favourite subject. I want to say thank you." 
We are very proud of the role Theirworld has played in establishing the ACE programme. Theirworld President Justin van Fleet said: "We thought we could really make an impact and make a difference.
"We wanted to put forward a blueprint for education for refugee children arriving in the Greek islands and living in mainland Greece.  
"We talked to partners, the government, the UN agencies and the various organisations working with refugees in the islands. We also met with refugees and children themselves to learn about what their hopes were for the future, what the capacity was and what was realistic, what could be achieved." 
26.4m refugees
Half of all global refugees are under 18, according to the UN refugee agency UNHCR.
And, thanks to the players of the Dutch Postcode Lottery, Theirworld was able to provide bridge funding to help get the programme off the ground. 
Before the ACE programme, only 42% of refugee children were in school, according to UNICEF Education Specialist Panagiota Kaisari Ernst.
She said: "What ACE gave us was the opportunity to have a holistic approach to ensure that each child finds a pathway to school, based on a three-year strategic plan. I'm very proud that the children and their families can find support when they need it." 
Theirworld blueprint
Greece has committed to provide every refugee child with an education – using a plan devised by Theirworld. The government's framework follows a blueprint for reform set out in our 2020 report Finding Solutions to Greece's Refugee Education Crisis.  
A Memorandum of Understanding signed last year by the government and UNICEF commits to providing a route for all 26,000 school-age refugee children in Greece into formal education in a three-year programme expected to cost €34 million. Only about 40% were enrolled in Greek schools at the start of the 2021-22 academic year.
---
More news
Take the test and discover how our Schools Hub helps students grasp the global education crisis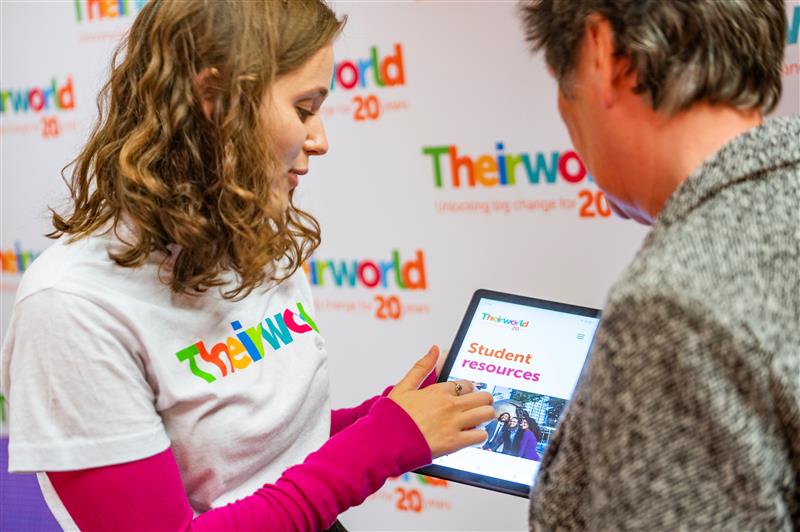 Take the test and discover how our Schools Hub helps students grasp the global education crisis
Teacher helps Harrison move from life on the street to success at school
Teacher helps Harrison move from life on the street to success at school