Boko Haram forces one million children out of school in four countries
Children in conflicts, Education in emergencies, Safe schools
Young girl at a newly constructed classroom in Assaga refugee camp in southeast Niger Picture: UNICEF/Fleury
More than one million children are missing out on education because of Boko Haram violence in Nigeria, Cameroon, Chad and Niger.
The numbers forced out of school were revealed today by the United Nations children's agency UNICEF, which said more than 2000 schools have been closed.
"It's a staggering number," said Manuel Fontaine, UNICEF's West and Central Africa Regional Director.
"The conflict has been a huge blow for education in the region and violence has kept many children out of the classroom for more than a year, putting them at risk of dropping out of school altogether."
Hundreds of schools have been attacked, looted or set on fire by Boko Haram, which uses attacks on education as part of its reign of terror in the region. 
This tactic caused worldwide outrage when 276 girls were abducted in April 2014 from the Government Girls' Secondary School at Chibok in Borno state. Despite the global #BringBackOurGirls campaign, 219 of the Chibok girls remain missing.
A teacher recites numbers at an informal learning space in UNICEF-supported camp in Maiduguri, Borno state Picture: UNICEF/Esiebo
Boko Haram's stronghold is in northeastern Nigeria but its attacks have spread into neighbouring countries.
The latest figures from UNICEF are a blow after it was revealed that almost 450 schools have reopened in Borno since October, more than 18 months after education was halted in the wake of an attack by militants on a boarding school in neighbouring Yobe state in which they killed 59 students.
More than 600 teachers have been killed in Nigeria since the Boko Haram insurgency began. In October Michael Olukoya, President of the Nigeria Union of Teachers, said: "This is addition to 19,000 teachers that have been displaced and are suffering great losses due to barbaric activities of the insurgents."
The one million children forced out of education is on top of the estimated 11 million primary-age children already out of school in the four countries.
Mr Fontaine said: "The challenge we face is to keep children safe without interrupting their schooling.
"Schools have been targets of attack, so children are scared to go back to the classroom. Yet the longer they stay out of school, the greater the risks of being abused, abducted and recruited by armed groups."
A class in a UNICEF temporary learning space at Dar es Salam camp for Nigerian refugees in Chad Picture: UNICEF/Cherkaoui
In northeastern Nigeria, UNICEF has supported 170,000 children back into education in the safer areas of the three states most affected by the conflict. There the majority of schools have been able to reopen.
But some school buildings are still being used to house displaced people seeking shelter from the conflict, which has led to many classrooms being severely overcrowded.
In these areas, some displaced teachers – who themselves fled the fighting – are involved in the schooling and classes are often given on a "double-shift" basis to help more children attend school.
In August it was announced that almost 50,000 children displaced from their homes have been helped by the Safe Schools Initiative.
Gordon Brown, the UN Special Envoy for Global Education, announced the success of the partnership, catalysed by the Global Business Coalition for Education with the Nigerian government, and supported by UNICEF, United Nations Development Program and multiple donor agencies from across the world.
Providing safe schools and education in emergencies such as wars and natural disasters is not treated as a priority compared to water, shelter and medicine. Last year less than 2% of humanitarian aid went to education.
At the UN General Assembly in September, Tony Lake of UNICEF, Julia Gillard of the Global Partnership for Education and Gordon Brown committed to shepherding a global process to lead to decisions on new ways of funding education in emergencies before the end of the year.
---
More news
Theirworld initiative helps to deliver $30m of computers to Ukrainian children
Theirworld initiative helps to deliver $30m of computers to Ukrainian children
Theirworld's mission to give children in crises a safe place to learn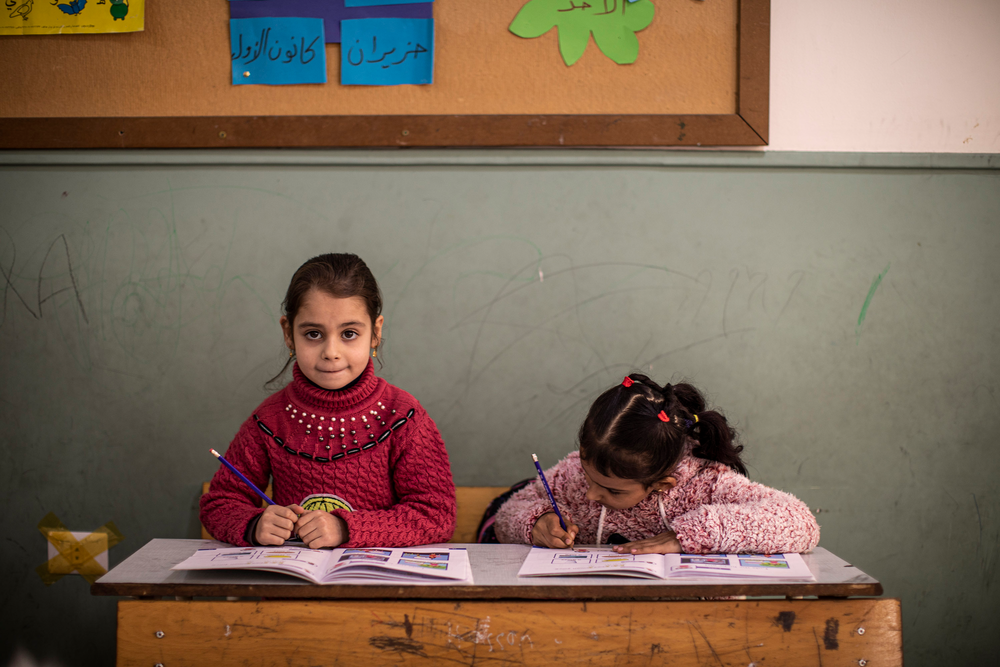 Theirworld's mission to give children in crises a safe place to learn