Business aid for education in emergencies: GBC-Education event live blog
Education in emergencies, The Global Business Coalition for Education (GBC-Education)
More than 263 million children and adolescents are out of school across the world – and many of those who are in education are not learning the skills they need to fulfil their potential.
The number of long-term humanitarian emergencies, such as conflicts and natural disasters, means the international community must harness the power of the private sector to deliver education.
The Global Business Coalition for Education is hosting an event in New York today which will examine how to do that successfully.
Titled Business Leads in Education: Driving Innovation and Partnership, it will bring together development agencies, business leaders and foundation representatives. They will focus on how to bring about greater innovation, partnership, and commitment to education in emergencies.
This blog will bring you the highlights of the GBC-Education event, which starts at 7am local time.
Excited to have members join us for our annual #UNGA breakfast this morning! Many are making a #smartinvestment in creating #SafeSchools pic.twitter.com/xlsOePpA3b
— GBCEducation (@gbceducation) September 21, 2016
THE BACKGROUND
About 75 million children each year are affected by humanitarian emergencies – half of them by conflicts, the rest by natural disasters, disease outbreaks and other crises. That includes one million Syrian refugee children living in neighbouring countries.
In May at the historic World Humanitarian Summit in Turkey, the Education Cannot Wait fund was launched. Its aim is to raise $1.85 billion to finance the education of more than 13 million children in the next five years.
With the number of protracted crises and emergencies on the rise, the international community must draw on the unique leadership, ingenuity and core assets of business to urgently transform humanitarian action.
THE EVENT
Today's event will be a lively, fast-paced conversation featuring key partners from foundations, NGOs, multilaterals and businesses.
GBC-Education is a coalition of more than 100 businesses worldwide. It believes the skills, influence and leadership of the private sector can be powerful tools to increase the number of children and youth who are in school and learning – especially when combined with peer companies, government, foundations, civil society and the educational community.
OPENING REMARKS
The event begins with opening remarks from Sandy Thomas, Global Managing Partner of Reed Smith. He introduces Gordon Brown, the UN Special Envoy for Global Education.
He says: "This has been an extraordinary year where the business leaders have been directly involved in the creation of the Education Cannot Wait fund."
.@OfficeGSBrown kicks off @gbceducation breakfast 4 #LearningGeneration @GayleSmith @USAIDEducation happy to be here pic.twitter.com/R6EYEaYn75
— Nina Papadopoulos (@Nina_aristea) September 21, 2016
Mr Brown, who is chair of the Education Commission, adds: "On Sunday we at the commission published a report on the future of global education. We found astonishing facts that challenged us to do more.
"If we do nothing, by 2030 800 million – half of the children of the world – will leave education with nothing approaching secondary school standards.
Right now, the private sector, world leaders, & NGO's gather at @gbceducation breakfast to emphasize the investment urgency of #ECW pic.twitter.com/dXR2nk8Iha
— GBCEducation (@gbceducation) September 21, 2016
"We can be the first generation where every single child is at school and learning – and we need your help to do so."
Now Sarah Brown, Executive Chair of GBC-Education, sets the scene for today's discussions. She says: "This has been a very important year for education. It's the first year of the SDGs [Sustainable Development Goals] and we've been able to see them get up and running and the impact of education already.
"I am happy that the business community is going to take a leadership role around the SDG goal on education."
SECTION 1 – The Education Cannot Wait fund and Emergency Database
First we look at how to develop the fund as a way to deliver business support to those children most in need of education in emergencies.
This section is being introduced by Tom Fletcher, former British Ambassador to Lebanon and now Director of Global Strategy for GBC-Education.
He announces the launch of the REACT (Rapid Education Action) database, which will match the private sector to where their help is most needed in a crisis. Read more about it here.
#EducationCannotWait, so @gbceducation created REACT for companies to sustain #SafeSchools in crisis, read more: https://t.co/YQZjcyT87c
— GBCEducation (@gbceducation) September 21, 2016
Now for another exciting announcement from Kristian Jensen, Danish foreign minister – who reveals his country will give $11.3 million to the Education Cannot Wait fund.
On behalf of Denmark, @Kristian_Jensen announces a pledge of $11.3mil to the #EducationCannotWait fund at the @gbceducation breakfast! pic.twitter.com/ty68VivzNx
— GBCEducation (@gbceducation) September 21, 2016
He says: "We need to ensure that children have hope that they can create a better future. To invest in education is a trickle-down effect – it gives people a better outcome, a higher sense of the world and ensure girls stay longer in schools and have better health as mothers."
Gus Schmedlen, Vice President of Worldwide Education for HP also makes some announcements.
He says: "We, partnering with Microsoft and Intel, would like to offer six HP learning studios for Syrian refugees in Jordan and Lebanon. These will offer refugee children the opportunity to learn literacy and numeracy."
He also pledges $1 million of HP printers to Teach For America and offers to donate to GBC-Education a predictive algorithm code that can forecast the economic and social output 10 or 15 years in the future.
Incredible announcements from @Gus_Education & @HP this morning! Together we can partner to achieve #EducationForAll by #2030 pic.twitter.com/ekfMTe7sRf
— GBCEducation (@gbceducation) September 21, 2016
Now we hear from Elias Bou Saab, Lebanon's Education Minister. He tells how, while on his way to work, he would see two little girls at a street corner.
He adds: "The first time, they had a book that was torn and one girl was teaching another out of the book. The second time I asked the driver to stop and I spoke to them.
LIVE: Lebanese Minister of Education @EliasBouSaab knows that a #smartinvestment in education is the answer to achieving #SDGs!! pic.twitter.com/achkoFGvvL
— GBCEducation (@gbceducation) September 21, 2016
"I asked why they were not in school and they said they didn't have enough money to eat. The 12-year-old girl was teaching the six-year-old to read and write. While they were on the street begging, they were still hungry to learn."
Mr Bou Saab adds: "Education is how we start to solve these problems and we should invest more in education."
Now we have two speakers from the European Union. First is Christos Stylianides,  European Commissioner for Humanitarian Aid and Crisis Management.
He says: "We are delivering on our committment to devote at least 4% of the EU's humanitarian budget  to education in emergencies and at least 2.3 million children will be supported through this. And next year we will try to step up this allocation for education in emergencies."
Johannes Hahn, European Commissioner for European Neighbourhood Policy & Enlargement Negotiations, offers technical and vocational training, which he says is hopefully matched by the needs of the business sector.
He adds: "We need to cooperate to identify what is necessary and needed."
Refreshing words from @BCG at @gbceducation breakfast this morning! Biz CAN do more without ANY costs, like using core skills of employees pic.twitter.com/WRazvowrta
— GBCEducation (@gbceducation) September 21, 2016
Wendy Woods, Senior Partner and Managing Director, Global Leader Social Impact Practice, Boston Consulting Group, says: "We are working on developing an M&E [monitoring and evaluation]framework for education tech deployed in crisis settings.
"Too often technology is the way to reach these children but we haven't paid attention to the ways we are using it and how well we are using it.
"Businesses can do many things that don't even have costs. There is so much that we can do that is using our core assets and the core skill sets of our people."
Turkey is hosting the largest number of Syrian refugee children. Mehmet Bilden is Head of AFAD (by proxy), Prime Ministry Disaster & Emergency Authority (AFAD for Turkey.
He tells the event: "I have three children who are now school-aged – I cannot imagine them being out of school for even one year. All of the world is talking about this issue but still 600,000 children just in Turkey are out of school today."
LIVE: "US is committed to increasing #EducationForAll, and @USAID invests $400mil annually to support #EducationInEmergencies" – @GayleSmith
— GBCEducation (@gbceducation) September 21, 2016
 Gayle Smith , Administrator, United States Agency for International Development (USAID), is next up.
She says: "We fully believe that the private sector has to be part of our humanitarian and development agenda. It has to work.
Inspiring words this morning from @GayleSmith about @gbceducation: 'Together, we can position #EducationCannotWait for long-term success.' pic.twitter.com/YYqM7F0qeo
— GBCEducation (@gbceducation) September 21, 2016
"We have mobilised $10 billion from the private sector for food security. We are not asking for CSR [corporate social responsibility], kindness and donations. We are asking you to be part of the system."
Imad Najib Fakhoury is Minister of Planning and International Cooperation for Jordan – another country hosting a huge number of Syrian refugees. He said the crisis has cost Jordan $8.6 billion.
He says: "We don't want to have a lost generation of refugees in Jordan. We have about 150,000 Syrian boys and girls in our schools, we are adding another 50,000 and another 25,000 in a catch-up programme.
"The challenge forward is we need to be as innovative as possible. We believe in partnerships with the private sector."
Long term partnerships & investments go hand in hand, @Annamiek of People's Postcode Lottery pledges to both w/ #EducationInEmergencies pic.twitter.com/EilMFDGJSf
— GBCEducation (@gbceducation) September 21, 2016
The People's Postcode Lottery is the third largest private donor in the world with about $650 million raised every year.
Country Director Annemiek Hoogenboom says: "We invest in education in emergencies and we always want to be loyal, long-term partners, with flexible funding. We want to be part of the solution.
"We are determined to find with our partners how we can bring a solution. We want to look at funding and at what needs to be done additionally."
A long-time supporter of education has been Dubai Caires. Its CEO Tariq Al Gurg talks about bridging the gap between the private sector and the implementation on the ground.
@DubaiCares shares news of the launch of #E3 to support evidence building for #EiE @gbceducation @INEEtweets pic.twitter.com/O7xFNf48mE
— Dean (@INEEdean) September 21, 2016
He adds: "We are very open to the private sector's alternate models, whatever they have in terms of mechanisms and technology that hasn't been tested. We support these programmes financially to test them and come up with new models that help get children in school.
"Yesterday we launched our $10 million research envelop for education in emergencies called 'E cubed'. We invite all the private sector who want their models tested to apply to this fund."
Toni Townes-Whitley, Microsoft's Corporate Vice President, says: "Microsoft applauds the urgency of the Education Cannot Wait fund and we are honoured to be a part of it. We want to move the conversation from education to learning to reach a much larger population beyond K-12.
"We have to make this a part of our business strategy, not just part of our CSR (corporate social responsibility)."
SECTION 2 – longer-term development
Sarah Brown introduces this next section and calls on some speakers whose companies or organisations are making great strides through their programmes.
First to speak is Aliko Dangote, head of the Dangote Group. He tells how his company has given about $5 million to help replace schools destroyed by Boko haram in Nigeria.
#SafeSchools is crucial, especially in conflict zones. @AlikoDangote promotes $5 million education support in Nigeria! #smartinvestment pic.twitter.com/ovMyMaQsz3
— GBCEducation (@gbceducation) September 21, 2016
He adss: "We have realised that in northern Nigeria, most of the children are stunted, so when they go to school they don't learn anything. Through a partnership with the Gates Foundation, we have together given $100 million over the next few years for malnutrition support."
Pierre Krähenbühl is Commissioner General of UNRWA, the UN agency for Palestinian refugees. He says the combination of humanitarian aid and devleopment was the biggest surprise to him in his role.
He adds: "You approach young people not just as victims but as actors for their own destiny and invest in their education. During my last trip to Damascus, I was impressed to see that we were able to bring out 120 boys and girls from Yarmouk camp to sit their national exams.
"It shows the attachment of young boys and girls to pursue their educations so there is nothing more important for us to do than support them to do that."
Incredible, @KateSJames announces @pearson is looking to double commitment to #EducationInEmergencies at @gbceducation breakfast
— GBCEducation (@gbceducation) September 21, 2016
 Kate James , Chief Corporate Affairs Officer at Pearson, tells how her company is looking to double its commitment to education in emergencies – including the partnership with Miscrosoft.
She says: "We cant have an impact and be truly successful unless we do this together."
HE Sheikha Lubna Al Qasimi attends the Global Business Coalition for Education Annual Breakfast #smartinvistment @gbceducation pic.twitter.com/vRqmO756kP
— UAE Mission to UN (@UAEMissionToUN) September 21, 2016
She says: "As we heard earlier, education by itself is not enough. Creating an environment for children to be in school, whatever it takes, is crucial.
"In this day and age, it is time to incorporate co-existence and tolerance into our curriculum. Especially for education in emergencies, we are dealing with children who are emotionally scarred and reconciliation itself is a crucial path in their lives."
Amrita Patwardhan, Tata Trust, Head of Education, tells how the trust has been investing in education for 100 years.
She says: "Many of us have spoken about the economic role of education and the need for education that equips youth for their economic participation in society.
"Education is the only way we can create an inclusive and tolerant society."
Save The Children International's CEO Helle Thorning-Schmidt is our next speaker. She says: "When we asked children in emergencies what they want, they say very clearly that they want an education. We have asked 9000 children in 17 different settings and, for 99% of children, the top of their list is education."
Our final speaker is former Australian prime minister Julia Gillard, the Board Chair of the Global Partnership for Education and a member of the Education Commission.
She says: "Research shows that a strong education system in a low income country can outperform a weak education system in a higher-income country.
LIVE: @JuliaGillard opens doors for potential private sector partnerships with @GPforEducation at @gbceducation breakfasat pic.twitter.com/ugcCq7A3qZ
— GBCEducation (@gbceducation) September 21, 2016
"Think about your strategy for advocacy. You don't need to do it from a charitable place, but from a hard-headed business perspective."
On that note, the event ends with some words of thanks from Sarah. We've had some throught-provoking contributions from this high-powered group of speakers. You can learn more about the worf of GBC-Education here.
Following this event, there was a rountable discussion hosted by Sarah Brown and Julia Gillard. Read about it here.
---
More news
Theirworld initiative helps to deliver $30m of computers to Ukrainian children
Theirworld initiative helps to deliver $30m of computers to Ukrainian children
Theirworld's mission to give children in crises a safe place to learn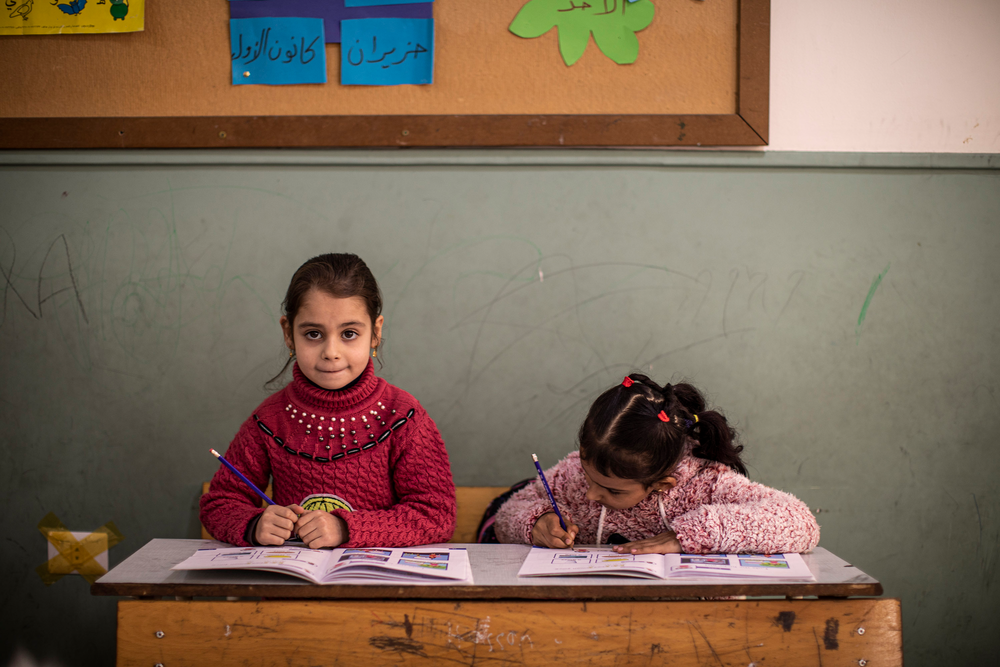 Theirworld's mission to give children in crises a safe place to learn