Busker Nicola's song inspires Theirworld's Syrian refugee video
Double-shift schools, Refugees and internally displaced people, Theirworld
---
She's been singing in the street to raise funds for our projects to help vulnerable children into school in Lebanon.
---
Nicola Haxby hadn't played a guitar in years. But when she heard about Theirworld's mission to help Syrian refugee children into school, she was inspired to go out busking to raise funds.
Her singing has raised thousands of pounds to support our projects in Lebanon – and now her Song for Theirworld features in a new video.
We were so inspired by Nicola's efforts around Britain that we decided to showcase the song as a way of saying thanks to players of the People's Postcode Lottery in the UK, who have raised more than £5.3 million to support our work with Syrian refugees.
"I was already very concerned by the effects of the Syrian conflict when I saw Theirworld founder Sarah Brown talking on TV," said Nicola.
"I liked Theirworld's ability to get things done. I hadn't played my guitar for years – but I decided to go busking to raise money and got a really good reaction. So I carried on and three years later I'm still doing it!
Watch the video and hear Nicola's song
"The inspiration for Song for Theirworld was the innovative double-shift system to help Syrian children into Lebanese schools. Children should be getting an education, not working in factories or getting married young. I wanted to help raise awareness."
The video shows Syrian children who have been helped into school by Theirworld's projects. Our campaigning has contributed to more than 300,000 refugee and vulnerable children receiving an education in Lebanon. We continue to provide key personnel to support the delivery of double-shift schools through the education ministries.
Originally from Jersey, Nicola was a specialist palliative nursing sister in the community in Lincolnshire. Now she cares for people through her musical fundraising for Theirworld and homeless people in her area. As well as busking, she appears at gigs and festivals and has been featured on radio.
She said: "People often stop to ask me about Theirworld. They want to know all about and I tell them about the work to help children affected by the Syrian crisis and how they are being given a brighter future."
Sarah Brown, Chair of Theirworld, said: "We love the song. Nicola's busking inspired us to make the film to thank the players of the People's Postcode Lottery across Britain."
---
More news
Take the test and discover how our Schools Hub helps students grasp the global education crisis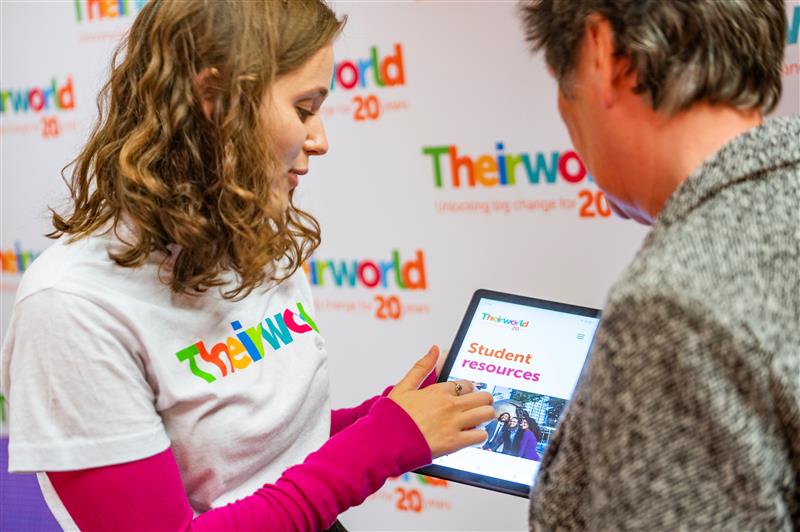 Take the test and discover how our Schools Hub helps students grasp the global education crisis
#LetMeLearn: the story of a global education campaign
#LetMeLearn: the story of a global education campaign