Celebrities back 'You Promised' campaign to get Syrian children in school
Celebrities, Children in conflicts, Education in emergencies, Safe schools
The Twitter profile pictures of (clockwise, from top left) Dynamo, Bonnie Wright, Steve Nguyen, Simon Pegg, Rainn Wilson, Audley Harrison and Julian Morris.
Celebrities have backed the campaign to tell world leaders: You cannot break your promise to get Syrian refugee children into school.
They include the Star Trek actor Simon Pegg and Rainn Wilson, star of America TV's The Office, who tweeted: "World leaders have failed the Syrian refugee children."
They were among famous faces from the United Kingdom and United States who have added their support to the 18,000 messages sent to donor countries and the 50,000 people who have watched our "You Promised" video.
Theirworld – the children's charity behind A World at School – is demanding that the international community sticks to its pledge to help get one million Syrian refugee children into schools in neighbouring countries this year.
The promise was made in February at the Supporting Syria and the Region conference in London. But with the new school year about to start in Turkey, Lebanon and Jordan, $1 billion of the promised $1.4 billion has still to be delivered.
Here's a look at some of the celebrities who have tweeted their support for the campaign.
RAINN WILSON
American actor best known for his role as Dwight in The Office, as well as many other TV parts. He has been a supporter of A World at School's campaigning work and hosted our Town Hall event in New York last year to mark the 10 million signatures gathered for the #UpForSchool Petition.
World leaders have failed the Syrian refugee children: https://t.co/iAww29NDgY @aworldatschool

— RainnWilson (@rainnwilson) August 11, 2016
  SIMON PEGG  
Known to a global audience as Scotty in the three most recent Star Trek films and for his roles in the Mission Impossible movies. Simon retweeted this message.
Send a message to world leaders to keep their promise to get every Syrian child into school now! https://t.co/HzcsqZMKRt #SafeSchools (CF)

— Pegg News (@simonpegg) August 3, 2016
BONNIE WRIGHT
British actor who played Ginny Weasley in the Harry Potter films. Bonnie has supported many of A World at School and Theirworld's campaign to help children.
STEVE NGUYEN
The Vietnamese-American film-maker made an amazing film for last year's Town Hall event and has just produced Issue 2 of a special comic series about A World at School's inspiring Global Youth Ambassadors.
DYNAMO
British magician best known for his TV show Magician Impossible. He appeared recently in a spoken-word performance film produced for Theirworld's #SafeSchools campaign.
AUDLEY HARRISON
The retired Olympic and European boxing champion retweeted this message from Theirworld President Sarah Brown.
The World Is Failing To Get Syrian Refugee Children Into School, Warns Report https://t.co/lNbZvbyazZ via @elashton @BuzzFeedUK

— Sarah Brown (@SarahBrownUK) August 3, 2016
 JULIAN MORRIS
The British actor has appeared in several films and several US TV shows including Pretty Little Liars and Hand of God. 
 DAVID MORRISEY
British actor widely known for his role as The Governor in the American zombie TV series The Walking Dead. He set up the Creative Arts School Trust charity to train teachers and continue the worlk of drama workshops he ran for Palestinian refugee children in Lebanon.
Thanks to celebrities, our Global Youth Ambassadors and ordinary people who care about the plight of children, the message is getting through that countries who attended the Syria conference cannot break their promise.
Watch our You Promised film
Ben Hewitt, Theirworld's Campaigns and Communications Director, said: "Due to this overwhelming support, the co-hosts are now talking to us – a big step forward that shows the pressure is having an effect.
"However, we're still not getting a clear answer on when they'll put their money where their mouth is and actually keep their promise.
"So, we need to keep up the pressure – will you ask your friends on Facebook to send a message to donors?"
Share this graphic on Facebook and add your own message
---
More news
Theirworld initiative helps to deliver $30m of computers to Ukrainian children
Theirworld initiative helps to deliver $30m of computers to Ukrainian children
Theirworld's mission to give children in crises a safe place to learn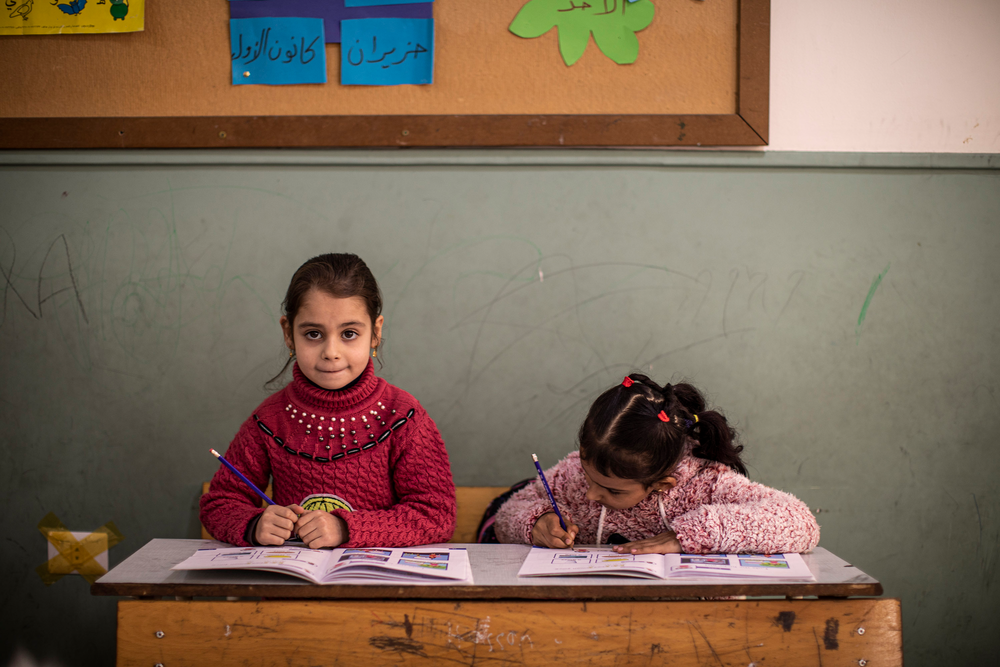 Theirworld's mission to give children in crises a safe place to learn