Child victims of the 'forgotten crisis' that threatens millions in Lake Chad region
Barriers to education, Child nutrition (Early years), Childcare, Children in conflicts, Children's welfare after natural disasters, Education in emergencies, Refugees and internally displaced people
As donors today pledged more than $670 million in emergency aid, we look at the plight of children - particularly the very young - who are are at risk of illness and death in this famine-hit area.
---
It's been called the "forgotten crisis". While the Syria and Yemen conflicts have been grabbing global headlines, the growing humanitarian problem in the Lake Chad region of Africa has almost gone under the radar.
Huge numbers of people could die of hunger in Nigeria, Niger, Chad and Cameroon unless urgent action is taken.
And children – particularly the very young – are bearing the brunt of the crisis.
About 500,000 under-fives are suffering from severe acute malnutrition – the most extreme and visibly obvious form. It is a major cause of death in this age group.
Today donors pledged more than $670 million in emergency aid for people threatened by famine in the Lake Chad region. A special humanitarian conference in Oslo, Norway, said the money was aimed at helping more than 10 million people.
Famine began last year in the northeast of Nigeria, where the government is fighting Boko Haram and millions of people have been forced from their homes. That – combined with Lake Chad drying up due to climate change – has caused a massive and complex humanitarian problem.
"This is a crisis of forgotten children," said Kathryn Taetzsch, the Lake Chad Basin response director for the charity World Vision. "Not only have children been forced to endure atrocities of enormous proportions but many are also suffering the effects of hunger and illnesses."
For months, Theirworld has been calling for a humanitarian response that includes safe spaces for the youngest children caught up in the crisis and safe, quality education for all children.
Theirworld's #5for5 campaign on early childhood development has also been driving home the message that nurturing care in emergencies – including the provision of safe spaces and nutrition – is vital for children under five.
Vulnerable babies and young children caught up in conflicts and crises can suffer from psychological trauma, toxic stress and poor brain development unless their needs are prioritised in humanitarian response plans.
"In all types of emergencies, babies and young children are especially vulnerable, with the highest rates of illness and death of any age group," says a new briefing published by Theirworld.
"Early childhood programmes can be lifesaving for the youngest children and are vital to ensuring children not only survive but have the best start for a good future."
Toxic stress – which can be caused by prolonged exposure to hardship, neglect or violence – can inhibit the healthy development of a child's brain, hamper their future learning and increase the risk of long-term health and behaviour problems.
Safe spaces can include preschool programmes. But with the Lake Chad region now home to a quarter of the world's out-of-school population, older children desperate for education have been moving into those schools.
The charity Save The Children said more than half of the 700 children at one pre-school programme in Nigeria's Borno State are six or older – with many of them teenagers up to the age of 15.
Education has been decimated in the area. About 1200 schools have been damaged or destroyed by Boko Haram while more than 600 teachers have been killed and 19,000 displaced.
"This desperate quest for education reflects the hunger of children for knowledge that is not being met, which is heartbreaking" said Ben Foot, Save the Children's Country Director in Nigeria.
"The consequences (of Boko Haram) have been record lows in enrolment, terrible literacy rates and arguably the worst education crisis in the world. We cannot stand by as an entire generation of children loses its right to go to school."
Abu Bakar is a displaced parent who now volunteers as a teacher at early childhood care classes in Madinatu host community.
He said: "I have some children in my class who are older than five or six so I have changed the way I teach.
---
Safe Spaces – The Urgent Need for Early Childhood Development in Emergencies and Disasters (September 2016)
Safe Spaces – The Urgent Need for Early Childhood Development in Emergencies and Disasters (September 2016)
"A lot of people are becoming aware of the need for education. Some of the children who come here have never been to school. So it makes a difference to the children and for some of them it is the only opportunity they will get to learn."
Unless urgent action is taken, huge numbers of out-of-school children in the region will be at risk of abuse and exploitation, said the UN Office for the Coordination of Humanitarian Affairs (OCHA).
It said aid last year helped 300,000 children resume education and treated another 300,000 under-fives for malnutrition.
At today's conference, Norway's Foreign Minister Borge Brende said: "This has helped raising awareness and increased support for millions of people affected by this crisis – not least for the many children and young people who are currently out of school.
"It is crucial to provide and protect education to safeguard their rights and pave the way for a peaceful development in the region."
---
More news
Theirworld initiative helps to deliver $30m of computers to Ukrainian children
Theirworld initiative helps to deliver $30m of computers to Ukrainian children
Theirworld's mission to give children in crises a safe place to learn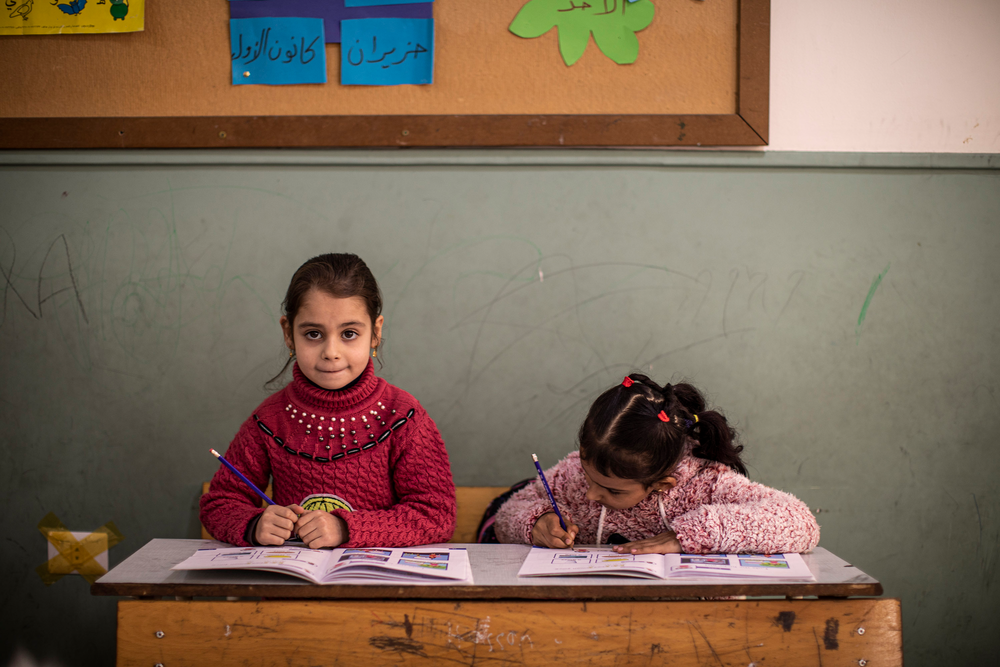 Theirworld's mission to give children in crises a safe place to learn