Children and women rescued from Boko Haram tell of their ordeal
Chibok girls, Children in conflicts
None of the Chibok girls are among those rescued
Women and children rescued from Boko Haram have told of their horror during months of captivity in a Nigerian forest.
More than 700 people abducted by the terrorist group have now been freed in the past few days in an ongoing military operation. But several children and women were killed during their rescues – some of them stoned to death by Boko Haram fighters for refusing to leave with them. Others died when they were run over by army trucks, hit by stray bullets or stood on land mines.
The first group to be rescued last week from Sambisa Forest have arrived at a refugee camp after a three-day journey. The 275 survivors – more than 200 of them children – are getting medical and psychological treatment in Yola, Adamawa state. So far, none of the missing Chibok schoolgirls appears to be among the groups rescued.
Some of those rescued told how Boko Haram – whose name means "Western education is forbidden" – killed men and older boys in front of their families before forcing the girls and women to go with them to their camps deep into Sambisa Forest in northern Nigeria.
Nigerian army in Samisa Forest operation to free hostages
Asabe Umaru, 24, said: "They didn't allow us to move an inch. If you needed the toilet, they followed you. We were kept in one place. We were under bondage. We thank God to be alive today. We thank the Nigerian army for saving our lives."
The mother of two also told how several prisoners died of disease or malnutrition. She said that when soldiers arrived, some of the terrorists started stoning them for refusing to flee with them. A doctor said some of the children and babies who arrived at the refugee camp were severely malnourished.
Last week the Nigerian military said it had freed 200 girls and 93 women from Samisa Forest. It said this group did not include any of the 219 schoolgirls from Chibok who were abducted more than a year ago. The Chibok girls were seized on April 14, 2014, from the Government Girls Secondary School in Borno state by Boko Haram.
Many of the girls escaped but 219 are still missing. Vigils and marches were held around the world to mark their one year in captivity.
Nigerian army special forces operating in Samisa Forest
A second group of 160 – 100 of them children – were rescued the day after the first group. The Nigerian army says it has now rescued more than 700 people in the ongoing surge into Boko Haram's strongholds in Sambisa Forest.
A report released by Amnesty International on the anniversary of the Chobok girls' abduction revealed that 2000 girls and women have been abducted by Boko Haram. 
In a statement on the rescue of the 293 girls and women, the human rights organisation said: "This development is just cause for celebration and undoubtedly an immense relief to the women, girls and their families. But this is just the tip of the iceberg; there are thousands more women and girls, and men and boys who have been abducted by Boko Haram."
"The trauma suffered by the women and girls is truly horrific. Some have been repeatedly raped, sold into sexual slavery or indoctrinated and even forced to fight for Boko Haram. What they need now is medical and psychological care and support and privacy. "
---
More news
Theirworld initiative helps to deliver $30m of computers to Ukrainian children
Theirworld initiative helps to deliver $30m of computers to Ukrainian children
Theirworld's mission to give children in crises a safe place to learn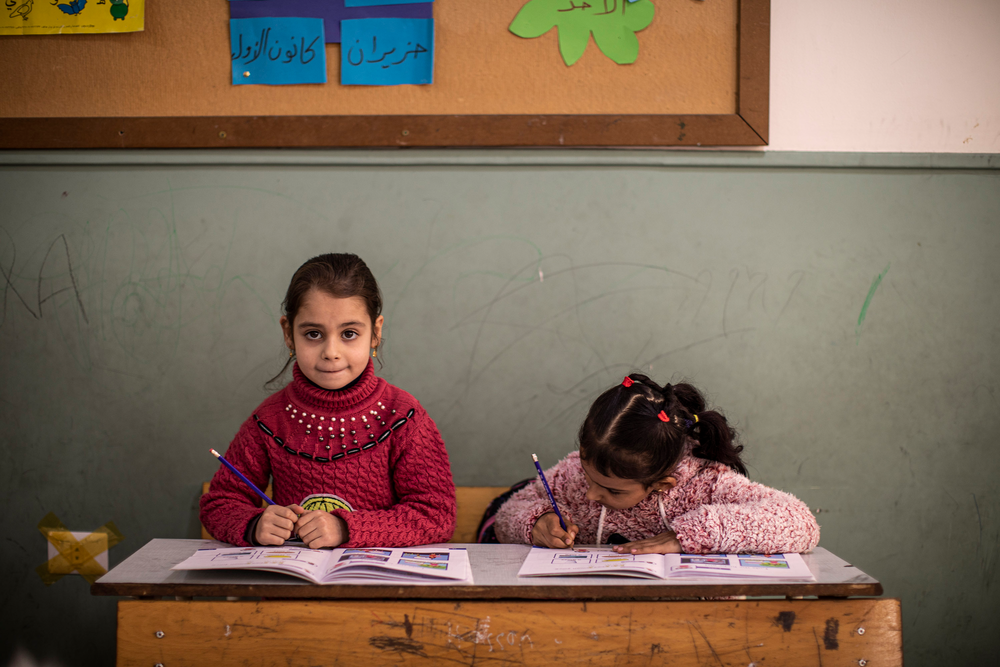 Theirworld's mission to give children in crises a safe place to learn