Children go back to school in parts of Mosul recaptured from Islamic State
Children in conflicts, Education in emergencies, Safe schools
---
Thousands of children are back in their classrooms in the conflict-torn Iraqi city - many of them for the first time in more than two years.
---
Dozens of schools have reopened in Mosul as fighting between Iraqi and Kurdish military forces battling with Islamic State (ISIL) subsides in the eastern part of the city.
Some schools had been closed for more than two years, with girls largely banned from getting an education by the terror group.
Iraq's Shafaq News quoted the country's education ministry as saying that 70 schools are reopening in Mosul. Hessam al-Din Abar, a representative at the Provincial Council in Nineveh, where Mosul is the capital, said ISIL's presence had prevented the schools from operating.
He said they had been turned into places for terrorists to train new recruits and promote extremism.
Many families would not allow their children to attend schools while ISIL was controlling them. Now that is changing – with about 40,000 children returning to 70 schools. 
Some have already reopened while others will open in the coming weeks after being checked for unexploded bombs.
"In maths, my six-year-old son was counting rifles. In other classes, he was being taught about suicide bombing," said Mishwan Yunis, a 41-year-old water ministry worker whose son attends Kufa Boys' School.
"He lost two very important years of his life. He should have been in the third grade- now he goes back to first."
Omar Khudor Ali, headteacher of Badayel Boys' School,  told the Reuters news agency: "Our role is bigger now than it was two or three years ago because you need to deal with the children's psychological state before you can teach them," said,
"For us to do this we need better coordination between the teachers themselves and the entire education system."
Brett McGurk, Special Presidential Envoy for the Global Coalition to Counter ISL at the US Department of State, tweeted: "Good news from east #Mosul today as 70 schools reopen and 1000s of children return to studies after two years living under #ISIS terrorists."
Peter Hawkins, UNICEF Representative in Iraq, said: "Just a few weeks ago, these neighbourhoods were gripped by violence. Today, girls and boys are heading back to class." 
The United Nations children's agency said 30 schools in East Mosul had reopened two days ago, allowing more than 16,000 children to resume their education.
Hawkins added: "After the nightmare of the past two years, this is a pivotal moment for the children of Mosul to reclaim their education and their hope for a better future."
UNICEF said it is supporting Iraqi authorities to rehabilitate, equip and open more schools as the security situation allows. Many schools have been badly damaged by the fighting. 
Water and sanitation services will have to be reinstalled in schools and retraining will be offered for teachers and education staff.
The UN agency is also introducing accelerated learning programmes for children. UNICEF and education partners are also supporting 13,200 newly-displaced children living in camps outside Mosul with access to education in mathematics, science, Arabic and English through temporary learning spaces.
In November it was reported that 5300 of Iraq's schools – almost one in five – could not be used because they were destroyed, damaged, converted to shelters for displaced families or used for military purposes.
In 2016, UNICEF and partner organisations built 40 new schools, set up 1585 temporary learning spaces for 220,000 displaced children and distributed learning materials to 5000 schools.
Last month the UN education and cultural agency (UNESCO) said conflict in Iraq had left hundreds of thousands of Iraqi children and youth without access to quality education, and the ongoing conflict in Mosul had made the situation even worse. 
It added that an agreement had been signed with the European Union to support the primary and secondary education for 100,000 students who had been left out of education in conflict-hit areas, such as Mosul.
An estimated 3.5 million Iraqi children are missing out on education.
ISIL seized Mosul in 2014. The Iraqi government launched an offensive to retake the city, still largely under the control of the terrorists, in October.
This has led to the displacement of about 100,000 people from Mosul. About 750,000 people are still trapped in the ISIL-held western part of the city
---
More news
Theirworld initiative helps to deliver $30m of computers to Ukrainian children
Theirworld initiative helps to deliver $30m of computers to Ukrainian children
Theirworld's mission to give children in crises a safe place to learn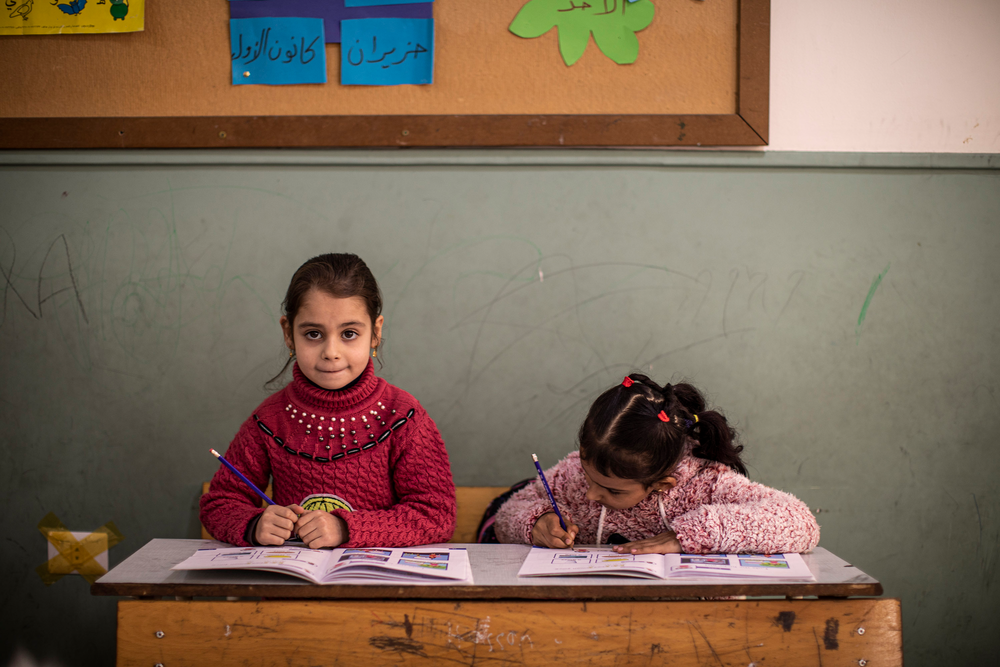 Theirworld's mission to give children in crises a safe place to learn