Three years after his last lesson, Ali and other children are back at school in war-torn Mosul
Children in conflicts, Education Cannot Wait, Education in emergencies, Right to education, Safe schools, Safe Schools Declaration
---
The Iraqi city's education system paid a heavy price in the battle to oust Islamic State - with only half of its 600 schools still standing.
---
After three years of forced truancy due to the Islamic State group's seizure of the Iraqi city of Mosul, teenager Ali Salem waited nervously outside school to sit an English exam.
Before heading out bright and early from a camp for the displaced in Hajj Ali, 35 miles away, he had had a last look over lessons that were interrupted in 2014.
"On the evening of June 10, 2014, we heard that Daesh (IS) had taken over the city. I had a maths exam the next day but school stopped," Salem said in front of the gate of the Hikma school in west Mosul's Mansur district.
"I'm 18 now and I've lost three years because of IS. I'm so glad we're back at school to be able to pass exams because all this will determine the course of my life," he said, with dishevelled hair and a schoolbag strapped across his shoulder.
When the jihadists burst on to the scene, Salem was in the third form and taking exams for the Iraqi school system's certificate, a process he is now having to repeat.
Because of the disruption for the 300,000 pupils in Niniveh province of which Mosul is the capital, the education ministry has decided to set IQ tests for primary schools and general knowledge exams in secondary.
A block of houses away, also in the Mansur district, next to a building toppled by an air strike, another pupil was waiting anxiously to take the same English exam.
"I've forgotten everything and I've only managed to get a photocopy of one chapter whereas they can question me on the whole book," fretted Mahmud Abdel Nafaa, also 18, as workmen laboured to fix drains and pavements smashed by shelling.
"I'm really happy to be back at school but also worried because if I fail the exams I will be transferred to evening classes," said the young man in a red T-shirt and with black slicked-back hair.
Abdel Nafaa said evening classes were held only twice a week and they have become mandatory for pupils deemed too old to follow the syllabus.
The new academic year started in early October in the eastern part of the city, from where Iraqi security forces expelled IS fighters in January.
But classes and exams will not resume in earnest until the start of November in west Mosul, where the battle dragged on until July.
Mosul's education system, with its pre-war tally of 600 schools, has paid a high price for the months-long fight.
Only 210 schools are left standing on the east bank of the Tigris river that runs through the city, and 100 on its west bank.
In his office building with its completely burnt-out ground floor, the director general of the education ministry for Niniveh province faces a mammoth task.
"We're the second line after the armed forces. They liberate, and we have to rehabilitate right after," Wahid Abdel Qader said.
"Already back in January, when the east had barely been liberated, we noted that families were eager for school to restart," he said.
But with bombardments rocking the west, schools in the east waited until May and June to gradually restore classes.
Schooling had been banned altogether under jihadist rule, apart from a handful of establishments with a curriculum focused on religion and combat.
Mohammed Ismail, headmaster of the Zubayda school in east Mosul, said he languished at home for three years.
"In our district, Daret al-Hammam, only one school stayed open," under IS supervision, he said. 
"Some of my colleagues worked with them, either because they shared their thinking or they were forced."
He said most of the pupils under IS were French, Russian and Chechen children of foreign jihadists.
In the playground of the Zeitun school overlooking the east bank of the Tigris, six-year-old Yussef Razwan showed off his first reading book. 
"Playing at home is boring. I prefer being here," the little boy in white uniform beamed.
---
More news
Theirworld initiative helps to deliver $30m of computers to Ukrainian children
Theirworld initiative helps to deliver $30m of computers to Ukrainian children
Theirworld's mission to give children in crises a safe place to learn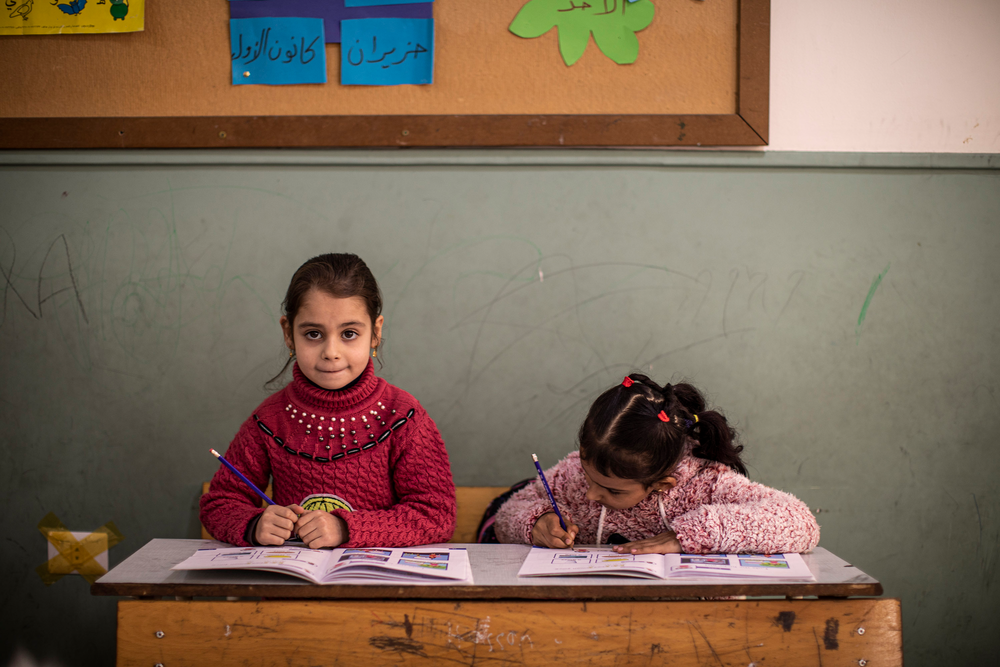 Theirworld's mission to give children in crises a safe place to learn