Educating children 'is the only hope for the future of Iraq'
Children in conflicts, Education in emergencies, Refugees and internally displaced people, Safe schools, Safe Schools Declaration
---
As a summit on reconstructing the conflict-torn country begins, we talk in depth to UNICEF's representative in Iraq about schooling and peacebuilding.
---
Children's education is key to the rebuilding of society in Iraq and for the troubled nation to achieve a sustainable peace.
Ahead of an international summit that starts today, UNICEF's representative for Iraq told Theirworld that schooling is "critically important" for the country's future. Peter Hawkins said children are at "the centre of the reconstruction and rehabilitation".
The Reconstruction Conference for Iraq will take place over the next three days in Kuwait City. The summit is viewed as an opportunity for the government and the international community to strengthen commitments for children.
More than four million Iraqi children need urgent help after three years of war on Islamic State. Poverty, coupled with conflict, has interrupted education for three million children.
UNICEF has verified 150 attacks on education facilities since 2014 and half of all schools need repairs. More than 700,000 displaced children have missed a whole year of schooling.
Many children were killed and maimed or abducted, while some were forced to fight for armed groups. Tens of thousands of children are believed to be severely traumatised by events they witnessed.
But – now that violence is subsiding and families are returning home – Iraq is slowly heading towards recovery and reconstruction.
Lack of investment over the last five, 10, 15 years has meant - especially in the south - a shortage of schools. Peter Hawkins, UNICEF Representative for Iraq
Hawkins said that children "are the only hope for the future for Iraq". Speaking from Baghdad, he added: "If we do not invest in children's education the future of Iraq's security and economy will be compromised. Children are the future of this country."
Hadeel, whose school in Falouja was damaged in the fighting, said: "I was so sad when I saw what happened to my school. It was beautiful and newly built. But as long as we are here, hand in hand, we can rebuild the school."
Hawkins recently returned from Mosul, where UNICEF – the United Nations children's agency – is supporting the population after Islamic State ruled the city from 2014 until defeated by Iraqi forces last year.
He said: "I was there a few days days ago and eastern Mosul is a thriving economic centre. All the schools are open and normal life has all but resumed."
Salem, a high school teacher in Mosul, said: "Investing in minds will put us on the right track."
Regarding west Mosul, Hawkins said the situation was "very different" but most districts are trying to get back to normal and education is resuming.
He added: "A lot of people are returning and for the first time more people have returned than are displaced. And slowly, slowly, services are beginning to resume. But it's much smaller due to the level of destruction.
"Education is starting again. There are two districts – July the 17th and the Old City – where it's far more difficult for life to resume but on the edge of the Old City we've been able to open some of the schools and one health centre."
Hawkins said there are sufficient numbers of teachers in Iraq generally but they are not always in the right place.
He added: "In Mosul, there are enough teachers – there is one teacher for around 22 pupils. But that depends where they are. Another problem is the number of classrooms and physical schools. Not only in Mosul, but elsewhere in the country where there is a big shortage of schools.
"So, if anything can come out of Kuwait it will be a commitment to – by the government, by the private sector and by the international community – to build 7000 schools that are required over the next five years.
"Not only to catch up for those destroyed by the fighting, but also through the lack of investment over the last five, 10, 15 years, which has meant – especially in the south – a shortage of schools.
Hawkins explained that one third of schools have double shifts and many have triple shifts.
The children who go to triple shift schools get less than 10 contact hours a week of education which, Hawkins said, does not allow a child to have positive learning outcomes, nor position themselves for the labour market when school ends.
He also talked about the need for more safe spaces for preschool children.
Hakins added: "For cognitive development of children, preschool education is a very important part – but it hasn't really picked up yet. 
"What we have done, especially in the displaced camps, and now we are looking at community options, is looking at child-friendly spaces where children who have been traumatised by the fighting and/or have been displaced – where they can start to play and draw with their friends and siblings."
Mines and unexploded bombs are a big problem but many organisations are doing an incredible job of clearing places of unexploded ordnances, Hawkins said.
Schools have been a major priority for demining teams because once they are cleared they can reopen. This means children can get back to safe areas instead of roaming the streets where there may be unexploded mines.
"It's a massive massive challenge and problem especially in west Mosul," Hawkins said, adding that Iraq must invest in psycho-social assistance so that children can overcome the experiences they have lived through.
Violence has left as many as 750,000 children in Mosul and surrounding areas struggling to access basic health services.
In Ninewa governorate, over 60 health facilities have repeatedly come under attack since the escalation of violence in 2014, severely disrupting access to basic health services for children and families.
UNICEF is appealing for US$17 million to support rebuilding health facilities for children in Iraq in 2018.
The need for Safe Schools
UNICEF has supported local authorities to rehabilitate and repair 576 schools that were damaged in the fighting and distributed education kits to reach 1.7 million children.
In Mosul, UNICEF has helped in the basic rehabilitation of one-third of the 638 schools that have reopened. Now more than half a million girls and boys have returned to school there.
In times of crisis, children need reliable places where they can continue to learn, play and realise their full potential. Getting children back into school quickly after a crisis can prevent them from falling into child labour, child marriage, exploitation and recruitment by armed groups. 
Schools should also be safe from attack or military use. 72 countries have signed the Safe Schools Declaration – a commitment to protect education from attack and stop the military use of schools. 
Of the five permanent members of the United Nations Security Council, only one has signed. Theirworld's Safe Schools petition urges Russia, China, the United States and United Kingdom to follow France's leadership.
---
More news
Theirworld initiative helps to deliver $30m of computers to Ukrainian children
Theirworld initiative helps to deliver $30m of computers to Ukrainian children
Theirworld's mission to give children in crises a safe place to learn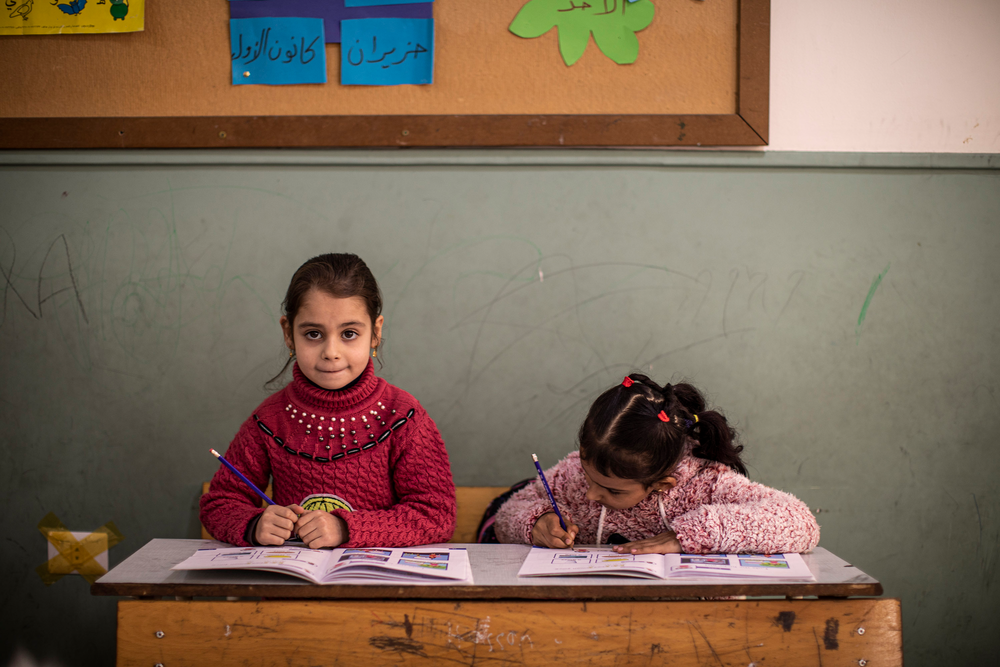 Theirworld's mission to give children in crises a safe place to learn