Islamic State are gone but Raqqa's children struggle to learn in broken schools
Children in conflicts, Education in emergencies
---
Students are back in education after five years - but now they have to combat the cold in wrecked school buildings without doors and windows.
---
In the Syrian city of Raqqa, children wear hats, scarves and coats to guard against the winter cold as they struggle to catch up on years of lost learning in a classroom with no doors or glazed windows.
More than a year since the United States and its allies defeated Islamic State at Raqqa, many of the city's schools still look like battlefields with buildings left lying in rubble and playgrounds dotted with wrecked cars.
"When the crisis started, we stopped studying, the schools closed. Now we've come back to study and we need help. Fix the windows, doors, we're dying of cold," said 12-year-old Abdullah al-Hilal at Uqba bin Nafie school.
Islamic State, which turned Raqqa into the Syrian headquarters of its self-declared "caliphate", kept schools shut as it tried to impose its ultra-radical vision of Islam through its own education system.
Since Islamic State's defeat there in October 2017, 44 schools have reopened with 45,000 children enrolled, said Ali al-Shannan, the head of the education council set up by civilian authorities in Raqqa.
The children have lost out on five years of schooling.
"Very basic" aid had allowed for some renovation work, covering only 10% of needs, Shannan told Reuters. The schools generally "have no doors, no windows, in addition to the sanitation systems that are in a deplorable state", he said.
At Uqba bin Nafie school, one classroom looks out on to a wrecked building, its floors collapsed on top of each other and a car flipped on its side nearby. In the yard, children stand around large pools of dirty water while others eat snacks by the crumpled wreckage of another vehicle.
Islamic State used Raqqa's schools – like much of the city – for military purposes, digging tunnels under some of them. Some of the schools were hit by air strikes, Raqqa residents say.
Amnesty International has said 80% of the city still lies in ruins, with thousands of bodies under the rubble. With much of Raqqa destroyed by US-led air strikes, Amnesty has faulted the coalition for not doing more to help recovery.
The United States has said stabilisation efforts in Raqqa have focused on basic necessities including demining, water and electricity. The coalition has also supported the reopening of schools.
UNICEF, the UN children's agency, estimates that 2.1 million children in Syria are out of school.
In Raqqa, UNICEF is providing textbooks to more than 121,000 children so they can get a start while waiting for a classroom, said Juliette Touma, UNICEF's regional chief of communications. "The self-learning programme allows children who are out of school to learn at home, an NGO or community learning centre," she said.
Shannan said 57,000 books have been received so far, short of 95,000 he said had been requested. The need was growing as the number of children registered for school increases, he said.
As winter sets in, the dilapidated state of the schools is leading some children to miss out on yet more lessons.
Ayman al-Qurt, the director of at Uqba bin Nafie school, says attendance in one of his classes is just 11 of 38 pupils "because of the bad state of the school and the bad weather".
"Is this not a pity?"
---
More news
Theirworld initiative helps to deliver $30m of computers to Ukrainian children
Theirworld initiative helps to deliver $30m of computers to Ukrainian children
Theirworld's mission to give children in crises a safe place to learn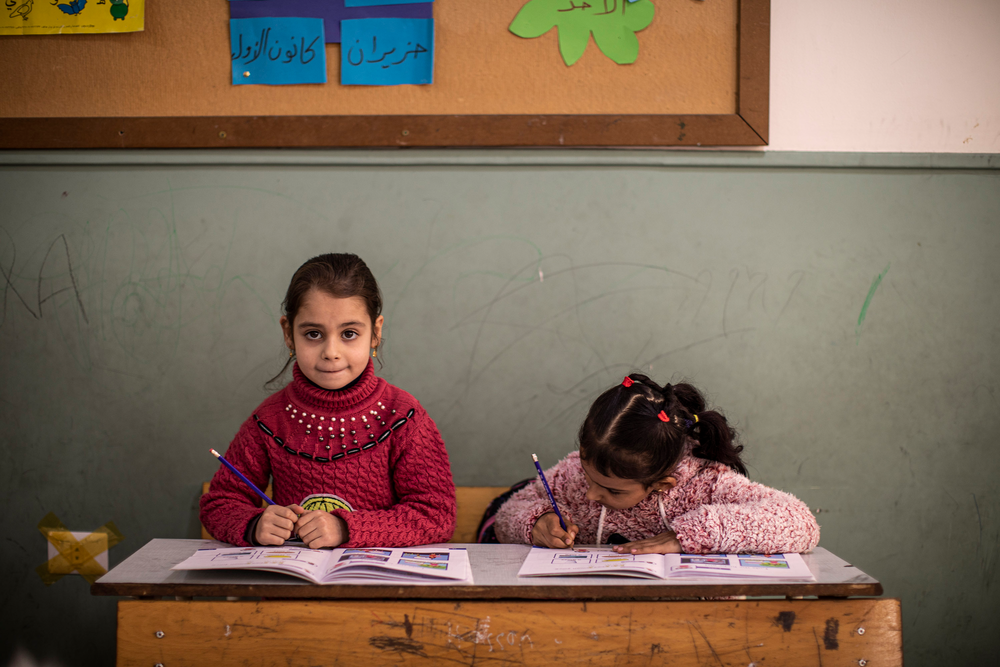 Theirworld's mission to give children in crises a safe place to learn