Traumatised Iraqi children hope to go back to school after nightmare of Islamic State rule
Children in conflicts, Education Cannot Wait, Education in emergencies, Refugees and internally displaced people, Safe schools, Safe Schools Declaration
---
Thousands of children displaced from the liberated town of Hawija need urgent psychological support and safe places to learn.
---
Thousands of schoolchildren in Iraq remain displaced from Hawija following the defeat of Islamic State in one of its strongholds.
Many could soon return to the liberated town after the Iraqi military said operations to regain control had ended.
The operation to clear IS from Hawija, 30 miles southwest of Kirkuk, began on September 21. Its success ended the terror group's occupation, which began in June 2014.
But the picture may become complicated again after Iraqi forces seized Kirkuk from Kurdish control. 
Save the Children told Theirworld that, while some people have already returned to Hawija, the number still displaced stands at 116,634.
That figure includes tens of thousands of children whose education has been severely impacted by the conflict – and having lived under IS rule for three years.
Many children are severely traumatised by events and there is an urgent need to offer psychological support and to get them back to school quickly, so some sort of normality within their lives can resume. 
Amanda Brydon, an advocacy advisor with Save the Children's humanitarian and conflict team, is just back from Hajj Ali in Iraq. 
She said: "What we know is that up to 30,000 children in Hawija have been in extreme danger, at risk from the bombings and fighting. 
"They have already suffered horribly under IS rule in the city. 
"Food, water and medicine are running out, with many children reportedly weak and malnourished. 
"Schools and hospitals have shut down. Families faced a terrible choice of staying put as fighting intensified, or risking their lives to flee on foot for up to 12 hours through minefields and snipers – to then wade across a river to reach safety.
"What we've also seen is that the impact of the conflict and displacement on children has been quite stark, especially in terms of education. 
"Overall in the country – in terms of education – three million children have not been attending school on a regular basis. That includes 90% of children in conflict-affected areas."
Save the Children has been providing psychological support, basic education and safe spaces for children from Hawija. 
Brydon said: "In Hajj Ali there was a joint child-friendly space and non-formal education, learning and activities for the children to do. You could really see how much it had become a hub for their energy, to make them feel safe and bring normality to their lives. 
"Within those child-friendly spaces and temporary learning centres, we're helping to get children back on track after their experiences."
In a recent report called An Unbearable Reality, Save the Children revealed the extent to which the conflict has impacted on children's mental health and psychosocial well-being.
The report detailed heart-breaking accounts from children displaced by the fighting.  Children who had fled IS talked of "monsters", "dead bodies in the streets" "bloodied faces" and "bombs". 
They also spoke of their extreme sorrow of losing loved ones, experiences being felt by whole communities in a collective trauma.  
Brydon said: "However, immediate, targeted and long-term assistance can be provided to ensure children get the mental health and psychosocial support that they need. 
"Studies have shown that children who feel safe, protected, and supported can learn better. Children who struggle with learning and don't have the emotional support that they need in the classroom and at home are at risk of dropping out."
In Kirkuk and Salah al-Din, Save the Children has set up a HEART (Healing through Art) programme that is about to start. The pilot project will support the mental health and psychosocial care of IDP children affected by chronic stress.
Brydon said: "Through drawing, painting, music and other art forms, children can creatively express how they are feeling in a safe place and start on the road to recovery. The HEART programme will allow them to process their grief, begin the healing process and rebuild their self-confidence and trust in others.
"After enduring such darkness, displaced children in Iraq will now be offered a glimmer of hope and a chance for brighter future."
---
More news
Theirworld initiative helps to deliver $30m of computers to Ukrainian children
Theirworld initiative helps to deliver $30m of computers to Ukrainian children
Theirworld's mission to give children in crises a safe place to learn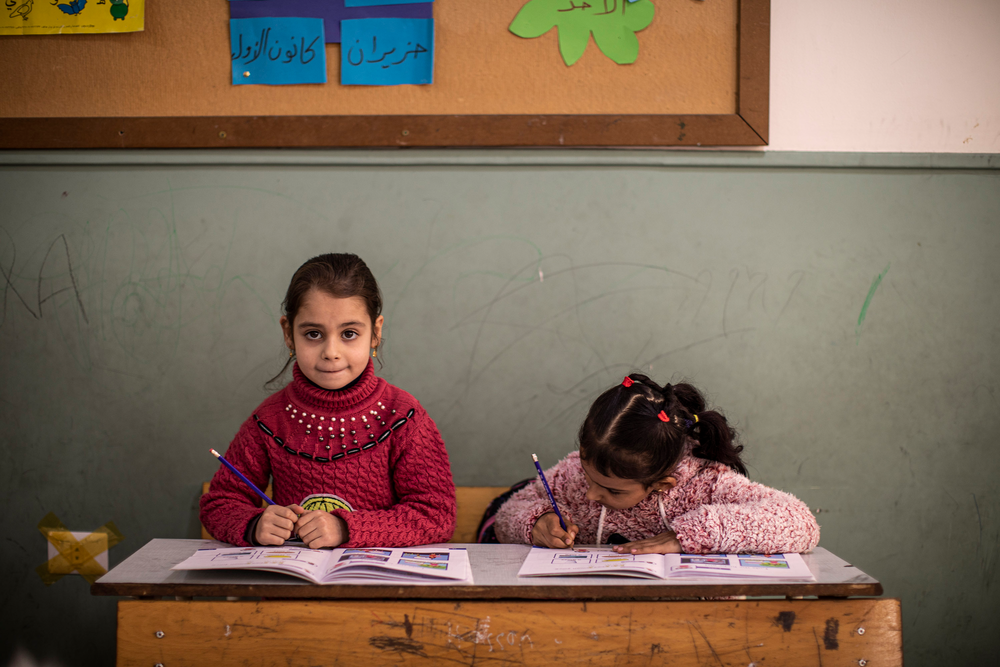 Theirworld's mission to give children in crises a safe place to learn