Code Clubs girls in Uganda reflect equality theme of Day of the African Child
Day of the African Child, Days in the childhood development calendar, Girls' education, Right to education, Teachers and learning, Technology and education, Theirworld
---
Theirworld's Code Clubs in several African countries allow girls to learn digital skills and express themselves in a safe environment.
---
The theme of this year's Day of the African Child is empowering children and giving them equal opportunities.
That's hugely important when it comes to digital skills. Thousands of jobs are being created in the science, technology, engineering and mathematics (STEM) industries across Africa. 
But gender discrimination and lack of access to education and technology means girls are kept out of the workforce. That's where Theirworld's Code Clubs come in.
At Code Clubs in several African countries, girls learn how to build a computer, make games and artworks, and express themselves with code – all in a safe environment. 
To mark Day of the African Child 2017, a Code Club in Kampala, Uganda, asked students to look at child rights and equal opportunities for all children.
The group of girls aged six to 10 used the Scratch programme with the help of their teacher to create an animated story. 
They came up with a common scenario they see at school affecting equal opportunities and how they handled the whole situation.
The animation was created by Nanyiti Talitha, eight, Murungi Martha, nine, and six-year-old Nabugawa Beth.
In the Code Club group for 15 to 25-year-olds, Nalukenge Nashiba, 18, decided to write something using the Leafpad app on the Kano computer kit on the theme "Accelerating protection, empowerment and equal opportunities".
Theirworld Code Clubs launched in March last year around International Women's Day. The Code Club in Kampala, in collaboration with Women in Technology Uganda, was one of the first to launch. 
Girls are recruited through government schools in low-income areas where many girls have limited or no access to technology. 
Women in Technology Uganda then deliver the classes either at their Tech Hub or – for the younger age groups – at their schools. 
Theirworld's Code Clubs are supported by the People's Postcode Lottery
---
More news
Skills for the future give young people the best chance of success
Skills for the future give young people the best chance of success
Take the test and discover how our Schools Hub helps students grasp the global education crisis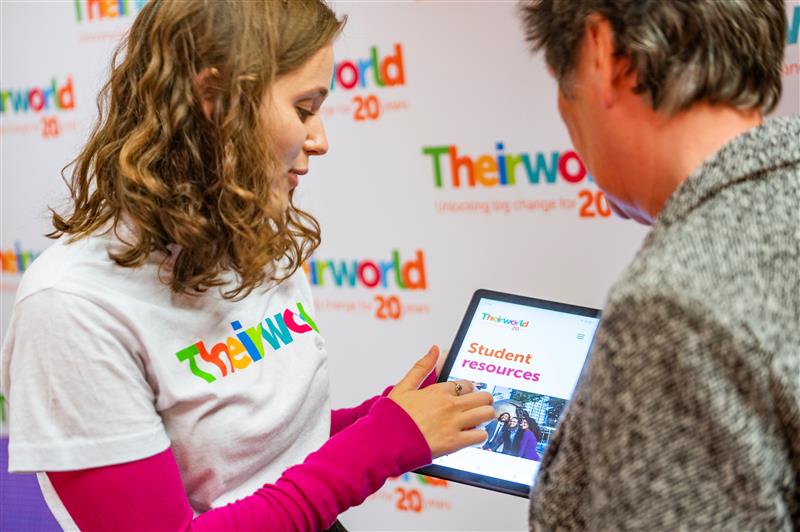 Take the test and discover how our Schools Hub helps students grasp the global education crisis