"I think all girls should be able to code and use a computer"
Girls' education, Teachers and learning, Technology and education, Theirworld
---
To mark Africa Code Week and the need for girls and young women to learn digital skills, we talk to students at one of Theirworld's Code Clubs in Uganda. 
---
In a digital world, jobs in the technology sector will go to the young people with the right skills.
Using technology to increase access to education and skills development is vital in giving them the opportunity to succeed at work.
Thousands of jobs in hi-tech industries are being created across Africa. But too often discrimination and lack of access to education and technology means girls are being denied those chances.
Theirworld's Code Clubs in several African countries offer a safe environment for girls and young women to learn, create and have fun. New clubs have been launched this week in Tanzania.
Students learn how to build a computer, make games and artworks, and express themselves with code. The older girls also learn how to build their own websites as well as gaining skills for future employment and business.
To mark Africa Code Week – which runs from October 18 to 25 – we talked to some of the girls and women who attend one of our Code Clubs in Uganda. 
Sophie, 24
Computers are tricky and funny, so I really wanted to learn about them in different ways. At the coding class, the Kano computers are challenging. I love putting them together and connecting them.  
We have been looking at creating our own games, which is fun for me. I only used computers a little before I came here. So far I have learned how to use folders, how to open an email and use it, how to use Excel for my business. 
My business is making and selling liquid soap. I have been doing that for half a year. 
I dropped out of school at senior six because my parents could not afford for me to carry on to university. I want to use what I learn at the Code Club to advertise my product and market my business. 
I would like to thank our teachers because they are really good and patient and I hope we can keep going with the Code Club because it is really interesting and challenging. 
Shamim, 17
Before I came to the Code Club I never knew how to use a computer. I do not have a computer at home. We have some computers at school but I mainly use one when I come to the Code Club. 
I have learned how to connect a cable to the computer, how to use a mouse and how to access the internet. It was very interesting and exciting. I went back home, I told my mum about it and she encouraged me to continue to come here so I know how to use the internet. 
The first time I came here I was shy. I thought they were going to laugh at me because i didn't know how to use a computer. But now I am not shy any more because I know how to use a computer and I feel interested. 
My favourite subjects at school are English, maths and geography. When I grow up I want to be a lawyer. I think computers will help me with that because I can use them to search for information that will help me to study.  
I think all girls should able to code and use a computer, not only boys. Before I came here I thought that computers were only for people with money – but now I know that poor people can also use a computer too. 
Denise, 19
I joined the Code Club to get something out of it. It was recommended by a friend and I wanted to see what interesting things I could learn. 
On my first day I had lots of fun and learned many things I didn't know using Excel, Microsoft word and forming an email. 
My favourite thing about the Code Club is using the Kano computer and making games like table tennis. You can change it to make it form the way you want. 
I had used a computer before but not as much as I am using them here. In my primary school they just taught you simple things and they don't take you deep into what you want to know. 
When I joined, I learned much more about how to run a business using technology, how to keep records on the computer and how to process and market my product online. 
I want to go to university to learn international business – that is my dream. 
I think it is very important for girls to learn computers. I think all girls should come to Code Clubs because you learn so much.
Rosemary, 15
I like the Code Club because the teachers show me many things that I don't know. They teach me how to make computers, how to work the computers and how to play games. 
I had not used a computer before I came here because I do not have a computer at my home. The first time I came here and used a computer it made me happy.  
My favourite things to learn here are how to open the computer, how to use the keyboard and use a mouse. 
I can make a game on my computer – using something called Scratch to make a ball in the playground. I learnt how to make an object to speak and to walk. 
At first I even feared to enter the lab, as it was my first time seeing a computer. Then when I came in and had the first class I felt OK. 
Now I feel good because on the computer I can do something. When I grow up I want to be a doctor. I think computers will help me in my job because of the technology and everything I have learnt in the Code Club.
It is important for girls to learn computers and coding. At first I thought jobs like physics and mechanics were for boys only but now I think different.
---
More news
Skills for the future give young people the best chance of success
Skills for the future give young people the best chance of success
Take the test and discover how our Schools Hub helps students grasp the global education crisis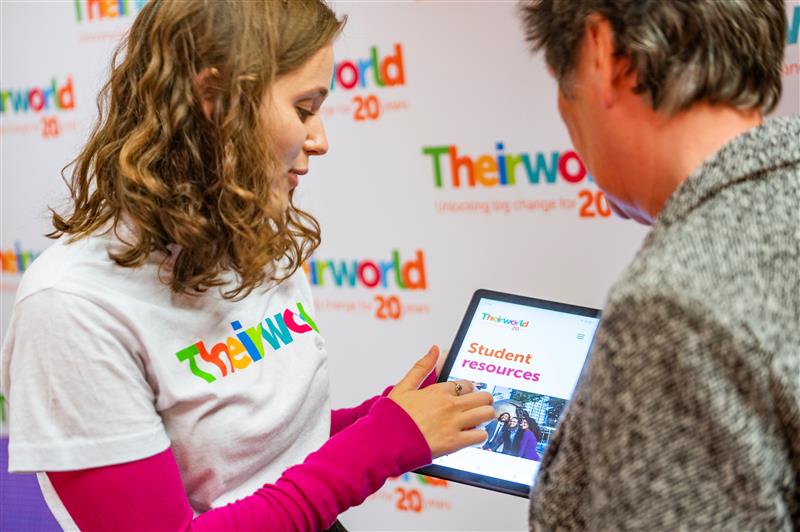 Take the test and discover how our Schools Hub helps students grasp the global education crisis