We love Code Clubs! Girls have fun while learning valuable computer skills
Girls' education, Teachers and learning, Technology and education
To celebrate International Day of Women and Girls in Science today, we look at the success of Theirworld's clubs that inspire students to tackle technology.
---
A whole new world of possibilities has opened up for Blessing Wanjiku – thanks to Code Clubs. 
The 10-year-old comes from a Kenyan community with limited access to computers. But she and her friends have been going to innovative coding classes for girls at Makena Primary School.
"I like Code Clubs because it helps me have access to technology," said Blessing, a student in class four. "With Code Clubs I can play games with different challenges and push myself to complete the challenges. I learn more and I have fun doing it."
Learning while having fun is key to the success of Theirworld's Code Clubs in four sub-Saharan African countries and Lebanon. To mark International Day of Women and Girls in Science today, we are celebrating the achievements of the clubs and their students.
Theirworld developed the low-cost model of safe, sustainable and scalable Code Clubs, where girls can learn to code, foster creative thinking and increase important knowledge and skills for the future.
The first was launched on International Women's Day in 2016 and there are now clubs in Kenya, Uganda, Tanzania, Zimbabwe and Lebanon, run in partnership with other organisations.
Girls should have access to technology to help them have a better future. Vanessa Wangari, 12-year-old, who attends the Code Club at Makena Primary School
Laura Lombardo, Project Manager at Theirworld, said: "The work that we have been doing in partnership with these amazing INGOs, foundations and tech hubs has been very promising. 
"It has been incredible to see the girls – most of whom had very little or no knowledge of and exposure to technology – being so enthusiastic and engaged throughout the length of the course.
"We have seen great improvements in the girls' knowledge of coding, their confidence, critical and creative thinking."
Narrowing the gender gap is a key aim of Code Clubs. So far, more than 800 girls have been introduced to coding through them.
All the girls and young women – who are divided into three age groups from six to 25 – get a course of 26 two-hour lessons from a qualified female teacher. They learn how to build a Kano kit computer and are taught basic coding skills through apps like Scratch, Make Art and Make Music, as well as games such as Make Snake and Minecraft.
In pictures: Code Clubs in Kenya
Vanessa Wangari, a 12-year-old who also goes to Makena Primary School, said: "The thing I love doing most is drawing and watching cartoons. I used to wonder how cartoons are made till the Code Clubs came along. 
"Girls all around should have access to technology to help them have a better future."
The Kenyan Code Clubs are run in partnership with Youth for Technology Foundation (YTF). Maya Kigen, a YTF master trainer at Makena Primary School, said: "We aim to utilise technology innovatively to equip, empower and inspire young girls to learn, challenge themselves and solve problems in their communities."
They met resistance at first from the girls' families. 
"Stereotypes, myths and misconceptions revolving around the society about girls affected the programme kick-off," said Maya. "We spent time convincing most parents as they didn't believe in the potential of the girl child."
Brenda Nduta, a 17-year-old at Huruma Girls High School, had a similar experience with her family and community.
""When I informed my mum about the dream of pursuing a tech-related course, she discouraged me," said Brenda. "I almost gave up but then I was chosen for the Code Clubs programme.
"Coding is one of the most fun things I've done in life and it has helped me to plan for my future career."
In pictures: Code Clubs in Tanzania
In Tanzania, there are six Code Clubs in three locations – run by BRAC Maendeleo Tanzania through its Empowerment and Livelihood for Adolescents (ELA) programme.
ELA project manager Nancy Kataraihya said: "We saw the need for girls in school to be brought up to speed with issues related to technology and encourage their participation in STEM (science, technology, enginereing and mathematics).
"We are having girls eager to learn computers and obtain transferable skills that they may put to use in their everyday life."
Mwanaidi Ibrahim, a 15-year-old who goes to the club in Dodoma, said: "In Code Clubs, I like to type in some stories, I like reading, I like going on the internet."
Jessica Festo completed the programme in Tanzania's Mbeya region last year. She said: "When I started learning the programmes, I was so excited – because I didn't know how to play games. Eventually I could play games. I also learnt how to draw using the Kano kit. 
"When I finished the class I was confident with navigating around the internet."
Theirworld's Code Clubs in Tanzania are funded by the global technology group Voith. 
In pictures: Code Clubs in Uganda
The Code Clubs in Uganda are run by Women in Technology. Nakitende Leiticia said: "They give us the opportunity to train, inspire and empower young women to think creatively about tech careers. We are unapologetic about working with girls because it's the only way we contribute to achieving our mission. 
"Our girls are taught and empowered about leadership through the group work ensuring that each member of the group is held accountable for the success of the group.
"But the fun element of Code Clubs is as important as the educational aspect. Fun sparks creativity, loosens tension and fear of codes, leads to young people opening up easily and sharing their experiences."
The Code Clubs project in Zimbabwe will soon be launched in Harare, thanks to the partnership between Theirworld and the Muzinda Hub, the impact investment initiative of the  Econet telecommunications group.
Vimbai Gwata, Head of Muzinda Hub, said: "To ensure that Zimbabwean women become more active participants of the digital economy, Muzinda Hub is taking proactive measures to expose young girls from under-resourced communities to basic coding and computer literacy training through our collaborative partnership with Theirworld."
Theirworld's Code Clubs in Lebanon are funded by the players of the People's Postcode Lottery.
The last word goes to Sarah, aged 10...
---
More news
Skills for the future give young people the best chance of success
Skills for the future give young people the best chance of success
Take the test and discover how our Schools Hub helps students grasp the global education crisis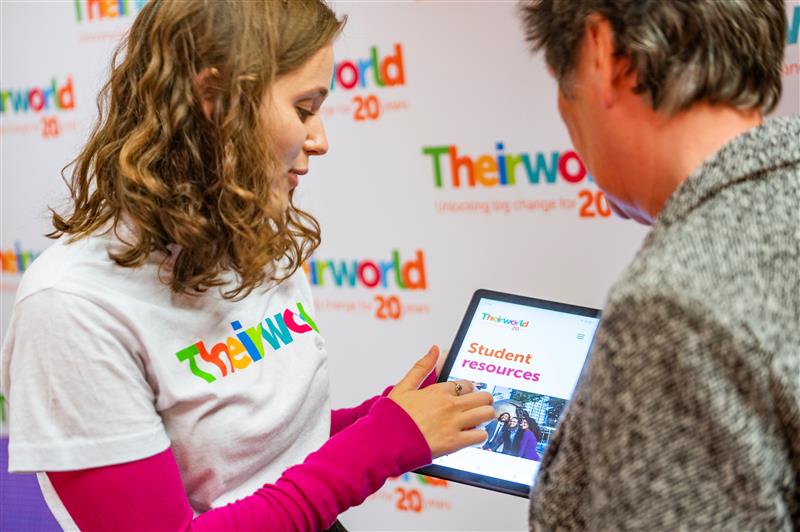 Take the test and discover how our Schools Hub helps students grasp the global education crisis