Comedians dress up like babies to back Theirworld's #5for5 campaign
Child nutrition (Early years), Childcare, Early childhood development, ​Learning through play (Early years), Theirworld
---
The stand-up comics and TV stars act like big kids in onesies to spread the message about early childhood development.
---
When you're a comedian, it's child's play to make people laugh. So a bunch of well-known comics grabbed the chance to act like big kids to support Theirworld's #5for5 campaign.
They appear in a series of new videos released today to raise awareness of early childhood development.
Rainn Wilson – star of the US version of TV show The Office – joins stand-up comedians Jackie Tohn, Wendy Liebman, Shappi Khorsandi and Nish Kumar. They follow British TV and film star Matt Lucas, who yesterday launched our series of "big baby" videos.
#5for5 puts the spotlight on the five crucial childhood interventions needed for children aged 0-5 – nutrition, health, learning, play and protection. Our campaign calls on world leaders to take action to make sure all children have access to the care and support they need to thrive. 
Dressed in onesies for our films, each comedian explains how the five interventions can make all the difference to a kid's future. 
Rainn –  an American actor, comedian, writer, director and producer – said: "Every child everywhere has the right to the best start in life. And if I have to dress like a baby to make that clear, then that's what I do."
Theirworld President Sarah Brown said: "By the time a child reaches the age of five, 90% of their brain has already developed. 
"Investing in the first five years of a child's life has been proven as critical in providing all children an equal chance at success, no matter who they are or where they are born.
"But despite the evidence world leaders are not committing funding for programmes to make sure all children -particularly the poorest and most marginalised – are given the best start in life." 
A new Theirworld report titled Bright and Early has also been published. It warns that a severe lack of investment in early years support is putting millions of children at a disadvantage before they even start school.
As well as Matt and Rainn, here's a look at the comedians who feature in our #5for5 videos.
Wendy Liebman is an American stand-up comedian and has appeared on a variety of TV shows including The Larry Sanders Show, Jimmy Kimmel Live!, Late Show with David Letterman and Late Night with Jimmy Fallon. Wendy was a semi-finalist on America's Got Talent in 2014.
Jackie Tohn is an actress, stand-up comic, musical comedian and singer-songwriter. She is currently appearing in the Netflix comedy series G.L.O.W. –  inspired by the real story of the 1980s female wrestling league. She was also a finalist in the Top 24 of American Idol and continues to tour the country with music and comedy. 
Nish Kumar is British stand-up comedian, actor, and radio presenter. He has hosted BBC Radio 4 Extra's topical comedy show Newsjack and appeared on as a guest on TV shows including Have I Got News for You, Mock the Week, QI and Live from the BBC.
Shappi Khorsandi established herself as a prominent comedian in 2006 with her sell-out Edinburgh show Asylum Speaker. This led to the publication of her best-selling childhood memoirs "A Beginner's Guide To Acting English". She is currently on a stand-up tour of Britain. 
Carolyne Wanjiku is a Kenyan comedian predominantly known as "Wanjiku the Teacher" who appeared on the famous Churchill show. Starting out as an actor, she appeared in over 30 plays before turning to comedy. She is working on animating Wanjiku the Teacher for children.
Thank you to our partners and supporters on the #5for5 campaign – in particular the Conrad N. Hilton Foundation.
---
More news
Take the test and discover how our Schools Hub helps students grasp the global education crisis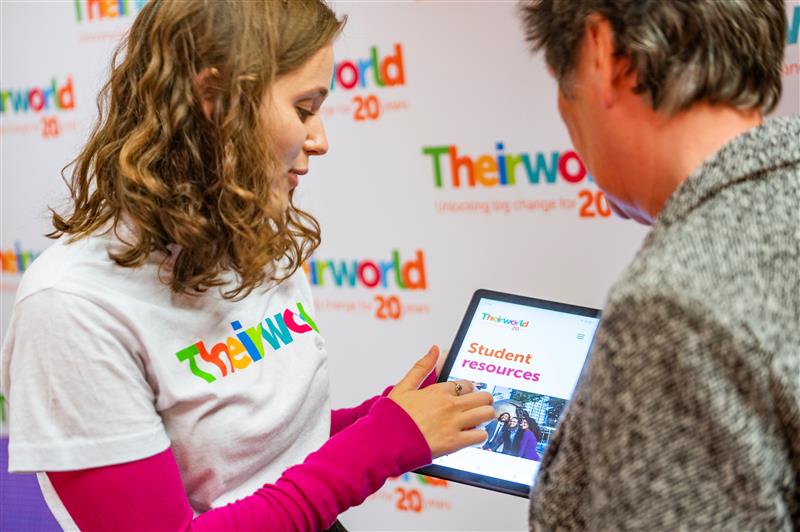 Take the test and discover how our Schools Hub helps students grasp the global education crisis
MyBestStart programme gives young girls the education they deserve
MyBestStart programme gives young girls the education they deserve