Conflict in Iraq leaves two million children out of school
Children in conflicts, Education in emergencies
Iraqi children watch a fighter from the Popular Mobilisation Unit on the first day of term at a primary school in Al-Mazraa village
The ongoing violence in Iraq and the resulting displacement of families has left almost two million children out of school.
A further 1.2 million children are in danger of dropping out, it was revealed as the staggered start to the academic year concluded last week.
Almost one million children are displaced from their homes because of the violent spread of ISIL – and 70% of them have missed an entire year of education.
Peter Hawkins, the Iraq Representative for the United Nations children's agency UNICEF, said: "The impact of conflict, violence and displacement on education in Iraq is nothing short of devastating.
"Large numbers of children – those in host communities, displaced from their homes, as well as refugee children from Syria – continue to experience significant disruptions to their education, putting Iraq at risk of losing an entire generation to conflict."
Teenager Ghaid on her first day at school in the Harsham Camp for internally displaced persons in Erbil Picture: UNICEF/Anman
Thousands of Iraqi schools that remain open are seriously overcrowded, with class sizes of up to 60 students operating in two or three daily shifts. In northern Iraq, nearly 14,000 teachers have fled from the violence.
But Mr Hawkins said: "It is remarkable to see children and teachers across the country travel long distances, often risking their lives, in order to reach school and accomplish their goals."
Ghaid,13, returned to a classroom on the first day of school at Harsham Camp for internally displaced people in Erbil. She has been displaced from Mosul for more than a year.
She said: "Everything here is good but we miss our teachers. I wish I could go back to my school to finish my studies there. One day I want to be a teacher."
Muhannad. eight, returned to Zumar in the Ninewa Governorate earlier this year after being displaced due to conflict in the area. After his first day at Teabat al Reah School, he said: "I didn't know that I would meet my friends again. I don't want to go back those days [of being displaced]. I hope everybody can return to their homes."
UNICEF said 5300 of Iraq's schools – almost one in five – cannot be used because they have been destroyed, damaged, converted to shelters for displaced families or used for military purposes.
In the past year, the agency and partner organisations have built 40 new schools, set up 1585 temporary learning spaces for 220,000 displaced children and distributed learning materials to 5000 schools.
Muhannad, front row left, happy to be back in class at Teabat al Reah School in Zumar Picture: UNICEF/Anmar
During 2015, 67 attacks on schools and education personnel have been reported. The Guidelines for Protecting Schools and Universities from Military Use during Armed Conflict say schools never be attacked or used for military purposes.
Providing safe schools and education in emergencies such as wars and natural disasters is not treated as a priority compared to water, shelter and medicine. Last year less than 2% of humanitarian aid went to education.
Keeping children in school gives them a safe and secure environment where they can deal with trauma. It also prevents them from becoming victims of child labour, child marriage, trafficking and radicalisation.
A World at School has been calling for a new platform and fund to ensure money is directed towards providing schooling in emergencies. 
At the UN General Assembly in September, Tony Lake of UNICEF, Julia Gillard of the Global Partnership for Education and Gordon Brown, UN Special Envoy for Global Education, committed to shepherding a global process to lead to decisions on new ways of funding education in emergencies before the end of the year.
---
More news
Theirworld initiative helps to deliver $30m of computers to Ukrainian children
Theirworld initiative helps to deliver $30m of computers to Ukrainian children
Theirworld's mission to give children in crises a safe place to learn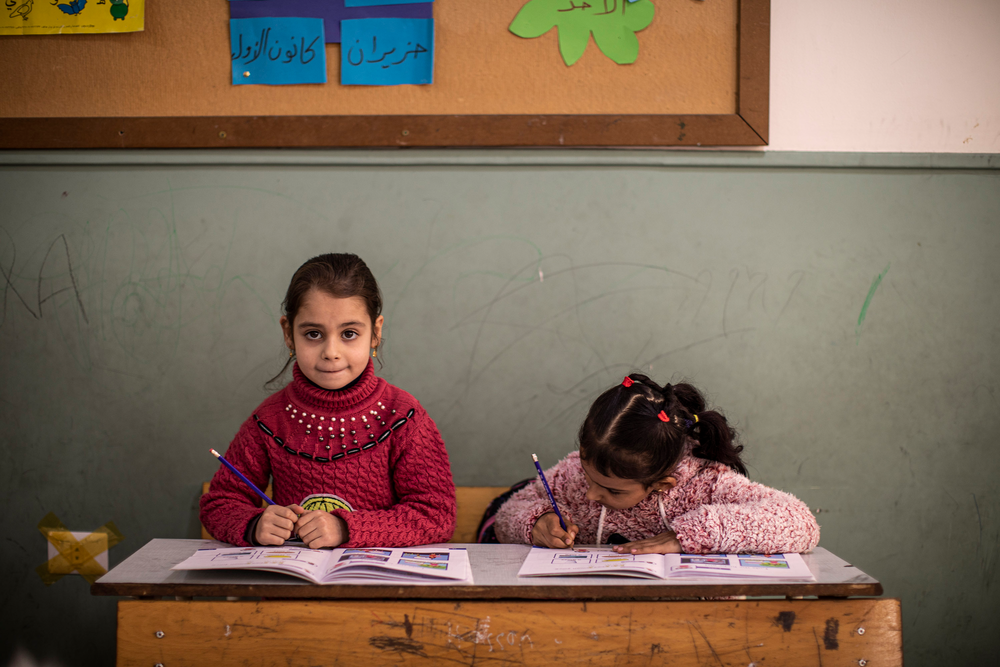 Theirworld's mission to give children in crises a safe place to learn