Countdown to UN General Assembly: education ups and downs of the last 12 months
Children in conflicts, Early childhood development, Education Cannot Wait, Education funding, Education in emergencies, Global Youth Ambassadors, Refugees and internally displaced people, Right to education, Safe schools, Safe Schools Declaration, Teachers and learning, United Nations General Assembly
As world leaders prepare to gather next week, we look at some of the major challenges and successes affecting children and their right to quality schooling.
---
It has officially started – but the main action of this year's United Nations General Assembly will come next week.
That's when world leaders gather in New York to discuss major global issues, such as climate change, conflict, refugees and economic development.
Education will also be high on the agenda. Three years ago the Sustainable Development Goals were approved at the General Assembly – and the right of every child to have a free, quality education is at the heart of the targets to be achieved by 2030.
Among the big talking points this year will be:
The International Finance Facility for Education – a bold plan to unlock $10 billion to help millions of children into school, which is gathering global support.
Education in emergencies – the Education Cannot Wait fund has just announced backing for new programmes in three countries and the global refugee education crisis will be discussed at the UN.
Youth skills – a generation of young people face being left behind unless they gain the skills needed for jobs of the future. Will the business community commit to help them?
At last year's UN General Assembly, education funding and providing school in humanitarian emergencies were among the big talking points.
A lot has happened since then. Here we look at just some of the highs and lows in the past 12 months in the efforts to give every child in the world access to education and early years care.
Conflicts and safe schools
The Syrian war entered its eighth year – leaving the country in ruins, thousands dead or maimed and the future of millions of children in doubt. More than eight million children have been directly affected by the conflict – six million of them inside Syria and another 2.6 million who are registered refugees in other countries.
The Education Under Attack 2018 report revealed that more than 21,000 students and teachers in 41 countries were harmed in attacks on schools and universities around the world over a five-year period.
A separate UN report in June said crises unfolding in Central African Republic, the Democratic Republic of the Congo, Myanmar, South Sudan and Yemen had meant rising violence against school children – with 10,000 killed or maimed in 2017.
High-profile attacks on education included 40 children killed in an air strike on a school bus in Yemen and 110 girls kidnapped from a Nigerian school. Most were returned safe.
Theirworld campaigned for the world's most powerful countries to sign the Safe Schools Declaration – a commitment to protect schools from attacks and military use. So far 81 countries have signed but three of the permanent members of the UN Security Council – China, Russia and the United States – have not.
Education funding
Three young campaigners carried the hopes and futures of millions of children in their hands when they met the head of the United Nations in June. Theirworld's Global Youth Ambassadors delivered messages from 1.5 million people who are backing a new global funding plan for education.
They told UN Secretary-General António Guterres that action must be taken to launch the International Finance Facility for Education (IFFEd) – which can unlock an extra $10 billion of spending a year to help marginalised children get into school. 
There has been growing international support for IFFEd. As well as the UN, the World Bank, Regional Development Banks and an increasing number of countries are backing the plan that would get 20 million children into school in its initial stage.
In February, the Global Partnership for Education's replenishment conference in Senegal raised over $2billion for the next three years for the world's poorest children – and GBC-Education joined the GPE board to further business community support for education financing.
Rohingya refugee crisis
A year after hundreds of thousands of Rohingya children fled from ethnic violence in Myanmar, more than 70% of them are out of school.
Over 327,000 refugee children are deprived of education around the city of Cox's Bazaar. Over 600,000 Rohingya people left Myanmar last year for Bangladesh, where they face an uncertain future in refugee camps.  
Around 60% of those fleeing ethnic cleansing in Rahkine State that began in August have been children. 
Dynamo's plea over Syrian refugees
Magician Dynamo made an impassioned plea for global leaders to keep their promise to get every Syrian refugee child into school. The world-famous British illusionist and TV star made his powerful appeal at a major conference on Syria held in Brussels in April.
Dynamo supported Theirworld's #YouPromised campaign and his inspiring film 72 Hours, about a trip to Lebanon to see refugee children, was viewed more than six million times.
He spoke up on behalf of the 689,000 Syrian refugees still out of school. Despite a promise made by the international community two years ago to get them all into education by the end of 2017, donor funding has fallen and one in three are still denied a place in the classroom.
Education in emergencies
A global fund set up to deliver education to children and youth caught up in conflicts and natural disasters helped more than 650,000 of them in its first year.
Education Cannot Wait (ECW) invested $82 million in 14 crisis-affected nations, reaching some of the most vulnerable and at-risk children. It helps them them into school and reduces the risks of them falling into child marriage, child labour and other forms of exploitation or violence.
The fund supported programmes that aid young people aged from three to 18 in countries such as Afghanistan, Peru, Somalia and Yemen. Of those who benefited, 48% were girls. 
Pre-primary education
A report published by Theirworld in April revealed that pre-primary education receives just 1% of all aid going to children under five years old – putting millions of children at a disadvantage before they even start primary school.  
The report, which stacks up all of the interventions made in the first five years of a child's life, showed education is the most underserved, falling behind health and nutrition. 
Theirworld called for donors and governments to invest in all areas of early childhood development and spend a minimum of 10% of their education budgets on pre-primary education.
Palestinian schools crisis
Schools for 525,000 Palestinian children reopened earlier this month – but the funding will run out soon unless donors plug the gap left by the United States pulling its financial help.
In January the US slashed an annual contribution to UNRWA – the UN agency that runs 711 schools and other services – from $250 million to $60 million. This month the Americans announced they had halted all funding.
UNRWA has called the crisis "devastating" and warned that its very future is at stake unless it can quickly find more than $200 million for its programmes in Gaza, the West Bank, Syria and Lebanon.
Code Clubs for girls
Theirworld launched more Code Clubs in Tanzania and Kenya – teaching hundreds of girls and young women the vital coding and technology skills that will help them to unlock a better future.
Last October we teamed up with the technology company Voith to start Code Clubs in Tanzania to complement our existing programmes in Kenya, Uganda and Nigeria. Girls and young women, aged 11 to 25, learn how to build computers and code.
In January we launched a new partnership with Youth for Technology Foundation (YTF) to establish Code Clubs in Nairobi.
Children with disabilities
As the Global Disability Summit was held in London in July, a policy brief published by Theirworld said too many under-fives with disabilities are being let down by their governments and donors. 
Theirworld called on governments and donors to "significantly scale up" support for children with disabilities in their first five years – including access to quality pre-primary education and early learning.
The briefing says that, as well as ensuring every child has two years of free and quality pre-primary education, governments should specifically target disabled children for inclusion.
Teachers and learning
Too many children are in school but not learning, a report by UNESCO and the World Bank said. Their inadequate education will leave them behind when it comes to passing exams, getting a job and taking their place in society.
To counter that, some remarkable and inspiring teachers have hit the headlines in the past 12 months. Andria Zafirakou, an art and textiles teacher at an inner-city London school, won the $1 million Global Teacher Prize for 2018. 
Among her achievements were working with the police to tackle a gangs problem, devising a new curriculum to encourage an ethnically-diverse student population and learning the basics of many of the 35 languages spoken by her students.
A teenage Syrian refugee won a prestigious international prize for building a school and providing an education to hundreds of children who fled to Lebanon to escape the conflict. Mohamad Al Jounde was just 12 when he decided to set up a school in the Bekaa Valley refugee camp.
---
More news
Take the test and discover how our Schools Hub helps students grasp the global education crisis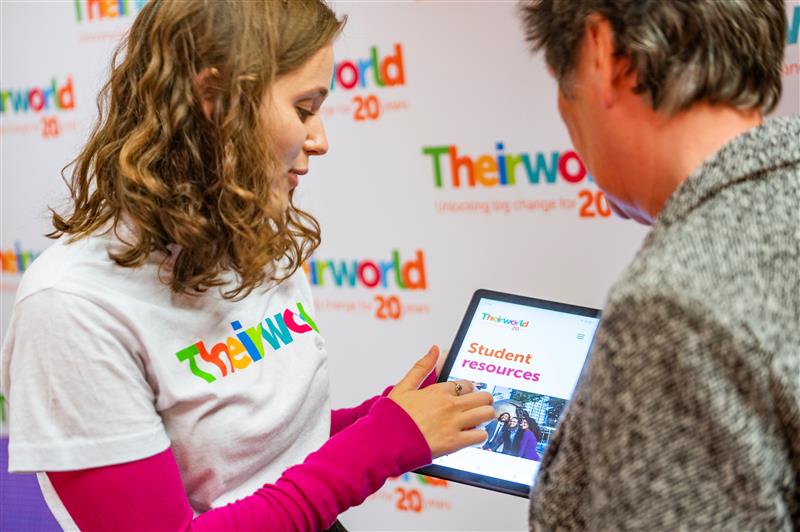 Take the test and discover how our Schools Hub helps students grasp the global education crisis
MyBestStart programme gives young girls the education they deserve
MyBestStart programme gives young girls the education they deserve