Courage of Syrian school children who defied Islamic State to keep on learning
Children in conflicts, Education in emergencies, Refugees and internally displaced people, Safe schools
---
A UN chief praised students who refused to stop going to their classes after the terror group banned books and killed some of their teachers.
---
Syrian children who defied Islamic State to continue their education have been praised by a United Nations chief.
The students and teachers refused to give up their schooling despite the terror group being in control of part of their refugee camp at Yarmouk.
Pierre Krähenbühl – Commissioner-General of the UN Relief and Works Agency for Palestine Refugees (UNRWA) – met some of the children yesterday. Afterwards, he tweeted this message:
Deeply impressive meeting w/ @UNRWA students who survived in Yarmouk while ISIS was in control of part of camp. Told me how – despite pressures & threats – they managed to pursue their education. Am so inspired by their courage & grateful to their teachers for never giving up! pic.twitter.com/w5vMzwI9Gp

— Pierre Krähenbühl (@PKraehenbuehl) July 4, 2018
Yarmouk is a Palestinian refugee camp in Damascus that was once home to 160,000 people but is now mainly destroyed. In 2014 it was taken over by Islamic State, which imposed strict limits on education – banning books and even beheading teachers who refused to comply.
Children would hide their school books and stationery under the long black robes they were forced to wear, said UNRWA, which runs schools for 525,000 Palestinian in the West Bank, Gaza, Jordan, Lebanon and Syria.
"We were not always allowed to pass, so the girls devised a system," 14-year-old Fatima said in an interview last month. 
Our newly rehabilitated community center in Sbeineh camp near Damascus provides a renewed sense of normalcy & reassurance to Palestine refugees. Pre-school activities are particularly welcome. pic.twitter.com/n7CNLK3GPM

— Pierre Krähenbühl (@PKraehenbuehl) July 4, 2018
"The person who made it to school would take pictures of what we learned – photos of the blackboard and books. And then we would share these pictures with each other through WhatsApp."
Another student called Roula said: "Once, they found a picture of a schoolbook on my phone. I was sent to jail for four days and my father for five."
The fighting in Yarmouk became so fierce in April that hundreds of Palestinian families fled to nearby Yalda. UNRWA then helped the girls to leave Yalda to take their exams in Damascus. 
Delighted to participate in ceremony to honor highest performing @UNRWA 9th graders in Syria. Vast majority of them girls! They are an inspiration for Palestine refugees and the world! @UNRWA stands for education and keeping hope alive even under the most extreme circumstances. pic.twitter.com/BTZgdmEaaD

— Pierre Krähenbühl (@PKraehenbuehl) July 2, 2018
Across Syria, 81.7% of UNRWA school students passed their 9th grade exams. 
In Damascus earlier this week, Krähenbühl took part in a ceremony to honour a group of the best-performing 9th grade UNRWA students – the vast majority of them girls. 
He met Aya Abbas, who was born and grew up in Yarmouk, before fleeing the camp in late 2012 when the conflict engulfed her neighbourhood. 
Very honored to meet Aya Abbas, highest performing 9th grader in Syria. So proud of her achievement which symbolizes attachment of Palestine refugees to education & the extraordinary perseverance of a young girl born in Yarmouk, displaced by war & who thrives in her studies! pic.twitter.com/vnBZWoWYs7

— Pierre Krähenbühl (@PKraehenbuehl) July 2, 2018
She scored top marks in all her final exams. Krähenbühl congratulated her and the other students for their courage and achievements and added: "You are an inspiration to all Palestine refugees and to the world".
The UNRWA chief also visited a preschool class at a community centre in Sbeineh camp near Damascus.
Speaking about his visit to Yarmouk, he said: "The scale of the destruction compares to very little else that I have seen in many years of humanitarian work in conflict zones."
Krähenbühl's visit to Syria came days after he warned that a funding crisis at UNRWA could mean all of their 711 schools may not reopen after the summer break.
Watch the UNRWA chief describe his visit to Yarmouk
---
More news
Theirworld initiative helps to deliver $30m of computers to Ukrainian children
Theirworld initiative helps to deliver $30m of computers to Ukrainian children
Theirworld's mission to give children in crises a safe place to learn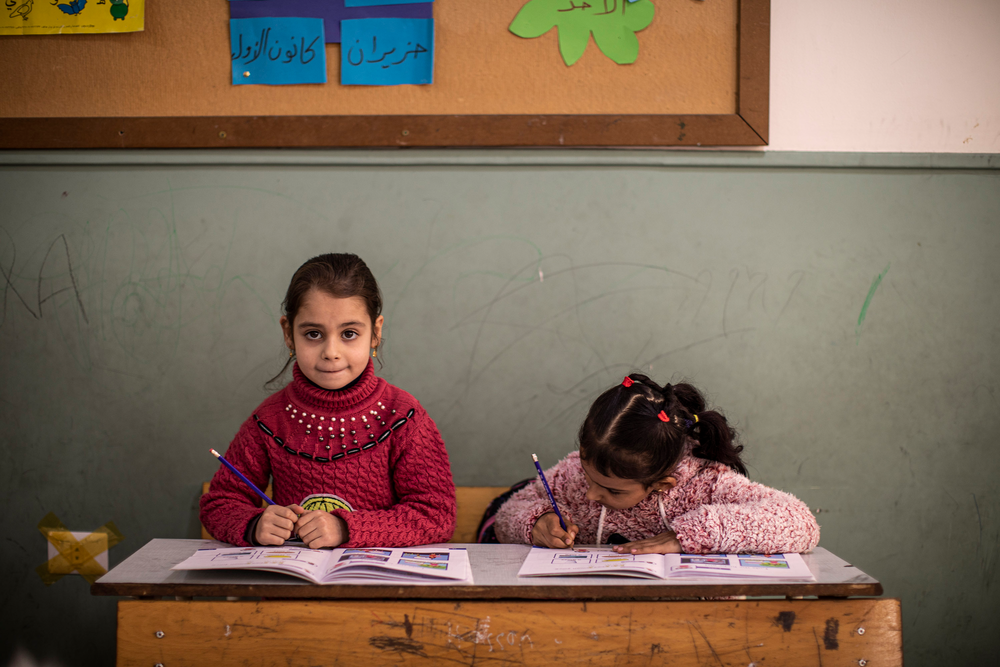 Theirworld's mission to give children in crises a safe place to learn