Dangerous trip to Boko Haram's first camp left me haunted by children's tales of suffering
In a new monthly series on A World at School, we highlight the work of one of our Global Youth Ambassadors. We start with a special blog from Nigeria's Philip Obaji Jr, who is also an activist, marine biologist and founder of the 1 GAME campaign. He describes how he visited the city of Maiduguri and the first ever camp of the terrorist group Boko Haram.
My visit in October to Maiduguri, the capital of Borno state in northeastern Nigeria, was primarily to see first-hand the impact of terrorist attacks on schools.
It was also to meet with officials of the State Universal Basic Education Board to discuss the potential reopening of public primary and secondary schools in Maiduguri, which had been closed down by the Borno state government since March due to security concerns.
But there was something else I was so eager to get – a great deal of insight on the true colour and character of the well known jihadist group Boko Haram.
Driving through the quiet road that led to Maiduguri, where the deadly sect pitched its first ever camp which it named Markaz Ibn Taymiyyah, was indeed a scary ride into an area that in many ways resembled a desert.
As dangerous as the road was, my visit to Markaz Ibn Taymiyyah gave me a deeper knowledge of the infamous terrorist group that forbids western education in northern Nigeria and has murdered hundreds of school children and teachers in the region.
Maiduguri, where the insurgency began, is the largest city in Borno state. Known in the past as "Home of Peace", it used to be the gateway for trade in agricultural products, livestock and textiles between the whole of northern Nigeria and the neighboring countries of Cameroon, Chad, Niger, Sudan, Central African Republic and even the two Congos.
That's pretty much come to a stop in recent months as shuttle traders and farmers fear violence from the militants. Public primary and secondary schools have been closed by government to prevent further insurgent attacks and the University of Maiduguri, which is one of Nigeria's famous higher institutions, is now a deserted place. From being Nigeria's "Home of Peace", it is now the most dangerous city to live in.
After five years of escalating violence, Boko Haram burst into the global consciousness in April, when its militants abducted more than 200 schoolgirls from the town of Chibok, 80 miles south of Maiduguri, and herded them on to buses and drove into the forests.
Under the hashtag #BringBackOurGirls, a campaign to publicise the girls' plight and press the Nigerian government to do more to find them went viral around the world, eliciting support and concern from celebrities, activities, politicians and public figures.
Boko Haram's violent campaign on education has left schoolchildren and teachers in northeastern Nigeria paralysed by fear. What manner of violence has the sect not visited on education since they began their uprising?
From burning down schools to killing innocent students in their dormitory, kidnapping schoolgirls and detonating Improvised Explosive Devices (IEDs) in schools – you name it, education has been one of their top targets. In general, their campaign of violence in the region has claimed more than 5000 lives and left nearly 650,000 people displaced, yet they are looking to wreak more havoc on innocent people.
Maiduguri, meanwhile, has become a haven for refugees escaping the dangers of surrounding towns and villages and the destruction that has left whole towns and villages ravaged or abandoned.
As I was guided by a local resident through the dusty path to reach the sacked Markaz Ibn Taymiyyah camp in Maiduguri, I couldn't escape the sight and feeling that now characterise the desecrated area – broken down walls, twisted rods and destroyed utensils were all that remained of the place where Boko Haram first assembled as an organised group with an aim of creating an Islamic state in northern Nigeria.
Philip at the remains of the Markaz Ibn Taymiyyah camp
The camp was a religious complex with a Koranic school which attracted poor Muslim families from across Nigeria and neighbouring countries. But soon after the first attack in Maiduguri that saw the Islamist militants take over the city and kill nearly 700 people, the Nigerian military battled the insurgents, taking back control of the Borno state capital and subsequently destroying the camp.
Going further into the deserted area and digging through, I saw skeletal bones – presumably of gang members who were killed in exchanges of gunfire with the Nigerian military or perhaps of people captured and killed by Boko Haram themselves. Then I saw a few needles, which might have been capped on syringes and used to administer narcotic drugs. I did see a small dagger as well, obviously not a surprise as the sect is known more for it killings rather than anything else.
From the accounts of Maiduguri residents, the insurgents repeatedly killed public servants abducted from their place of work. According to a resident who escaped Boko Haram capture in 2009, "when the terrorists began to attack Maiduguri, they were only focusing on people serving in government and in the military. They were out to kill anyone working in line with western culture.
It is certainly not surprising to see that of all western institutions in northeastern Nigeria, education has turned out to become the most targeted by the sect. Indeed, what could be a better tool for success in public institutions than the knowledge of educated people?
Never in my life have I seen an entire region hit so hard by a small group of heartless people. If the insurgency does come to an end, the picture of the Markaz Ibn Taymiyyah camp will always remind me of the sufferings of a 12-year-old orphan who told me his parents and two siblings were killed by Boko Haram in Maiduguri, the trauma of 16-year-old Hauwa who told me she was going never to walk on the streets of Maiduguri alone because she feared she could be raped a second time and the cry of tens of refugee children who couldn't hold back their tears when they told me of their ordeal at the hands of armed militants.
You can follow Philip on Twitter here. And you can learn more about A World at School's Global Youth Ambassadors programme.
---
More news
Theirworld initiative helps to deliver $30m of computers to Ukrainian children
Theirworld initiative helps to deliver $30m of computers to Ukrainian children
Theirworld's mission to give children in crises a safe place to learn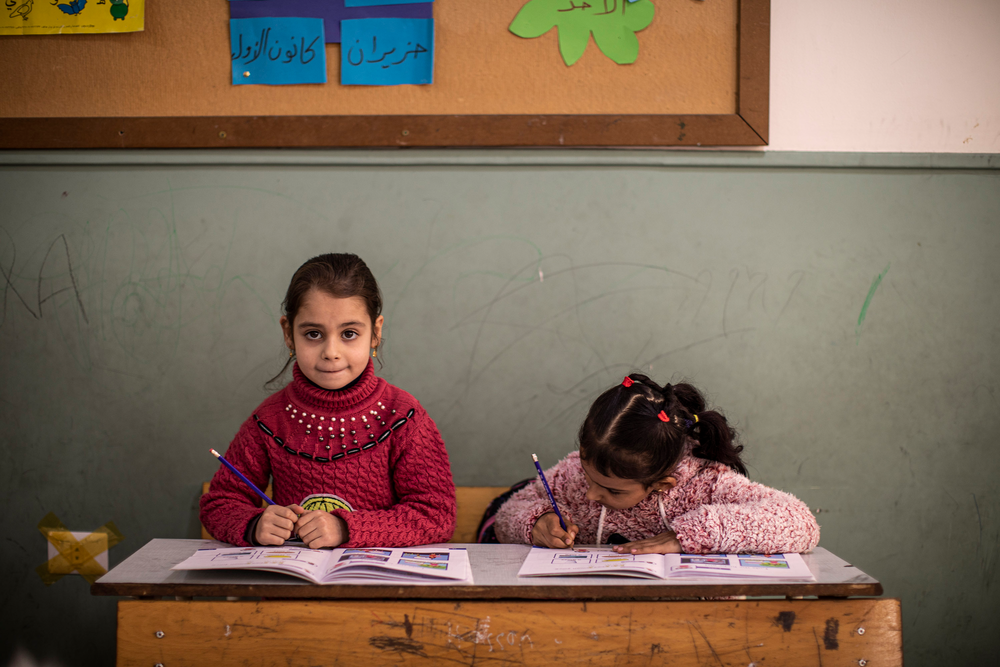 Theirworld's mission to give children in crises a safe place to learn