Day of the African Child 2016: our Global Youth Ambassadors stand up for children's rights
Children in conflicts, Day of the African Child, Education in emergencies
Global Youth Ambassador John Gbenagnon at a youth forum he held in Benin for Day of the African Child
Almost 500 million children around the world live in countries affected by crises such as conflicts, natural disasters and disease outbreaks.
Millions of those children are in Africa and are missing out on their education, receiving poor quality schooling or at risk of dropping out of school altogether.
That's why this year's theme for the annual Day of the African Child is "Conflict and Crisis in Africa: Protecting all Children's Rights". A report for the African Union said the continent "remains the most conflict-prone region in the world".
June 16 is the day when young campaigners stand up for children's rights in Africa – including our network of Global Youth Ambassadors (GYAs).
This blog will feature news, pictures and social media postings from some of the Day of the African Child events. You can also find out about the tragedy in Soweto, South Africa, that led to this day being marked each year.
#DAC2016 is here! Join our Day of the African Child celebration & follow along for updates: https://t.co/mz6KevOZfu pic.twitter.com/IIHL9e1dkQ

— A World at School (@aworldatschool) June 16, 2016
FOUR GYAs, FOUR GREAT IDEAS
Four of our GYAS successfully submitted a proposal and were awarded a small grant from A World at School to mark Day of the African Child 2016.
Ichide Charles from Nigeria is to raise awareness of IDP (internally displaced people) education through an event with children, young people, local government officials and NGOs, which will include a drama and poetry competition.
Ijeoma Idika-Chima, also from Nigeria, is producing a documentary to show the challenges, needs and possible solutions to support education among vulnerable children affected by the Boko Haram crisis. Follow Ijeoma on Twitter.
John Gbenagnon from Benin is exploring how children can achieve their full potential at school through the arts, using a Twitter chat, a radio show and an event of performances, panels and discussions. Follow John on Twitter.
Join us today & tomorrow for the dialoG @aworldatschool @GlobalEduFirst @Octavio_DIOGO @USEmbassyBenin #SafeSchools pic.twitter.com/KJ02TosFET

— John GBENAGNON (@sohoutou) June 14, 2016
Moses Browne from Liberia is advocating for the United Nations' Sustainable Development Goal 4 – inclusive and quality education for all – through public events, a parade and a petition that will go to the Liberian government. The rest of the GYAs in Liberia have been supporting him in his planning and organisation. Follow Moses on Twitter.
MOSES IN LIBERIA
Moses Browne met with Ellen Johnson Sirleaf, the President of Liberia, at his parade in the capital Monrovia.
And here are some of the people taking part in the parade.
Moses has written a blog about how students presented a petition statement to members of the Liberian legislature. He also met President Sirleaf, who said: "Let's meet to discuss further on the best approaches and actions this administration can take to address the education challenge so that all children can be enrolled and have access to quality education." Read his blog here.
Moses also wrote a blog for Huffington Post about education in Liberia and young people's calls for change. Read it here.
JOHN IN BENIN
John Gbenagnon was delighted with the way the day went. He said: "Everything was excellent today. The forum was a great success and we were at Radio Benin Culture – the programme was excellent."
Here are some pictures from the youth forum in the capital city of Porto-Novo.
And here's what the Souhoutou Initiative – an NGO which works on gender, leadership, development, translation, coaching and communication –  thought about the youth forum.
x
IJEOMA IN NIGERIA
These pictures show Ijeoma Idika-Chima doing interviews for her documentary film about education among vulnerable children in northeastern Nigeria. She said: "Teenz Global Foundation is producing a documentary that focuses on the challenges, needs and possible solutions to support education among vulnerable children affected by the Boko Haram crisis.
"The filming went very well. Most of the children were camera-shy, so we have had to restructure our questions a bit such that they were not upset but could share their story."
She said Teenz Global Foundation's aim "is to work with the IDP (internally displaced people) camp authorities to establish a school or raise scholarships for the children to attend LEA while we still provide psycho-social support and Open Learning Kits for them."
ICHIDE IN NIGERIA
Ichide Charles held an event at Ureu-Offong/Oroko in Akwa Ibom state, featuring children, young people, community youth leaders, local government officials and NGOs. They included 70 youth from the Sustainable Development Goals Club of the National Youth Service Corps.
It included a drama and poetry competition to engage 40 children from six schools on the ideas of the Day of the African Child.
There were interactive sessions and motivational talks on education change, IDP (internally displaced people) education and the Safe Schools Initiative.
A World At School's Global Youth Ambassadors in Africa are kindly supported by the players of the People's Postcode Lottery.
Relive our Day of the African Child 2015 blog
Relive our Day of the African Child 2014 blog
---
More news
Theirworld initiative helps to deliver $30m of computers to Ukrainian children
Theirworld initiative helps to deliver $30m of computers to Ukrainian children
Theirworld's mission to give children in crises a safe place to learn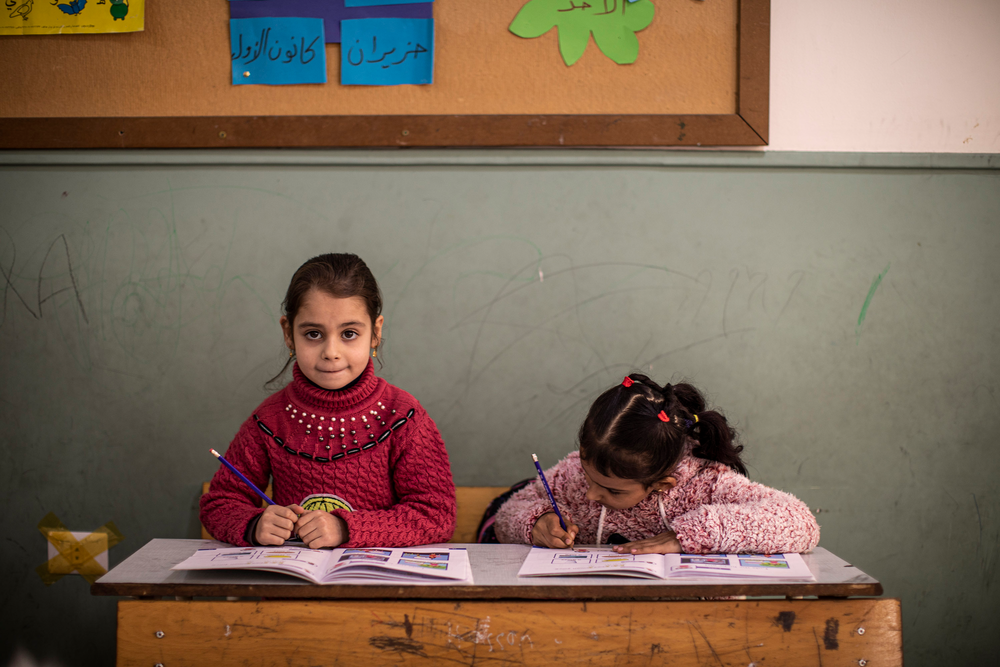 Theirworld's mission to give children in crises a safe place to learn