Giving deaf children the support they need to get into school and succeed
Barriers to education, Children with disabilities, Discrimination of marginalised children, Right to education, Teachers and learning
Life can be particularly hard for deaf children in developing countries who don't have access to education - so giving support to families is crucial.
---
While diversity and respect were the main themes of this year's Oscars ceremony, the "silent disability" of deafness was also given a spotlight.
The best live-action short film was won by The Silent Child, starring six-year-old deaf British girl Maisie Sly. Giving her acceptance speech in spoken and sign language, the actor Rachel Shenton said: "Our movie is about a deaf child being born into a world of silence. It's not exaggerated or sensationalised for the movie.
"This is happening. Millions of children all over the world live in silence and face communication barriers, and particularly access to education. Deafness is a silent disability."
There are an estimated 32 million deaf children – and 80% of them live in developing countries. Without the support services available in many parts of the world, that can leave deaf children at a massive disadvantage when it comes to accessing education.
"Deafness is an issue around language and communication. If child a starts without good command of language – spoken or signed – they are at a disadvantage," said Joanna Clark, Director of the charity Deaf Child Worldwide.
"The whole issue of education begins in the home. But there is very little diagnosis or technological support for children in the poorer communities of the countries where we work."
Deaf Child Worldwide supports a diverse range of local organisations and community groups in South Asia (India and Bangladesh), East Africa (Kenya, Uganda and Tanzania) and Latin America (Bolivia, Colombia, Ecuador and Peru).
In these communities, families often don't know where to turn when they discover their child is deaf.
Clark said: "There is a lot of stigma – families are often in shock and don't know what to do. They don't get the support they need. 
"Deaf children are often immediately at a disadvantage – not getting the right stimulation they need to learn language."
About 80% of deaf children in developing countries start primary school with little or no language – so having some kind of preschool support to help them learn language is critical.
At primary school, they face a further barrier in the shape of their teachers.
"A lot of the children we see are excluded in mainstream schools and special schools because teachers often have no knowledge of how to communicate with a deaf child," said Clark. 
"They are not trained and there are large classrooms. Even where teachers do have training, there is often not the level of support needed.
Millions of children around the world are taught at school in a language they don't speak at home.
"For a hearing child that can be challenging," said Clark. "If you are a deaf child who uses sign language, you will always be learning to read and write in a second language."  
Life can be particularly hard for deaf children who don't have access to education.
"Many deaf children stay at home – they are often used for domestic duties," said Clark. "For girls in particular, the biggest concern for families is often marrying off the child as soon as possible.
"Often children are kept hidden away as well. Deaf children can be particularly vulnerable because they are perceived as not to be able to tell anyone if anything happens to them."
Deaf Child Worldwide, which is the international development arm of the National Deaf Children's Society in the UK, works to avoid these scenarios by helping to instil confidence and understanding in the parents.
"A lot of deaf children have never met anyone else who is deaf, so it's important to put the families in touch with each other – and for deaf children to meet other deaf children and see there are others like them, facing the same barriers," said Clark.
"A lot of it is about information and helping families to understand and believe that their deaf child can learn and to know what is available and what they can do to help their child develop language and communication skills."
---
More news
Technology has the power to expand education for children with disabilities
Technology has the power to expand education for children with disabilities
Take the test and discover how our Schools Hub helps students grasp the global education crisis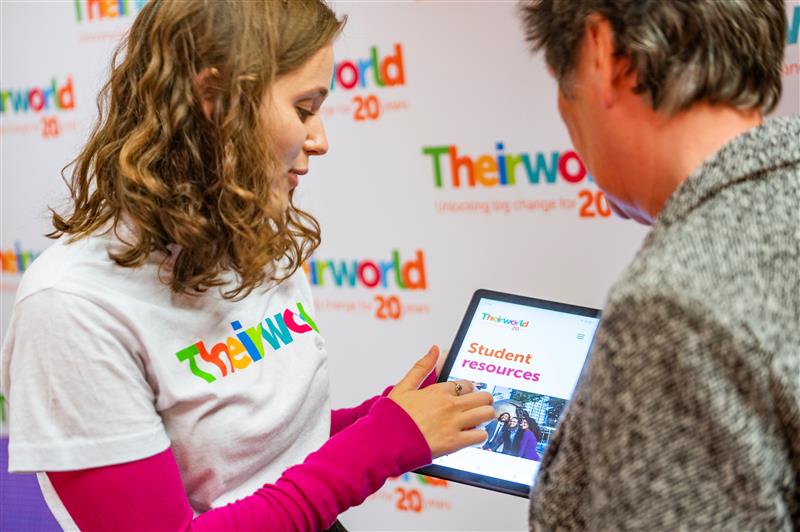 Take the test and discover how our Schools Hub helps students grasp the global education crisis