Dear Syrian children, sorry you've been let down on education
Children in conflicts, Education in emergencies
Tom Fletcher is the global strategy director of the Global Business Coalition for Education, a former British ambassador to Lebanon and an adviser to Theirworld – the children's charity behind A World at School. 
After Theirworld published a report on the failure of governments to keep their promise to fund education for one million Syrian refugee children, he wrote the following open letter to the children of Syria. It first appeared on the Syria Deeply website.
Dear children of  Syria,
I'd like to say sorry.
Many of us who work in the humanitarian sector in some way want to make the world better. We're funded by people who pay taxes or donate money because they do, too.
One of the reasons I left government last year was because I wanted to spend part of my time making a contribution, particularly to the effort to get one million Syrian young people back to school. As a UK ambassador in Lebanon, I had seen the urgency of this effort and I wanted to help.
I've made speeches and written blog posts and articles about your desire for education. I've tried to argue that, whoever we think is to blame for the destruction of your country, you should not pay the price.
Tell world leaders to keep their promise
I've also made the case that leaving you without an education is not just a moral failure of the international community, but will create real security and economic threats to all of us in the future.
You have as much right to hope as anyone, probably more.
So I was encouraged when the world came together in London in February. Leaders, the media, non-governmental organisations (NGOs) all turned up. There was a feeling of genuine determination, passion and urgency.
More money was pledged in one day than for any other crisis, ever. More than $12 billion. Huge. Enough to get all of you back to school by the end of next year. We all thought that we had done something special.
Six months on, though, we have failed to deliver on the promise of education, leaving a funding gap in excess of $1 billion.
You have a right to ask us why. I think it is a combination of factors. Some governments delivered everything they promised. I'm pleased to say that my country, the UK, was one of them (and you can check that, as I'm biased).
Powerful open letter to Syrian Children by former UK ambassador @TFletcher: https://t.co/LwOBdvK957 via @theirworld pic.twitter.com/zQQ1HxPHhg

— Refugees Deeply (@refugeesdeeply) August 3, 2016
But many simply didn't write the cheques that they had pledged in front of the cameras. Meanwhile, too much time and money – your money – were wasted through arguments and bureaucracy.
And the NGOs could not always hold the system to account, because in so many cases they are government-funded, or need to retain their influence to deliver the schooling and support services you need so urgently.
We've issued a report that offers details on all of this and allows you to see who delivered and who did not.
Maybe also we all, I'm sad to admit, got distracted. We have more information at our fingertips than any previous generation and more ability to shape the world around us.
But we haven't yet learned how to use this technological superpower to address the issues that really matter.
Nelson Mandela told us that "promises to children should never be broken." I fear that we will continue to let you down until the current humanitarian model – big conferences, big egos and big but meaningless pledges – is overhauled.
But let's not give up yet. Next month, the United Nations and the United States will host another refugee summit. This time I hope governments will deliver the $1.4 billion already pledged for you, sort out the international mechanisms for coordinating the effort and commit $3.8 billion for the Education Cannot Wait fund for education in emergencies.
Judge us all on results, not rhetoric.
And then we need to broaden this effort. Given the failure of traditional systems, the world's brightest minds and most innovative thinkers must start to think of this as their challenge, helping us to find the technological solutions necessary.
The next United Nations Secretary-General can lead a revived effort to end the crisis that has driven you from your schools and homes.
Business leaders can step up and play their part in building schools, financing education, providing transport and equipment – we have created a database to allow them to offer time, ideas, finance and ingenuity. Individuals who care can also think creatively about what they can do through this mechanism.
From teaching a Skype class to refugees to providing the internet to a whole country, the starting point is that everyone and anyone can make a contribution.
The old model of conferences, donors, celebrity hashtags and bureaucratic international institutions is failing not just you but the 75 million young people out of school.
Maybe this is the start of something different – something more collaborative, innovative and (I hope) effective. Please think about ways to build that effort.
I know from having had the chance to meet lots of you that we have to keep trying. Too many of you today are being trafficked. Or attempting a perilous Mediterranean crossing.
There are scientific and medical breakthroughs that will not be made because we did not get the next Einstein or Fleming to school. There are companies that won't be created because the next Steve Jobs is not at school.
There are potential teachers, doctors and astronauts who won't fulfill their dreams because we let them down.
In decades to come, you will have many questions to ask our generation about how we let this crisis happen on our watch. We owe it to you to do better from here on. I hope we can.
---
More news
Theirworld initiative helps to deliver $30m of computers to Ukrainian children
Theirworld initiative helps to deliver $30m of computers to Ukrainian children
Theirworld's mission to give children in crises a safe place to learn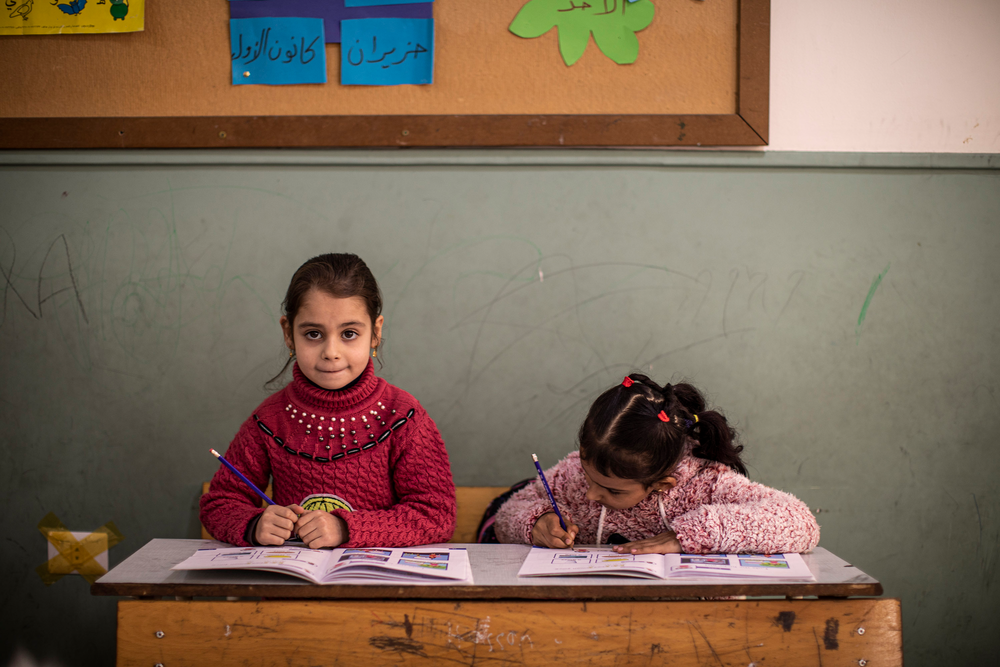 Theirworld's mission to give children in crises a safe place to learn