REACT platform launched to deliver education to children in conflicts and disasters
Children in conflicts, Children's welfare after natural disasters, Education Cannot Wait, Education in emergencies, Refugees and internally displaced people, Safe schools, The Global Business Coalition for Education (GBC-Education)
---
More than 55 leading brands have pledged their support for the digital system, which will target resources to humanitarian emergency projects at the click of a button.
---
Conflicts and natural disasters have left 75 million children around the world out of school or in danger of missing out on education.
In the wake of a humanitarian emergency, getting children back into the classroom quickly is crucial for their safety and in helping them to deal with the trauma.
A digital platform has been launched today that aims to do just that – help millions of displaced and marginalised girls and boys back into education before they drop out of school or fall prey to child labour, early marriage and exploitation.
The REACT (Rapid Education ACTion) platform is set to revolutionise corporate social responsibility by allowing companies to pledge targeted resources to education projects at the click of a button.
REACT emerged out of a commitment by the Global Business Coalition for Education to mobilise in-kind and financial resources for Education Cannot Wait – a fund to support education in humanitarian emergencies.
Together they have identified specific challenges where business can play a key role in delivering quality education for children affected by emergencies. More than 55 leading brands have pledged their support.
Yasmine Sherif, Director of Education Cannot Wait, said:  "Supporting education is the most powerful investment one can make. This is an investment in human capital, an investment in humanity. 
"The REACT platform enables successful businesses and entrepreneurs to utilise their wealth and creativity to contribute to positive changes for children throughout the world."
REACT has been created as a pro bono project by LexisNexis Risk Solutions and its parent company RELX Group. Emili Budell-Rhodes, Corporate Responsibility Community Manager at RELX Group, said: "The core focus of our global community programme is education for disadvantaged young people that advances one or more of our unique contributions as a business.  
"We are a proud member of GBC-Education and building the REACT database has been a wonderful opportunity for our division LexisNexis Risk Solutions' expertise, skills and tech capacity to make a long-term, sustainable impact in granting access to education to some of the world's most vulnerable children and young people."
The Global Business Coalition for Education is a network of more than 140 companies working together to accelerate progress on delivering education for every child.
GBC-Education Executive Chair Sarah Brown said: "The private sector wants to support children's education in emergencies with their skills and expertise but do not know how to be most effective. 
"Together we have created an online system that matches leading corporations with education needs on the ground in real time. We are using tech solutions to tackle the global education crisis."
REACT is an innovative way to deliver real and targeted aid. It is a digital space where the most successful corporates can use their expertise to support education projects across the globe. Tom Fletcher, Senior Advisor to GBC-Education
Through REACT, HP is partnering with Education Cannot Wait to pilot its School Cloud initiative. It is a hybrid cloud appliance that allows schools without internet access to provide students with access to millions of e-textbooks and thousands of lessons on reading, science, mathematics and more. 
School Cloud is part of HP's goal of improving learning outcomes for 100 million people by 2025. Nate Hurst, HP's Chief Sustainability and Social Impact officer, said: "As a company, HP is committed to enabling better learning outcomes for millions of people worldwide. Education is one of the most powerful levers to expand social and economic opportunity.
"But, for many, technology and connectivity gaps, inadequate support for teachers and the effects of natural disasters or other disruptions present significant barriers. 
"This is why we are so inspired by GBC-Education's REACT platform – a collaborative initiative committed to providing education in emergencies worldwide, so that children can continue to learn and grow, no matter their circumstances."
Scott Mitchell, President of Sumitomo Chemical America Inc. – another REACT member company – said: "We believe that every child deserves to have the opportunity for and access to a quality education.  
"REACT is an integrated platform that allows the private sector to actively and effectively get involved in and partner with others to support education in emergency situations. We hope that this tool can be widely used among like-minded partners bringing greater and collaborative impact so that every child has the opportunity to flourish." 
Tom Fletcher, Senior Advisor to GBC-Education, said: "Education is the single most effective way for children in conflict zones to build a secure future. This database offers opportunity to some of the world's most vulnerable. 
"In the Middle East alone, there are more than 500,000 Syrian refugee children out of school. REACT's pilot projects are already providing young Syrian and Iraqi refugees with marketable skills. We hope many more companies will come forward to support this effort with time, ideas and energy."
In the pilot phase of the initiative, REACT has already brought together a number of business connections. 
They include US-based language company NaTakallam teaming up with an NGO that teaches coding skills to young Syrians and Iraqis. NaTakallam agreed to hire the refugees participating in the training programme and offered them the opportunity to train as Arabic instructors.
The students have gone on to earn a living as coders in the technology industry and Arabic language instructors and the next cohort of refugee instructors are taking the RE:Coded certification courses.
REACT brokered a partnership between software company CEREGO and the Thaki charity to deliver education directly to marginalised children in Lebanon. 
Thaki founder Rudayna Abdo said: "Providing digital literacy training to a dispersed migrant community comes with its many challenges. We are, however, determined to find a successful, scalable, affordable, self-paced solution that can be replicated across wide geographies. 
"We were introduced to Cerego through the GBC-Education's REACT initiative and are very excited to pilot a solution using Cerego's innovative platform." 
Andrew Smith Lewis, CEO of CEREGO, said: "I am absolutely passionate about providing the best possible digital learning solutions for students in need across the world. 
"Our personalised learning delivers the right content, in the right format, to each individual user to help them understand and retain knowledge – as opposed to a one size fits all approach to education.
"Cloud technology affords the opportunity to deliver to anyone, anywhere in the world."
---
More news
Theirworld initiative helps to deliver $30m of computers to Ukrainian children
Theirworld initiative helps to deliver $30m of computers to Ukrainian children
Theirworld's mission to give children in crises a safe place to learn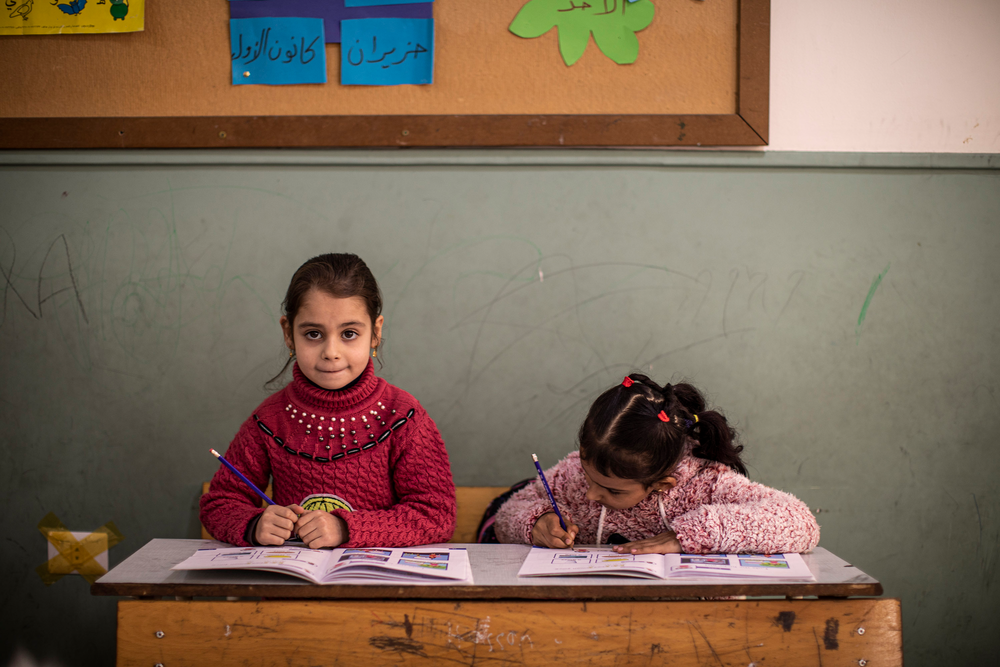 Theirworld's mission to give children in crises a safe place to learn