Down's syndrome teacher inspires pre-primary children with special needs
Children with disabilities, Early childhood development, ​Learning through play (Early years), Teachers and learning
Shéri Brynard understands the challenges and believes it's vital to intervene as early as possible in educating children with disabilities. 
---
Today and tomorrow the United Kingdom government will co-host its first Global Disability Summit with the International Disability Alliance and the government of Kenya. It will bring together more than 700 delegates from governments, donors, private sector organisations, charities and organisations of persons with disabilities. 
Young children with disabilities are particularly vulnerable. In the run-up to the summit, Their News has been looking at the challenges they face and what's being done in different parts of the world to provide them with nurturing care and education.
Shéri Brynard's day starts at 6.30am. After breakfast, she heads to Lettie Fouché School in Bloemfontein to look after pre-primary learners with special needs.
"The children I teach all have learning problems. We have children with Down's syndrome and autism and many other learning disabilities," she said.
"They have more challenges in learning than the children in mainstream schools. They take longer to achieve what other learners find easy. We have to have patience with them and they have to have patience with themselves."
What makes Shéri's story remarkable is that she also has Down's syndrome. But that hasn't stopped her from achieving her teaching goals and inspiring children with disabilities in her native South Africa.
The 36-year-old is the only person in her country with Down's who has a tertiary teacher's diploma – without any amendments being made to the course. Her lectures and her study material were provided only in English, her second language.
Now – as well as teaching at the pre-primary school in Manguang Metropolitan Municipality, Orange Free State – the inspirational educator gives motivational speeches all over the world. This week she will be speaking in Glasgow, Scotland, at the World Down Syndrome Conference 2018.
Shéri believes it's vital to intervene as early as possible in educating disabled children under five years old.
She told Their News: "It's important that they can be taught as soon as possible. One should not waste time. My mother taught me from when I was a little baby. Everything takes longer, so we have to start earlier."
All children under five need nurturing care, including early learning. But around the world millions of children with disabilities are being left behind.
Theirworld believes that governments and donors need to significantly scale up support for children with disabilities in their first five years – including access to, and meaningful participation in, quality pre-primary education and early learning.
Countries have to do better at identifying children with disabilities and special needs early in their lives and then delivering the right guidance and support.
More qualified teachers with the appropriate training to provide learning and practical skills are absolutely essential. That includes ensuring that teachers with disabilities and special needs – such as Shéri – are represented.
"The fact that I understand the problems of the learners helps me to be able to assist them when they are sad because they cannot do something," she said. 
Shéri has been recognised for her achievements at home and abroad.  She was selected by Down Syndrome International to receive the World Down Syndrome Day Award.
In South Africa, she received the Presidential award (the highest award) for people who have made a contribution to the lives of mentally disabled people in South Africa. She was also invited to be a member of the Presidential Working Group on Disabilities of South Africa.
She has also written a book about her life – Shéri: Just The Way I Am – which has been published internationally in English and Afrikaans. 
Her mother Dr Susette Brynard is a lecturer at the School of Education Studies at the University of the Free State. She said: "Shéri loves teaching the children and also assists slower children to do activities, in classes where she works.
"She truly believes that all people have the ability to choose to make the best of their circumstances and she is the living example of that.
"Shéri tries to change negative perceptions about people with Down's syndrome and she is an activist to give all people with Down's syndrome the same opportunities they would have had, if they were fully abled.
Disabled kids out of school
About 500,000 children with disabilities are not in any kind of school, according to a 2015 South African government report. Many government-run "special schools" require fees that families cannot afford.
"Although she is intellectually disabled and she was brought up in the Afrikaans language, she was determined to learn to speak English to be able to reach more people with her story of hope."
For Shéri, it's important to be a role model to her students.
"I am an example to them. I am one of them and I am happy to be who I am," she said. 
"But I had to work much harder than so-called normal learners to achieve. My life is still not so easy and every day has its own struggles.
"I teach the children not to give up. I tell them that I also had problems just like them but I did not give up hope. I kept on trying."
Theirworld's #5for5 campaign and our work on early childhood development is supported by the Conrad N. Hilton Foundation.
ALSO IN OUR SERIES
---
More news
Technology has the power to expand education for children with disabilities
Technology has the power to expand education for children with disabilities
Take the test and discover how our Schools Hub helps students grasp the global education crisis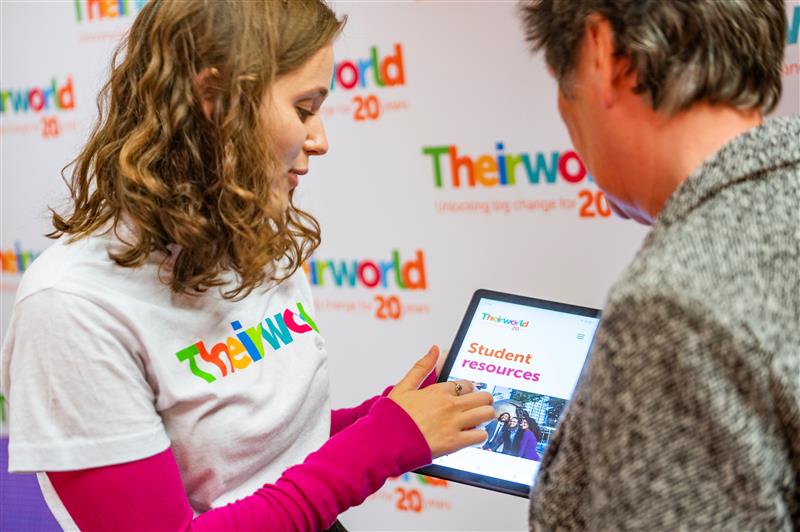 Take the test and discover how our Schools Hub helps students grasp the global education crisis